FALCON HEIGHTS, Minn. - Let's face it. As much as we love the Minnesota State Fair -- it ain't cheap. Buy a ticket to get in the door and a place to park your car and you've already spent nearly $30 bucks. And that's without stepping one foot inside.
But don't worry -- it is possible to get some great Fair food without breaking the bank.
Here are just a few deals our KARE 11 crew found while bargain hunting ...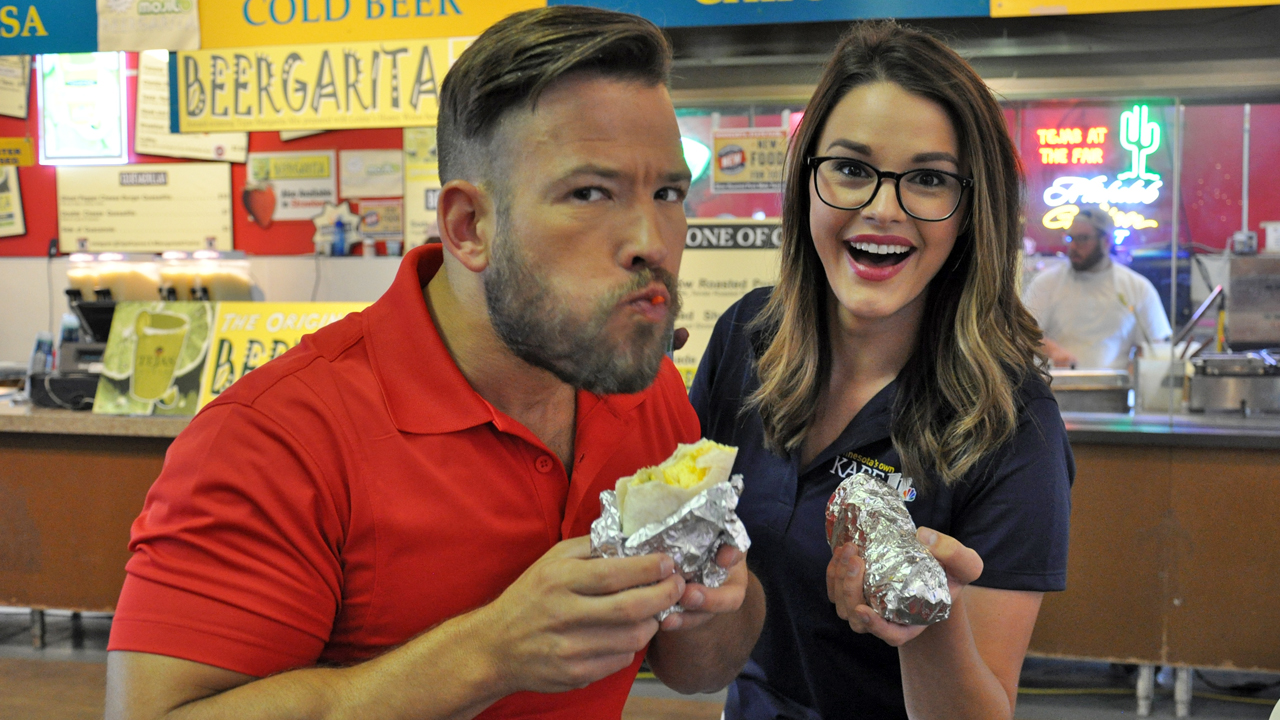 $5 breakfast burrito, plus FREE coffee at Tejas Express
Need to kick start your Fair feasting? Start with the most important meal of the day. At Tejas Express, you can grab a nice, portable breakfast burrito -- packed with scrambled eggs, peppers, onions and cheese and they'll throw in a cup o' Joe for free. The burrito is a nice size that won't leave you stuffed but gets the job done. Don't forget to grab a side of salsa. (p.s. Not a burrito person? You can score a free coffee with any of the Tejas Express breakfast items.) Find it in The Garden.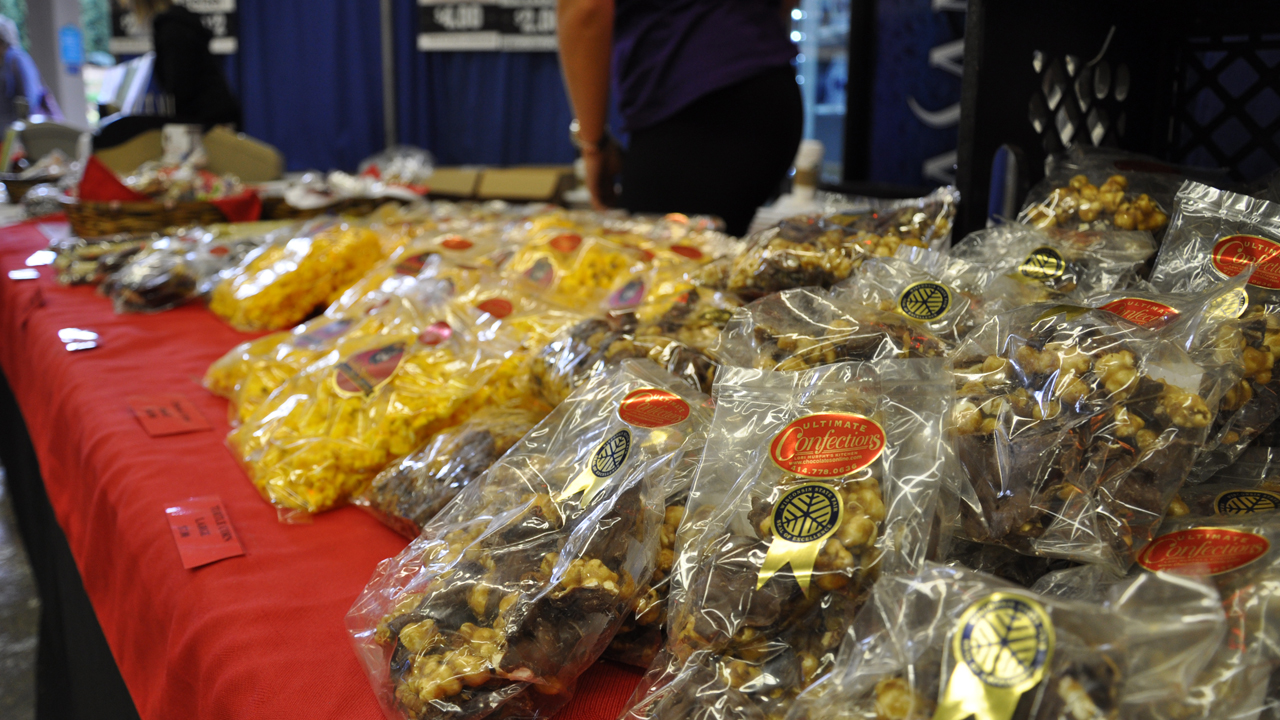 5 for $2 treats at Ultimate Confections
Satisfy your sweet tooth with a heck of a deal inside the Grandstand. At Ultimate Confections, you can choose from a selection of chocolate dipped goodies -- s'mores, marshmallows, pretzels, even licorice -- and it'll only cost you a few bucks. Find it inside the Grandstand, on the lower level, southeast corner.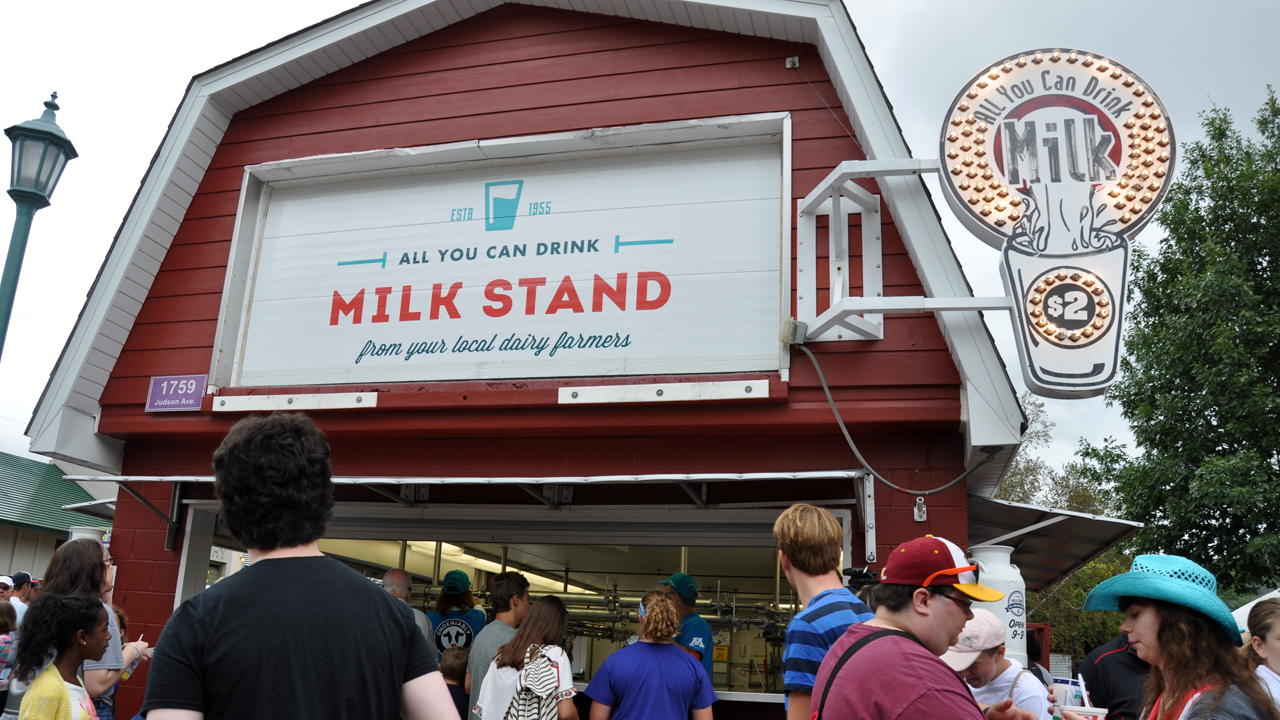 $2 All-You-Can-Drink Milk
It's the best known deal at the Fair but it still deserves a shout-out. Even after the controversial price increase to -- gasp -- $2, it's one of the best, and one of the only bottomless, bargains inside the fairgrounds. Grab a big bucket of cookies and head on over for a fill up. Find it on the northeast corner of Judson and Clough.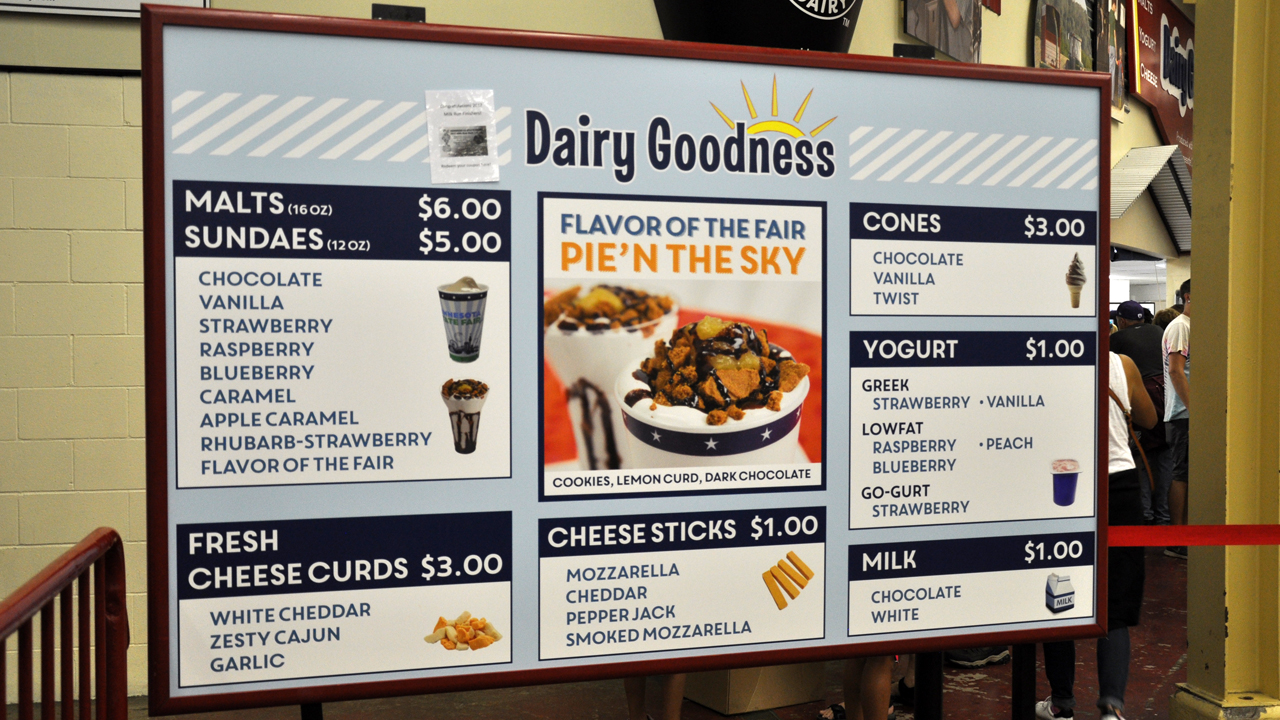 $3 cones at Dairy Goodness
It's a must-stop for many fairgoers, as evidenced by the roped off long lines you'll commonly find inside. But for $3 cones and $1 yogurt, the wait is well worth it. The soft-serve cones are plentiful and perfectly pair with your days' worth of greasy goodies. Pro tip: There's always a deal of the day, which can range from 2 for $5 cones or 2 for $1 yogurt. Find it in the Dairy Building, on the south wall.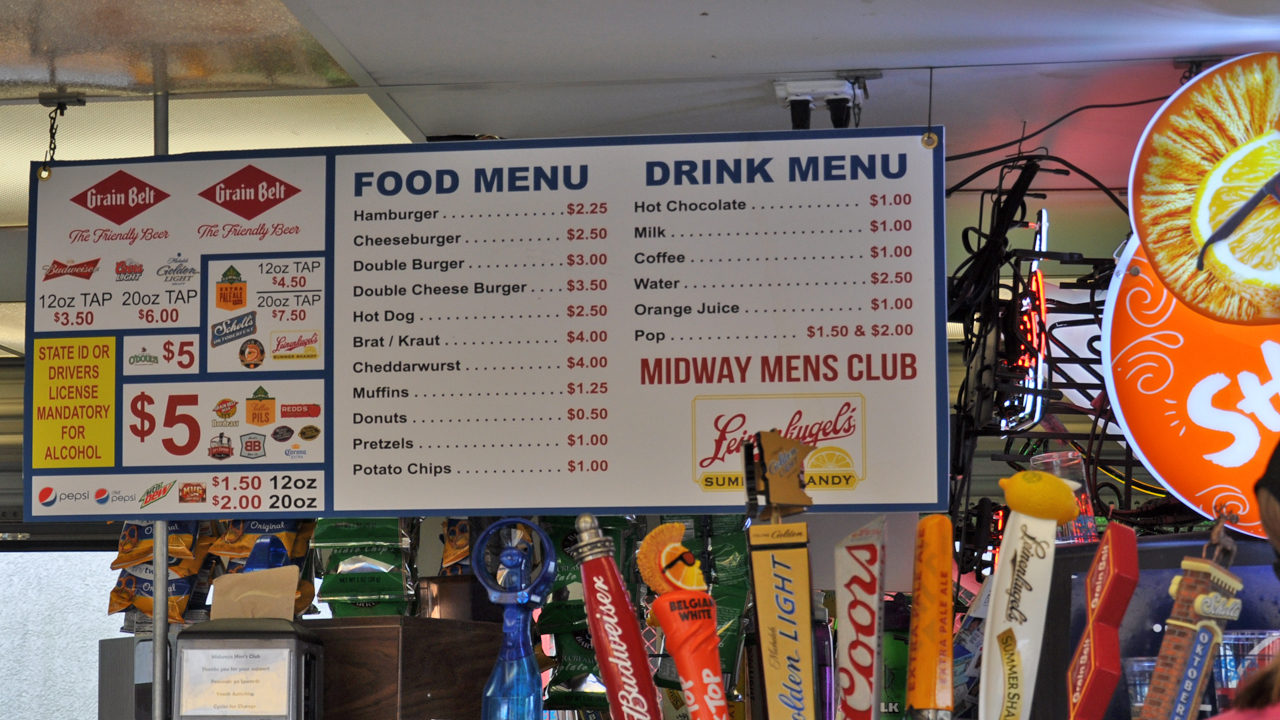 $2.25 burgers, $3.50 beers at Midway Mens Club
There's no better place to make your dollar stretch than at the Midway Mens Club on Underwood Street. A fixture since the 1960s -- with prices to reflect -- you'll find burgers for $2.25, beer on tap starting at $3.50, hot dogs for $2.50 and donuts for $0.50. Plus, you'll be doing some good with that purchase -- the nonprofit donates to youth activities in St. Paul. Find it on the east side of Underwood Street, between Wright and Dan Patch.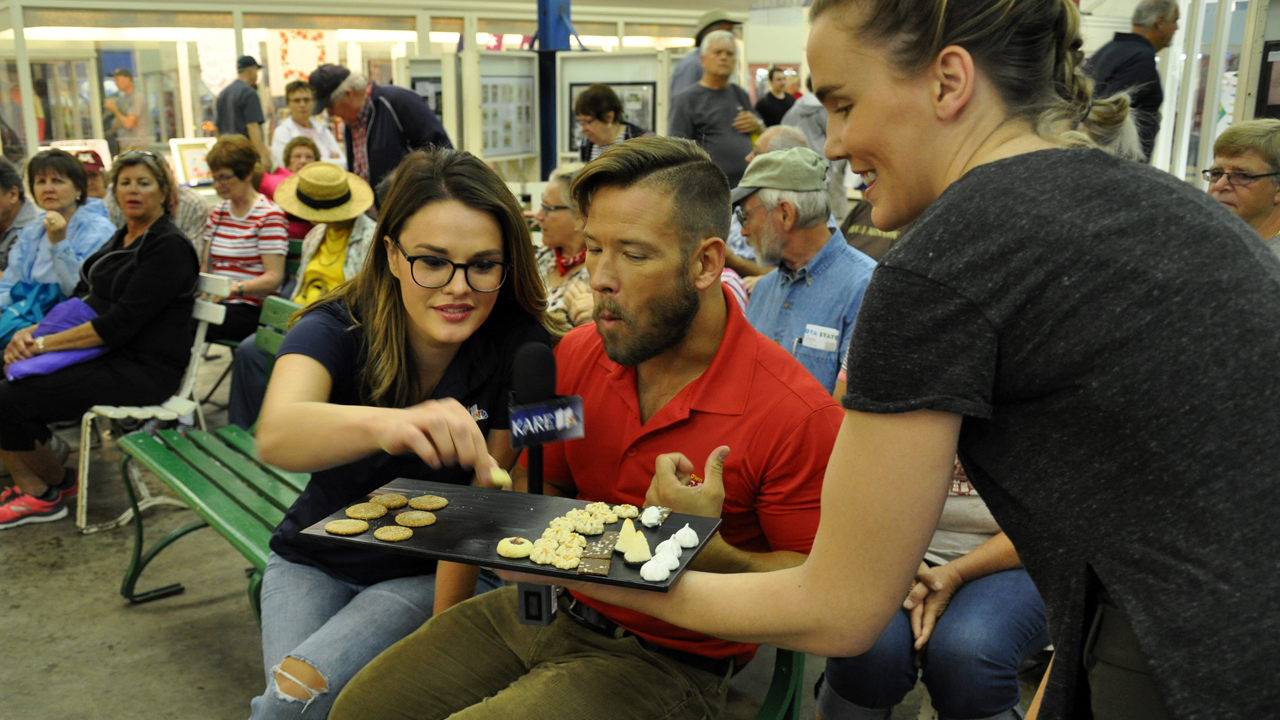 Free samples inside the Creative Activities building
As KARE's Alicia Lewis said, "it's like the Costco of the State Fair." Stop in to check out all the blue ribbon winners for cookies, pickles and more then snag a free sample of some of the sweet treats being passed around. The Creative Activities building is located near the Snelling Avenue entrance.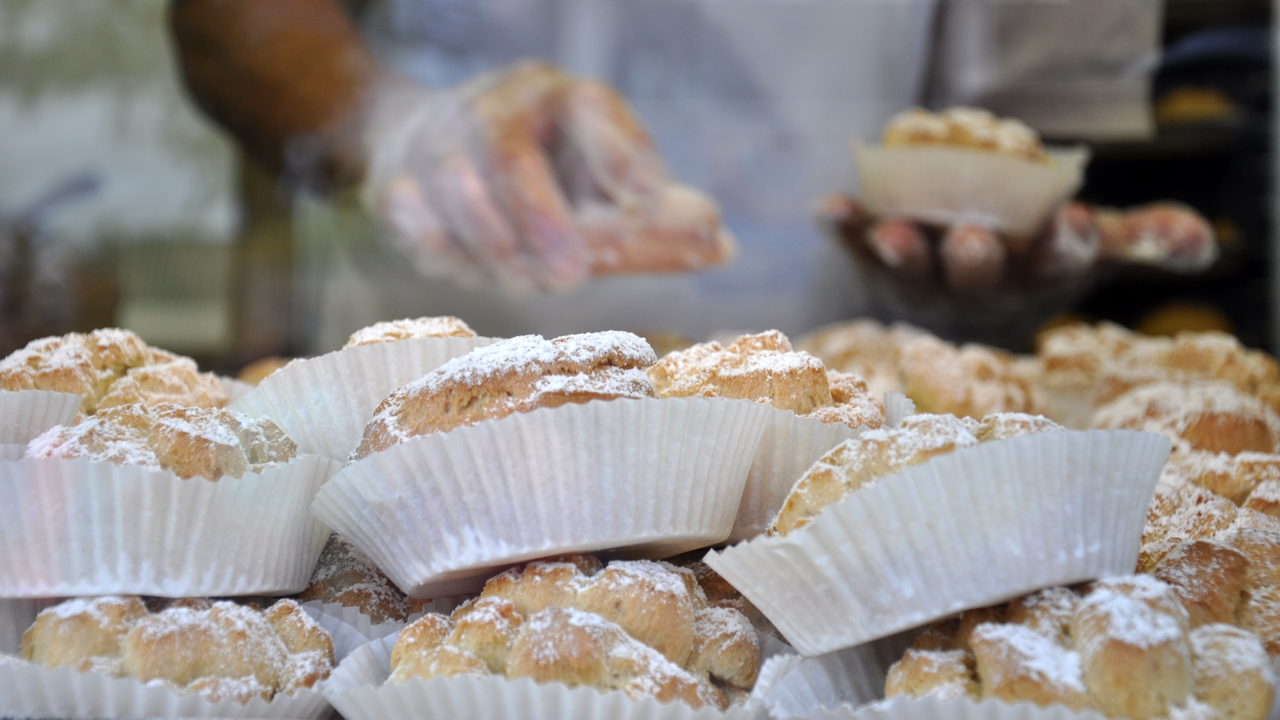 $4 cream puffs, $1.50 coffee at Cream Puffs
If you've ever wondered why the line at Cream Puffs is always a mile long, you now have your answer: $4 gorgeous, fluffy cream puffs and $1.50 coffee. This State Fair staple has been there for 30 years, cranking out delicious whipped cream filled delicacies, perfectly golden and oh-so scrumptious. Can't decide on a flavor? Go for the mini cream puffs for the ultimate deal. Find it on the southwest corner of West Dan Patch Avenue and Liggett Street.
We asked some of our KARE viewers what food deals they love to snag at the Fair on our Facebook page. Here's what they said ...
What are some of your favorite Fair deals? Let us know in the comments!
PHOTOS: Cheap eats at the MN State Fair
Can you eat at the State Fair for $5? We find out.
Can you eat at the State Fair for $5? We find out.