MINNEAPOLIS - A man whose voice was the first thing many Minnesotans heard each morning is now quiet.
Roger Erickson, one half of the legendary WCCO-AM 'Boone and Erickson' morning radio team, died Monday at the age of 89.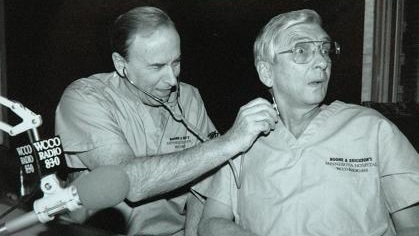 The Minneapolis Star Tribune shares that Erickson and Boone were the guys Minnesota turned to for 38 years, for school closings, skits, and humorous down home chat that made them seem more like friends than radio personalities. Roger's familiar, resonant voice provided a gentle wakeup and pathway into the day, with the famous 'Good Morning' song an unforgettable part of the routine. Their long-running soap opera parody, "Minnesota Hospital", offered bit parts for some of the biggest politicians, stars, and notables on the state's landscape.
We were blessed by Roger Erickson's wit, wisdom and humor. The definition of a class act, he made MN a better place.. pic.twitter.com/CZUfDh7ToH

— Paul Douglas (@pdouglasweather) October 31, 2017
Senator Amy Klobuchar is like a lot of Minnesota kids whose parents listened to Boone and Erickson, and became fans themselves. "He was a friend of my dad's and I have early memories of the two of them ribbing each other over the airwaves," Klobuchar recalled. "He taught generations of future radio hosts how to take their jobs seriously without taking themselves too seriously and always helped his listeners start their day on the right note – especially the kids who came to rely on Roger for breaking news about school closings on snowy winter mornings."
Erickson retired from his weekday slot in 1997, and was a member of the first class of the Minnesota Broadcasters Hall of Fame in 2001. He was born and raised on a farm in Winthrop, Minnesota, went to school at the U of M, and got his first radio gig at WAVN in Stillwater. In 1958 he signed on with WCCO TV to play Bozo the Clown and host a children's show called "Roger's Corner." The gig led to his dream job at WCCO-AM.
"WCCO AM gave Roger the ability to keep performing theatrically with Charlie over the air," reads a passage from a remembrance shared by his daughter Tracy. "They would go on to be nominated for the National Marconi Award, which was a recognition he treasured as much as receiving an honorary membership to a local Rotary Club. He was truly grateful for his amazing career, opportunities and relationships that came from working at, what he called, "the greatest radio station of all times" until he retired in 1998."
A memorial service will be held November 10th, from 10 a.m. to 2 p.m. at the Lafayette Club in Orono. Mics go hot (a radio phrase) with remembrances around 11 a.m.
Memorials to be made to the University of Minnesota Performing Arts, Agricultural Department or the department of your choice that means the most to you. GO GOPHERS!