STILLWATER, Minn. - What happens when two incredible people's paths cross at the right time and the right place? Good things. This story is proof.
It was 4th of July weekend and Molly and Brad Nemec were on a full-blown rescue mission. The couple have been working hard to get dogs out of Korea. The animals are rescues from meat farms. This time the pups were flown in from Seoul to Chicago. Molly and Brad were meeting volunteer's half-way in Wisconsin Dells. Or at least that was the plan.
"We had this planned for about three weeks, and it was hot out, holiday weekend, traffic everywhere, and for all of the days for our vehicle to break down, that's when it happened, when these dogs were on their way to Minnesota," says Molly.
There they were. Stuck in Stillwater, Minnesota. No rental car to be found on the holiday weekend, the Nemec's options were dwindling.
"I was in tears, I was devastated," she says.
This is where things get good.
"The way she was distressed, I didn't know if she just needed water, they were worried, it was obviously the 4th of July weekend," says Officer Brad Junker.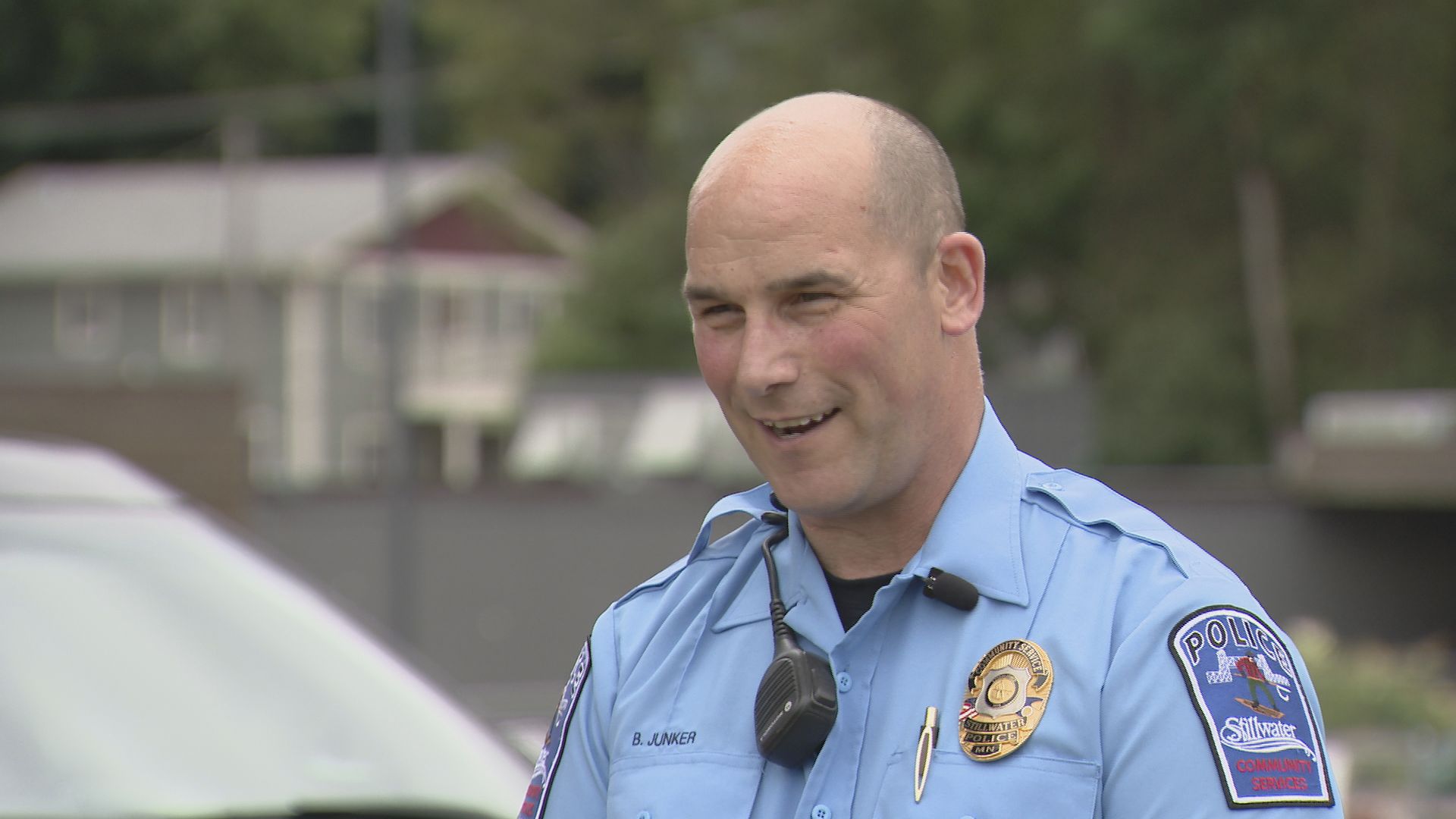 Junker is a community service officer in Stillwater. He and another officer stopped to see what was up with the two people and their broken down car. When he found out their situation, he did something unexpected.
"Just kind of instinctively I thought, is that your only problem? You just need a way out of here? And, she said, "yeah", and I thought, well heck, I can fix that. Just take my car," says Junker.
"I had the officer drive me up here, I grabbed my vehicle and gave her the key," he says.
Not only did Officer Junker have a car, it was a Suburban, big enough to house six dogs and their crates.
"We drove away in disbelief. We were still not sure what had just happened," says Nemec.
They made it to Wisconsin Dells. They picked up the six Jindu pups, and they headed back home. When they arrived, Brad Junker and his daughter were waiting.
"I hadn't told my wife yet that I let total strangers have my vehicle, but I knew she'd be excited, so I told her, this is one of those don't tell mom things," laughs Junker.
The two stopped and bought hamburgers from McDonalds as treats for the arriving dogs.
There's something to be said for that whole, right time, right place thing. Or just maybe…it's something more than that. "It was like an angel in disguise. It was what we needed at that moment," says Nemec.
All six dogs are in foster homes and can be adopted through Ruff Start Rescue in central Minnesota.
Molly is often asked why she and her husband are helping dogs in Korea when so many dogs here need help. The answer is…she does both.
"Rescue has no borders, compassion has no limits," says Molly. The dogs in Korea are part of the meat trade. What's worse, they are tortured first because of a belief by an older generation that torturing the animal makes the meat better and increases virility and stamina in men. That practice is fading with each new generation, but it still happens."
If you'd like to learn more about how to help visit savekoreandogs.org. Be aware that that stories and images are hard to hear and see, but it is reality. A reality you can help change.