APPLE VALLEY, Minn. -The Minnesota Zoo's newest Amur tiger cub has plenty of personality and energy. The one thing she lacks is a name, and the Zoo is hoping you can help with that.
A special tiger cub naming contest was officially launched on the Zoo's website July 25. The public will be able to submit name suggestions via an online form. the cub's zookeepers will narrow down the name submissions to their top three and those entries will be shared with the general public for a final vote.
Here is a timeline.
July 25 – August 6: Online name submissions accepted
August 7-9: Minnesota Zoo zookeepers will review name submissions and select the top three
August 10-16: General public will vote for their favorite name
August 17: The female tiger cub's name will be revealed to the public
The female cub, born on April 26, is currently being cared for behind the scenes by the Zoo's animal care staff with her mother, Sundari. Guests from around the globe have been able to watch her grow up with a special Tiger Cub Webcam. Her zookeepers say she has a curious and spunky personality.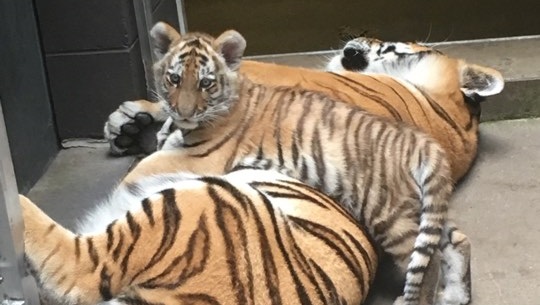 "Our newest cub has definitely been a handful from day one. She reminds me so much of her mother, Sundari, when she was a cub," says Diana Weinhardt, Curator for the Northern Trail. "It's been really fun for my team to watch her grow and bond with her mom these past few months. She definitely has a lot of energy and Sundari is a very patient mother."
The last tiger birth at the Minnesota Zoo occurred in 2012, when Sundari was born to female Angara - who is currently located at Como Zoo in St. Paul. Since its opening in 1978, the Minnesota Zoo has welcomed more than 40 Amur tiger cubs. Amur tigers can been seen along the Minnesota Zoo's Northern Trail.