BAYPORT, Minn. - Ask most residents of Bayport, Minnesota, and they'd tell you it's a pretty mellow place to hang your hat. The small-town feel and natural outdoor vibe, courtesy of the St. Croix River, are good for both the mind and the bloodpressure.
Considering all that, it's understandable that creatures 'other' than humans might find the river town a great locale as well. A young bear who wandered into town on Tuesday sure seems to.
The bear was first spotted around 7 a.m. by resident John Legato's son as he drove into work. The 21-year-old called Legato, who looked out his window and saw the bear wandering around his yard, doing nothing in particular. "Just a bear being a bear, running around and trying to figure things out."
Legato said the bear wandered off into another neighbor's yard, came back, and then left for good without making a fuss. Another resident, however, was not as positive about his interaction with the furry visitor, saying the bear charged him and his dog as they walked in a local park.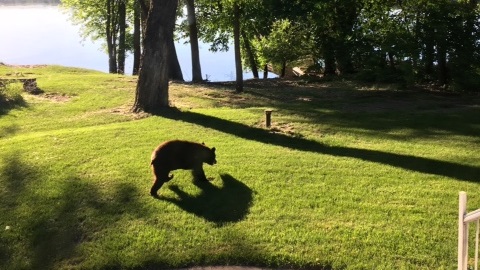 Bayport Police Chief Laura Eastman says there have been a number of reported sightings over the past few days, in parks, wandering roads and checking out the Andersen Windows property. The chief maintains the bear is just a curious adolescent exploring and looking for food, but she does warn residents not to approach or feed the critter. It very likely is just passing through on its way north, the chief says.
Eastman also passes on the following list of DNR suggestions to avoid trouble with bears.
Take in bird feeders at night or eliminate them entirely
Avoid leaving garbage outdoors
Avoid feeding pets outdoors, and don't leave pet food outside at night
Keep garbage cans tightly closed and occasionally clean them with ammonia
Clean and put away outdoor grills after using them
Never approach or attempt to feed a bear. Go inside and give the bear room to leave
Keep dogs/animals inside