Wells Fargo said Monday that it would claw back tens of millions in additional compensation from top former executives after an investigation concluded that the leaders had not acted swiftly to contain alleged "improper and unethical behavior."
Independent board members, paired with outside investigators hired by the company to review its fake accounts scandal, blasted Wells Fargo executives for failing to properly investigate the activity, cultivating an atmosphere of unrealistic expectations and hiding information about the extent of the crisis.
RELATED: Wells Fargo releases 113-page report on fake accounts
The bank said it had canceled $47.3 million in additional stock options owed to former community banking chief Carrie Tolstedt, who had already lost $19 million in compensation. She quit in June.
Former CEO John Stumpf, who had already agreed to give up $41 million in compensation as well as a 2016 bonus, will lose an additional $28 million in incentive compensation. He resigned in October.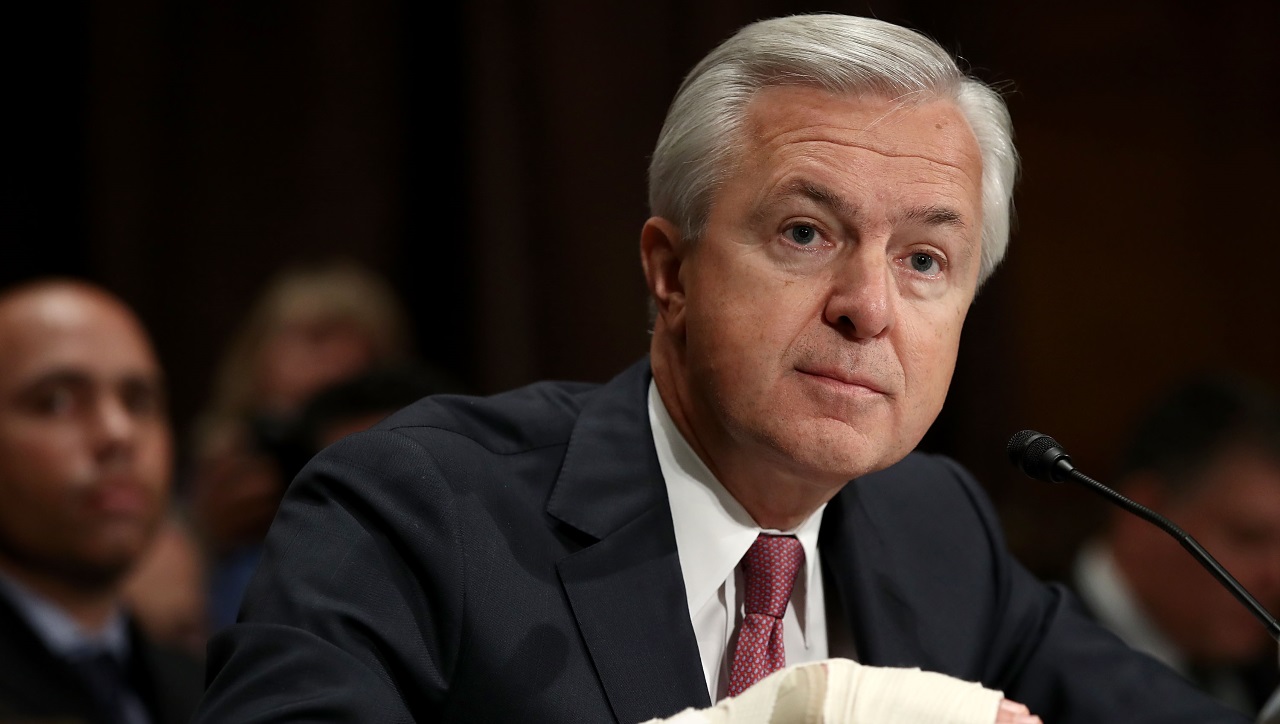 The release of the 113-page investigative report compounds the company's crisis ahead of an April 25 annual meeting, where board members will be up for reelection. Stockholder advisory group Institutional Shareholder Services recently recommended that Wells Fargo shareholders vote against re-election for 12 of the company's 15 directors.

A Wells Fargo spokesman declined to immediately comment on the investigation's release Monday morning. But the company said Friday that it rejected the "extreme and unprecedented" ISS recommendation.
The ISS move "fails to recognize the active engagement of the Board and the substantial actions it has already taken to strengthen oversight and increase accountability at all levels of Wells Fargo, including important improvements to corporate governance," Wells said in a statement. "The Board and management are working tirelessly to rebuild the trust of customers, employees and investors, and are making substantial progress in strengthening Wells Fargo."
Contact information for Stumpf and Tolstedt was not immediately available Monday.
The company has acknowledged it may have opened up to 2.1 million accounts without customers' permission, triggering government investigations and a settlement with the Consumer Financial Protection Bureau.
In addition to clawing back compensation from Stumpf and Tolstedt, the bank on Feb. 28 reduced compensation for eight current executives by $32 million, including eliminating 2016 bonuses and halving 2014 performance payouts.
In the investigation, law firm Shearman & Sterling conducted 100 interviews with current and past workers, reviewed more than 35 million documents and coordinated with FTI Consulting to conduct forensic analysis of the bank's digital archives.
Investigators concluded that the bank's senior leaders "distorted the sales model and performance management system, fostering an atmosphere that prompted low-quality sales and improper unethical behavior."
Wells has previously acknowledged that aggressive sales incentives and pressure prompted many workers to open fake accounts to meet their goals.
The report discusses that issue at length, blaming senior executives for tolerating "low-quality accounts" and failing to terminate the people responsible for them.
The report singles out Tolstedt for allegedly having been "insular and defensive" and having "effectively challenged and resisted scrutiny from within and outside" her community banking division.
The probe accused Stumpf of downplaying problems and failing to investigate the allegedly unethical activity when the possibility of problems came to his attention. The investigators said Stumpf protected Tolstedt.
When an internal investigation, ordered after a Los Angeles Times article, revealed that about 1% of the bank's employees were fired annually for sales integrity violations, Stumpf and Tolstedt "received the figure positively," according to the report.
"Stumpf was by nature an optimistic executive who refused to believe that the sales model was seriously impaired," according to the report. "His reaction invariably was that a few bad employees were causing issues, but that the overwhelming majority of employees were behaving properly. He was too late and too slow to call for inspection of or critical challenge to the basic business model."
Stumpf later testified before Congress that he would responsibility for the mistakes.
Since the scandal's inception several years ago, Wells Fargo has fired several thousand employees who opened accounts without customer permission. The bank has also eliminated sales incentives and realigned its risk management operations to avoid similar problems in the future.
Follow USA TODAY reporter Nathan Bomey on Twitter @NathanBomey.