KENOSHA COUNTY, Wis. - Three Illinois men were shot to death at Great Lakes Dragaway on Sunday, Kenosha County sheriff's officials said.
The Kenosha County Sheriff's Office said Monday 30-year-old David L. Watson of Oswego, 30-year-old Khalid R. Howard of Aurora, and 26-year-old Derek K. Edwards of North Aurora are the victims of Sunday night's shooting.
The suspect remains at large, Kenosha County Sheriff David Beth said at a news conference Monday afternoon. Authorities are searching for a black vehicle, he said, while adding information is scarce and he can't be certain that vehicle description is accurate.
Beth said more than 100 officers are involved in this multi-state investigation -- and it's one that has not yielded much information due to the fact that family members and others involved in the case are not being cooperative.
The victims are involved with gangs and were shot at "point blank" range, he said.
Around 7 p.m. the Sheriff's Department received a call that three people had been shot during Larry's Fun Fest at the motor speedway near Union Grove, said Kenosha County Sheriff's Sgt. Mark Malecki. Another 911 caller reported someone had been killed.
Beth said witnesses reported the suspect ran through the crowd "extremely fast" moments after the shooting. He described the scene as chaotic.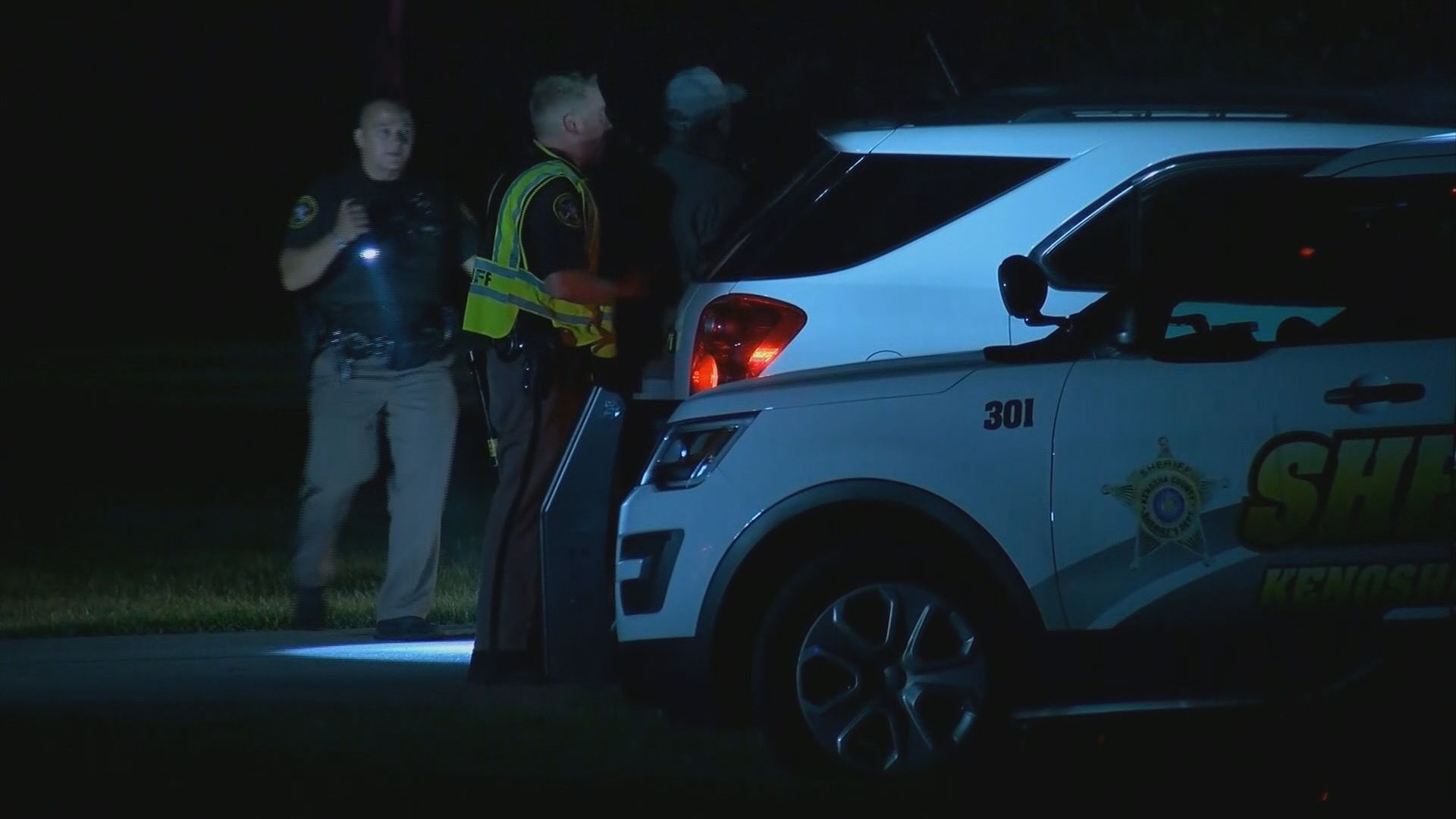 Two of the men were pronounced dead at the scene and the third died in an ambulance on the way to a local hospital.
Organizers of Larry's Fun Fest were expecting around 5,000 people from southeastern Wisconsin and northern Illinois to attend the event, which features "smaller souped-up, kind of 'Fast and Furious' type vehicles," Malecki said.
The west frontage road leading to Great Lakes Dragaway on Highway KR between I-94 and Highway 45 was shut down by officers.
All three victims were from Illinois and at least two were from Aurora, Ill., said Beth, who spoke to distraught friends of the victims.
"My basic conversation with them is they have no idea what caused this," Beth said. "The three men shot were standing near a food vendor when the suspect walked up and shot them point blank."
He added the suspect shot two of the victims twice -- making the effort to come back and fire a second shot after shooting the third victim.
"He had enough arrogance to go up to them and make sure they were dead," Beth said.
Beth said Monday they do not know the motive behind this shooting.
"We're not aware of any altercations that happened earlier. At this point we're not aware of exactly what caused this," Beth said.
The suspect was described as a black man in his 20s wearing blue jean shorts and a black hoodie, though other reports say he was wearing a white T-shirt.
The sheriff said he didn't know if the gunman knew the victims but based on the shooting, he knew they were his targets.
The type of weapon was unknown. Beth said he didn't know if the shooting was gang-related though there were "issues last year (at Larry's Fun Fest), but nothing to this degree."
Many of the spectators at Larry's Fun Fest left soon after the shooting, which was originally reported by 911 callers as three people being shot point blank.
"I'm thinking this was a mass exodus, though I can't say for sure. It didn't take us long to get everybody to leave," said Malecki, adding that the evacuation made it difficult for authorities to establish a crime scene.
Great Lakes Dragaway is a quarter-mile drag strip that opened in 1955 in the Kenosha County Town of Paris. Larry's Fun Fest was billed as part car show and part drag race.
Anyone with information is asked to contact the Kenosha County Sheriff's Department at 262-605-5100.