ST. PAUL, Minn. - The Como Zoo cute factor just got a boost with the arrival of a new baby western lowland gorilla.
The baby female was born behind the scenes early last Wednesday to mother Alice. It is Alice's second baby, and just the third in Como's 56 years of caring for gorillas. Her first little one was just days old when it died.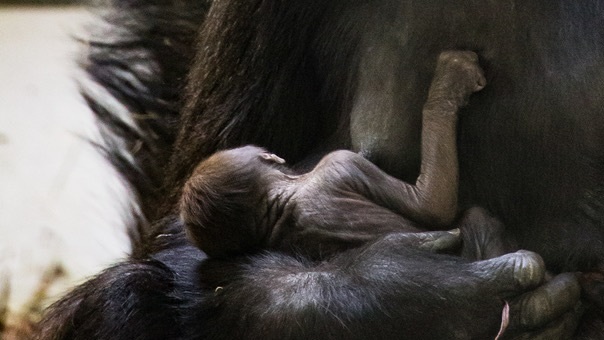 "First-time gorilla mothers are more likely to experience challenges related to birth and child-rearing" said John Dee, curator at Como Zoo. "With this birth, everything is tracking as it should. Alice has shown herself to be very attentive, very nurturing, and very protective of her new baby, just as we hoped she would".
The new baby's father is Schroeder, a 31-year-old silverback western lowland gorilla who has been at Como Zoo since 1991. Schroeder's troop includes females Nne (29 and pronounced E-Nee), Dara (14), Dara and Schroeder's baby Arlene (2), Alice (15), and Alice's yet unnamed female baby.
Alice and Dara both came to Como Zoo as part of the AZA Gorilla Species Survival Plan (SSP). The Gorilla SSP serves 52 zoos across the United States to help guide the management of the gorilla population. Gorilla Forest at Como Zoo is now home to nine gorillas: The six-member family troop and three-member bachelor troop—Jabir, Samson, and Virgil -- who are all 18 years-old.
Como Zoo staff say gorilla mothers are very protective of their babies. A gorilla mother will carry the baby on her chest for the first three months. At about 6-months-old the baby will move to ride on the mother's back and begin playing and moving around on the ground close to mother.
"Gorillas are very family oriented," said Jo Kelly, Senior Zookeeper. "Mom will let other family members see the baby and they will take their cues from mom as to how close they can be." When the baby is older and able to move around on its own, other family members, including dad, will play with the baby.
The family troop will remain off exhibit, allowing Alice and baby to bond.