MINNEAPOLIS - The Hennepin County Attorney's Office has charged two people in connection with a shooting outside of the Lyon's Pub in downtown Minneapolis.
A 16-year-old from St. Paul has been charged with one count of second-degree assault with a dangerous weapon and one count of possessing a fireman while under 18 years old. Prosecutors have moved to have him charged as an adult. Alize Jovon Cleaves, 22, of Inver Grove Heights, has been charged with one count of aiding an offender - accomplice after the fact.
According to the charges, on May 13, police were called to a shooting at the Lyon's Pub on 6th Street off of Hennepin Avenue. A customer, who had been eating at a table on the sidewalk, had been shot in the leg.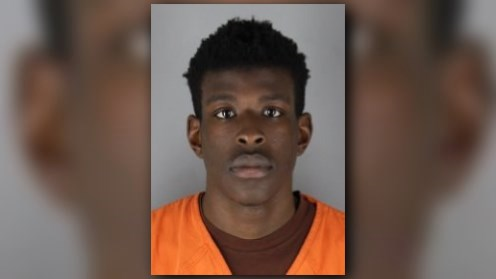 After speaking to witnesses, officers learned that two groups of young men had been involved in the shooting and that shots had been fired by a young man wearing a gray sweatshirt. Officers later found a group of men at the light rail platform in front of the Government Center. They boarded the train and saw an abandoned gray sweatshirt on an empty seat. A loaded gun was in the front pocket. It was the same caliber as a casing recovered at the scene.
Witnesses and multiple surveillance videos indicated that one group of men had been walking south on Hennepin Avenue when they passed some men in a bus shelter. All the men began arguing and flashing gang signs. The 16-year-old was seen wearing a gray sweatshirt and he appeared to reach into the front pocket. A few seconds after the teen's group turned onto 6th Street, two shots were fired and then the group ran away.
Video from the light rail shows Cleaves wearing the grey sweatshirt, which the 16-year-old had on minutes earlier. Someone can be heard saying "take that off." Cleaves took it off and put it on the empty seat where the police officers recovered it.
Both remain in police custody.