LONGRUN, Mo. - Prosecutors have brought murder charges against the biological mother of a 16-year-old Minnesota girl whose burned remains were found on her rural Missouri property.
Ozark County Prosecutor John Garrabrant says Rebecca Ruud was charged Tuesday with first-degree murder and other counts in the killing of Savannah Leckie, who was reported missing in July.
According to the criminal charges, Ruud initially called the Theodosia Fire Department around 3:43 p.m. on July 18 for a fire at her home. Ruud was a member of the Theodosia Volunteer Fire Department and contacted a member of the department directly.
Ruud was told to contact the Ozark County Sheriff's Office, which she did 12 minutes later. When officials arrived, Ruud kept them away from her residence and directed them to a fire at the top of a hill, near the property.
Charges state Ruud initially told authorities both she and Savannah were burned but refused to let crews see Savannah or get close to the residence.
Authorities say Savannah primarily lived in that trailer -- a 30-foot space with minimal ventilation and no electricity.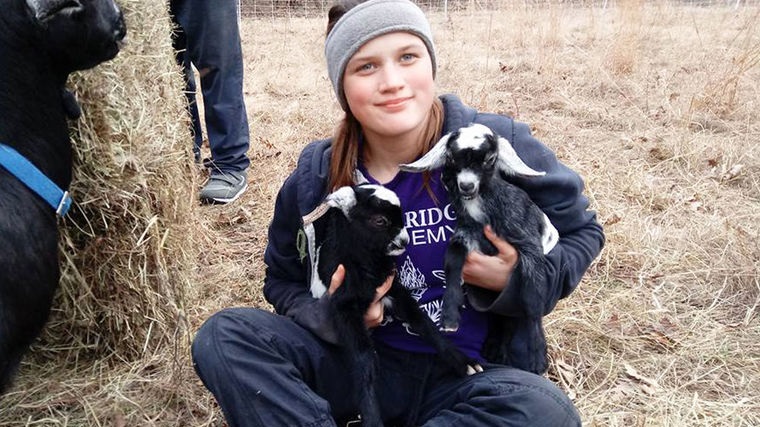 Ruud was treated for burns on her left arm and told fire officials that Savannah was fine and taking a shower. When asked again if they could check Savannah's injuries, Ruud told them the girl was naked and laying on a bed to cool off.
Firefighters asked Ruud for a drink of cold water (temperatures were near 90 on the day of the fire) but Ruud refused, saying they could not come near the residence or the trailer because she didn't want them disturbing Savannah. No one at the scene ever saw Savannah, according to the complaint.
RELATED: Human remains found on rural Missouri property could be missing MN teen
Savannah, who had autism, was adopted by a family in Minnesota at birth but maintained periodic contact with Ruud. According to a search warrant, Ruud was told Savannah could not get along with her adoptive mom's new boyfriend and came to live with her in Ozark County. Sheriff Darrin Reed says Savannah lived with Ruud on the rural property on County Road 905 for 11 months before she was reported as missing July 20.
When Ruud called to report Savannah as missing, she told police, "I think she's a runaway," adding "I had a fire two days ago, Savannah is blaming herself for the fire, I got burnt, I think that's why she ran away," according to the charges.
Ruud and her boyfriend, Robert Peat Jr., lived in the 1,850-square-foot metal building. The property is 81 acres, partially wooded and partly open fields.
Ruud's ex-boyfriend told investigators that he saw Ruud discipline Savannah by forcing her to crawl through a hog pen, then bathe in a pond, according to a search warrant application.
Charges say Ruud admitted to police she smashed Savannah's cell phone and limited her contact through Facebook as another form of punishment. She said made her wade into a muddy pond and then dunked her under, as well.
Ruud told authorities Savannah would cut her own arm and to punish her for this, Ruud would pour alcohol and salt on the cut twice a day and rub it in, charges state.
Authorities say Ruud and Peat have become increasingly less cooperative and have questioned investigators' motives and activities during the search for Savannah.
Howell County records show Robert Peat Jr. and Ruud got married on Friday, Aug. 4, the same day that investigators first found human remains on Ruud's property. In some cases, Missouri law provides that being married can prevent spouses from having to testify against one another, but Sheriff Reed says in a case where the victim is under 18 the special privilege does not apply.
On Friday, Aug. 4, investigators seized several items, including a blue shirt, letters from the camper, and items later confirmed to be bone fragments. Canines searched the property and one hit on a burn pile, partially covered by fresh leaves, branches and other debris. A second dog was brought to the burn pile and also alerted on human remains, the search warrant application says. Investigators found a patch of light colored ash under the debris.
Investigators sifted through ash and found what appeared to be bone fragments and intact human finger bones. They also found a large bone that appeared to be a vertebra and several items that looked like teeth, according to the search warrant documents.
On Wednesday, Aug. 9, investigators seized items including cigarette butts, hair, soil samples, many bone fragments, and a zipper pull. The documents say a dentist with training in forensic anthropology and odontology believes the bones and teeth are human and were subjected to high temperatures, and had advanced deterioration. The search warrant says investigators were searching for "chemicals, including but not limited to lye, that can be used to break down human tissue and/or accelerate the cremation of a human body." Sheriff Reed says lye soap is also made on the property.
Investigators seized a meat grinder, 26 bottles of lye, hair, a knife, a box of girls clothing, and also located several containers and buckets containing chemicals and lard.
Ruud is being held in the Ozark County jail.