ST. PAUL, Minn. - Murder charges were dropped against a Lakeville man accused in the disappearance and reported death of a Ramsey County woman.
Timothy Barr pled guilty Wednesday morning to a single count of fleeing a police officer in a motor vehicle, but prosecutors agreed to drop two counts of second degree murder and one count of criminal vehicular homicide, charges that had been filed against him involving the disappearance of Michelle Newell. Newell, a Vadnais Heights resident, was reported missing by her family September 8.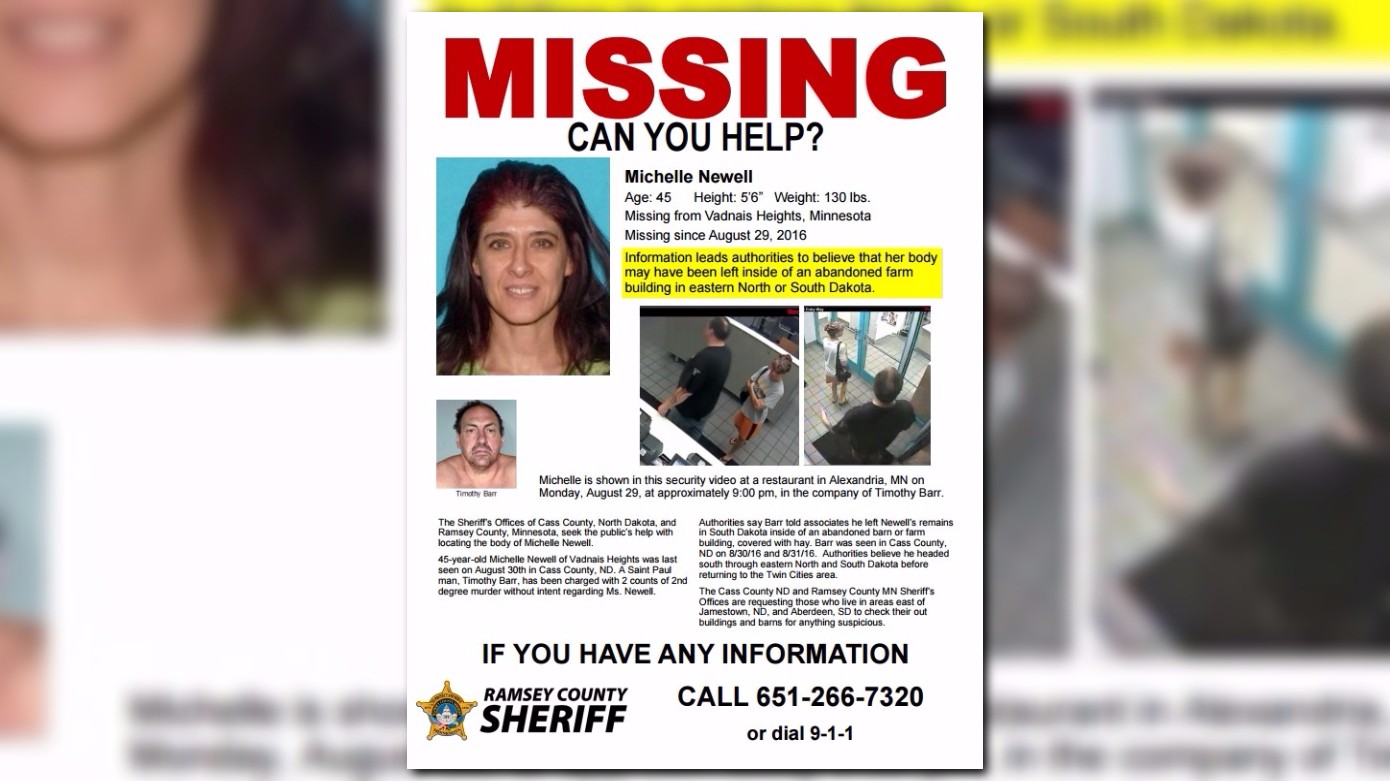 Police looking into Newell's disappearance learned that Barr had contact with police in Wheaton, North Dakota two different times on August 31. On September 17 an informant told investigators that Barr had confessed to killing a woman who had stolen methamphetamine from him by running her over with his vehicle. Two other informants told similar stories involving meth and a woman getting run over by Barr's vehicle.
But Barr's attorneys argued that the charges were based on information from unreliable sources, and that Ramsey County prosecutors were prosecuting crimes that were not even in their jurisdiction. An assistant prosecutors conceded to the venue argument, leading to the dismissal of charges. A spokesman for the Ramsey County Attorney's Office says the charges could be re-filed at a later date if warranted.
Investigators say Barr and Newell were known to associate, and that cell phone records show them texting about a trip to a destination some four 1/2 hours away. The two were captured on a Taco Bell surveillance camera in Alexandria August 29. Witnesses report seeing Newell alive in Cass County August 30. No one knows for sure what happened to Newell after that, but she has not been seen or heard from since.
The fleeing charges were filed after St. Paul Police officers tried to pull Barr over Sept. 19 on several warrants. Instead of stopping he ran a red light and sped down Wabasha Street towards downtown St. Paul at speeds reaching 80 miles per hour. Due to the danger posed to the public officers terminated the chase. He was later arrested.