CADOTT, Wis. - Green Bay Packers Hall of Fame receiver Donald Driver has surprised another newlywed couple by crashing their wedding reception.
This time it was in western Wisconsin where Driver stopped his bus tour Saturday at Dixon's Apple Orchard and Wedding Venue in Cadott. He caught Jenna Schier and Nathan Ulness and the bridal party before the grand entrance and escorted the couple into the reception.
Passing through Cadott, WI and decided to crash Nate and Jenna's wedding! Congrats you two. #DDThankYouTour pic.twitter.com/pAa9vBbhRC

— Donald Driver (@Donald_Driver80) August 12, 2017
Guests applauded as they danced their way to the head table. Later Driver led a dance train through the venue.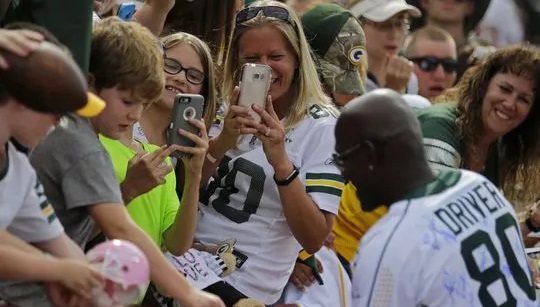 Driver says his bus tour across Wisconsin is to thank his fans for their support.
"As I enter the Green Bay Packers Hall of Fame this summer, it becomes a great time to reflect, celebrate and THANK fans for the amazing memories and support. I have wanted to do this tour since I first announced my retirement from the Packers, and now is a perfect time to say THANK YOU!", said Driver in a post on his website. "My wife Betina and I raised three beautiful children here, and we remain ingrained in our support for the state of Wisconsin because of the incredible, life-long friendships and relationships that have been built over 20 years."
Driver started the tour Thursday with a speech to 1,800 Kohl's employees at their headquarters and will wrap with a Goodwill luncheon Monday.
In between, he introduced Gavin DeGraw's set at Ashley for the Arts in Arcadia and went back-to-school shopping for families with kids being treated at Children's Hospital of Wisconsin. He also visited the Miracle League of the Lakeshore in Manitowoc and stopped by the Boys and Girls Club of Greater Green Bay.
Just last month in Green Bay, Driver surprised another couple by showing up at their wedding reception at Titletown Brewing Company.