When a semi overturned and burst into flames on Interstate 494 in Bloomington on Thursday, Cole Paskach had a front row seat.
"I wasn't really worried about myself at the time," Paskach said.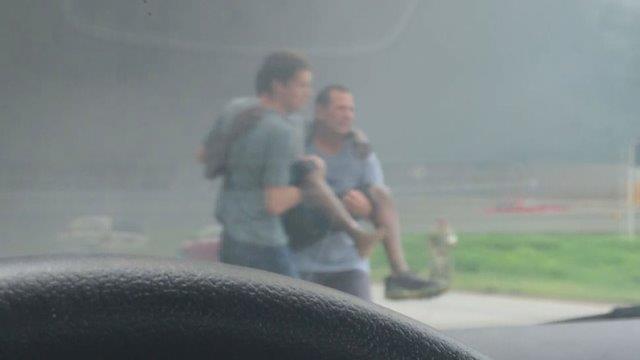 Though he wasn't worried about himself, Paskach did worry about the driver of the truck, so he decided to act.
"I ran up and saw the truck driver," Paskach said. "He had pulled himself out of the vehicle, but still seemed to be in a lot of pain. I got him to safety and then I moved to my car."
Paskach had to tend to his vehicle because chemicals from the truck leaked on to the interstate and ignited. That's when he noticed to other men moving the driver out of harms way yet again.
"I just didn't there was any way anyone could survive it," said Tim Celinski, who also witnessed the crash. "So we, you know, picked (the truck driver) up a couple times and moved him. We got him across the street."
By the time firefighters extinguished the cab it was completely charred, yet the driver managed to escape with some burns to his lower body.
"It was pretty intense," Celinski said.
"He said he couldn't feel his legs, that it burned and that it really hurt," Paskach said. "That's just when I just told him to hold my hand and squeeze and it would be okay soon."<00:07:18;24>>
Okay, thanks to some people who decided to act.
"I just want to say that there was a lot of people involved," Celinski said. "I mean, it wasn't just myself and (Paskach), there was probably a half a dozen people or more not including the first responders."
Minnesota State Patrol credit those good Samaritans for saving the driver. They say the driver of a Honda Pilot swerved in front of the truck just prior to the crash. The truck then struck the Pilot before hitting the median. The driver of the Pilot was not injured.
The truck driver was taken to HCMC for non-life threatening burns.