BEMIDJI, Minn. – Hundreds of people turned out to the Stanford Center in Bemidji Tuesday to voice their opinions about a proposed expansion of an existing pipeline that snakes across northern Minnesota.
At issue is a three-mile stretch that crosses the Canada-United States border. The Canadian energy company Enbridge wants to increase the line to full capacity, which has caused concern among some residents, including nearby Native American tribes.
"The more carbon you bring in, the more climate chaos we have," said Winona LaDuke with Honor the Earth.
LaDuke was part of a group of people bused in from the Twin Cities and Duluth who had environmental concerns.
The U.S. Department of State held its first and only open house for the public to learn about the pipeline and voice their opposition or support for the project.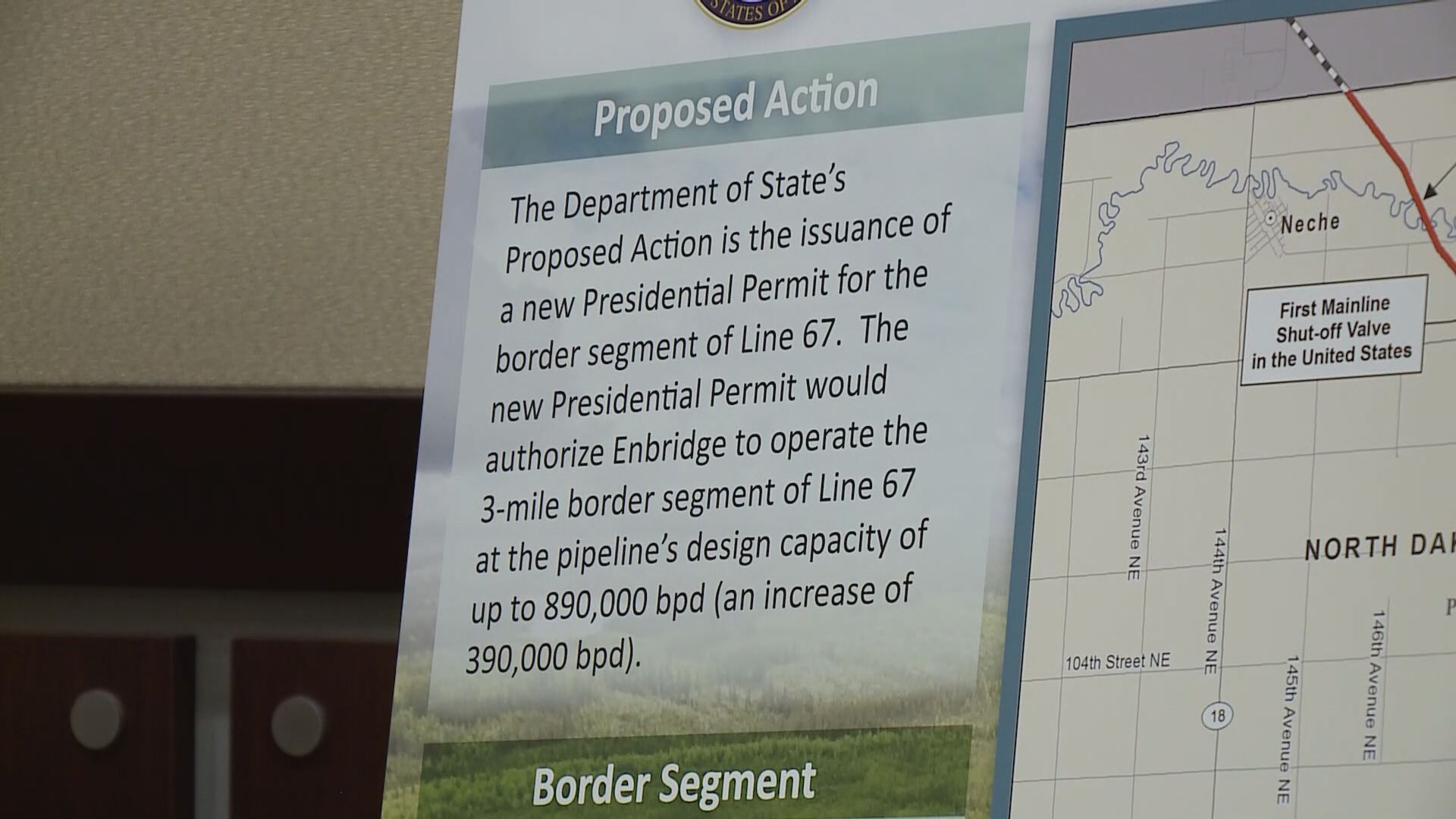 The pipeline, also known as the Alberta Clipper, was built in 2010. Most of it already transports 800,000 barrels of crude oil a day in Canada and the U-S.
But the 3-mile section that crosses the US-Canadian border into North Dakota does not. And that's why Enbridge is asking for a presidential permit to increase the capacity.
Steve Steinhoff who lives near the pipeline is against the project.
"I fish this area. I don't want to lose the quality of the water," he said. "Water is a finite thing."
"We certainly hear those concerns about the environment and we share those concerns" added Enbridge spokesperson Shannon Gustafson.
She says the company has plenty of safeguards in place.
"Should they have any concern about a drop in pressure in the pipeline we shut that pipeline down immediately," she said.
That doesn't relieve fears of the three Native American tribes that live near the pipeline.
"Why don't you give us some more renewables? We'd like you a lot better in Minnesota," said LaDuke who referenced the Enbridge's renewable energy portion of its business.
Yet not everyone who showed up to the open house was opposed to the pipeline.
"The pipeline will go right through my backyard and I'm one 100 percent fine with it," said Dana Drauden who lives in Bemidji. "Transporting oil underground is the safest way to do it."
She and her husband, Damon, are for the expansion. He used to work for Enbridge but is out of work, at least in the oil industry. They believe more people in Bemidji are for it than against it.
"The pipeline needs to come through for jobs," he said.
While Enbridge says the expansion on this line won't create any new jobs, it will meet customer demand.
If you would like to comment about the expansion or read the environmental impact statement, click here.