MINNEAPOLIS -- Aug. 1, 2017 will mark 10 years since the I-35W bridge collapse. 13 people died and another 145 were injured.
The Minnesota Historical Society (MNHS) is commemorating the date by displaying a piece of history for the first time.
A gusset plate from the bridge will be on display at the Mill City Museum July 28 to Aug. 30.
"What we have behind me is a piece of that history, probably the most significant piece of that history. This is a gusset plate which is believed to have caused the collapse of the bridge," said Adam Scher, MNHS senior curator.
The National Transportation Safety Board identified the gusset plate as the first to fail in the collapse. The NTSB found that the gusset plates were too thin under the weight of the bridge, its traffic and construction at the time.
Thursday morning, crews installed the gusset plate in the museum's Mill Commons. Next to the gusset plate is a photo of the aftermath from the bridge collapse.
"I've been looking at these pieces of bridge for years. We collected them in 2013 in our warehouse. Just now having this installed, with this image adjacent to it, is the first time it's really hit me in a different way. It's a very sobering experience," Scher said.
The MNHS also has a school bus emergency door from the I-35W collapse on display at the Minnesota History Center in St. Paul as part of its "Then Now Wow" exhibit.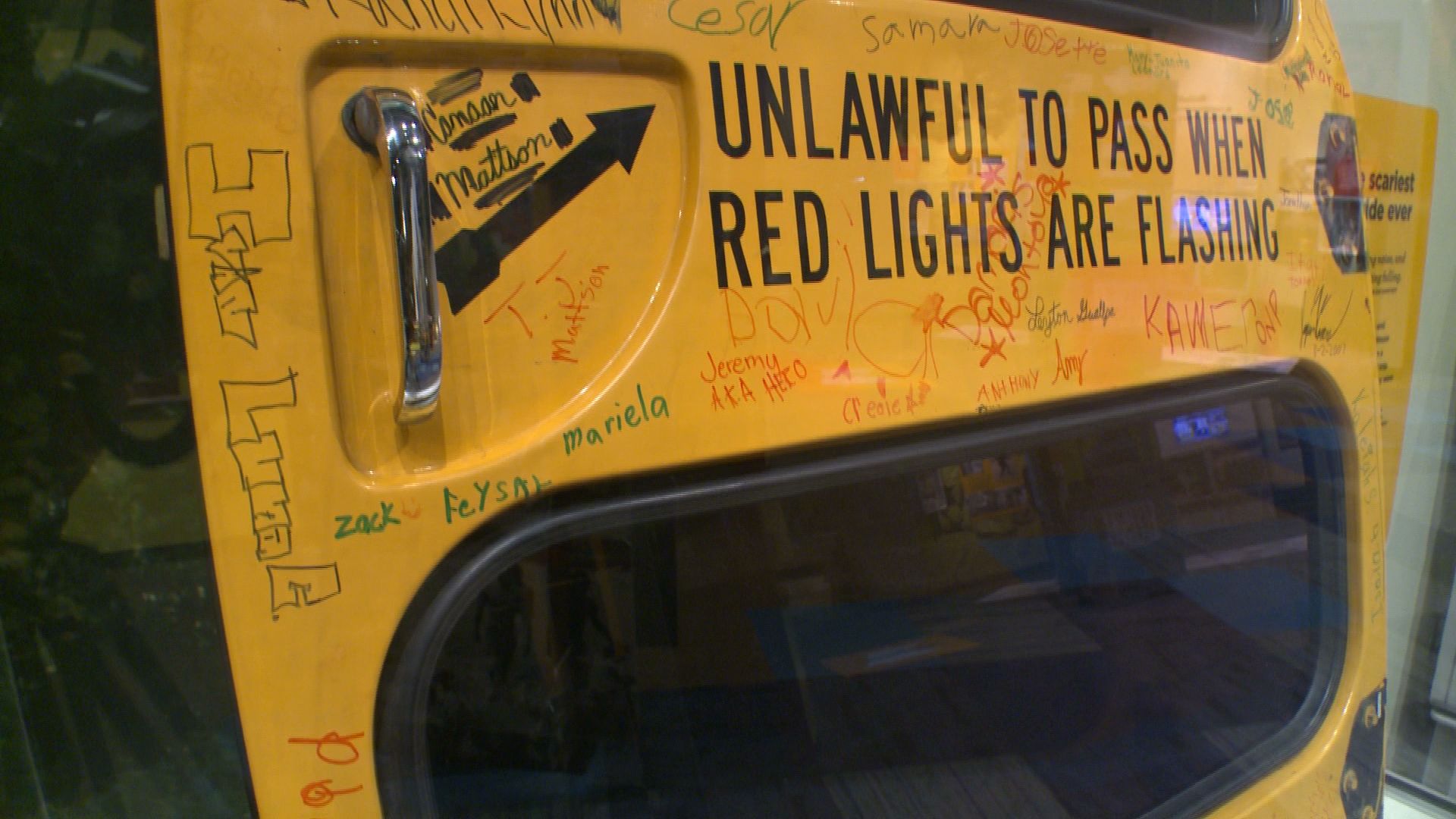 According to Sondra Reierson, MNHS associate curator of 3D objects, the bus door came from the bus driver, Kim Dahl.
52 kids and 9 adults from the Waite House Neighborhood Center were in a bus coming home from a field trip when the I-35W bridge collapsed. Everyone on the bus survived.
"Kids really connect with the door because it's something they're seeing on a regular basis, on their way to school, and to be able to see something like this and put it in the context of that really tragic and scary event is really powerful," Reierson said.
Reggie Hyde, 12, of Minneapolis was not even 2 years old when the bridge collapsed.
While looking at the exhibit, Hyde said, "I'm amazed that they have the actual door. It's pretty cool and I don't know how they survived that."
The door is covered with signatures of the students and adults who were on the bus. It's been a part of the "Then Now Wow" exhibit since November 2012.
Scher said he hopes the gusset plate will become a permanent part of the "Then Now Wow" exhibit after its run ends at Mill City Museum.
You can see the school bus emergency door at the Minnesota History Center during normal hours.
You can see the gusset plate for free at the Mill City Museum in the museum's Mill Commons from July 28 to Aug. 30.