MINNEAPOLIS, MN – The Minnesota Attorney General has settled a fraud lawsuit against a Hennepin County fence contractor.
As part of the Consent Judgement and Order Alpine Fence Company, LLC, and its owner Chad Thompson of Minneapolis are never again allowed to do fence work in Minnesota and must pay back the money he obtained from customers under false pretenses.
According to court records, Alpine and Thompson neither admit nor deny the allegations made against them in the lawsuit but agreed to repay nearly $43,000 to customers.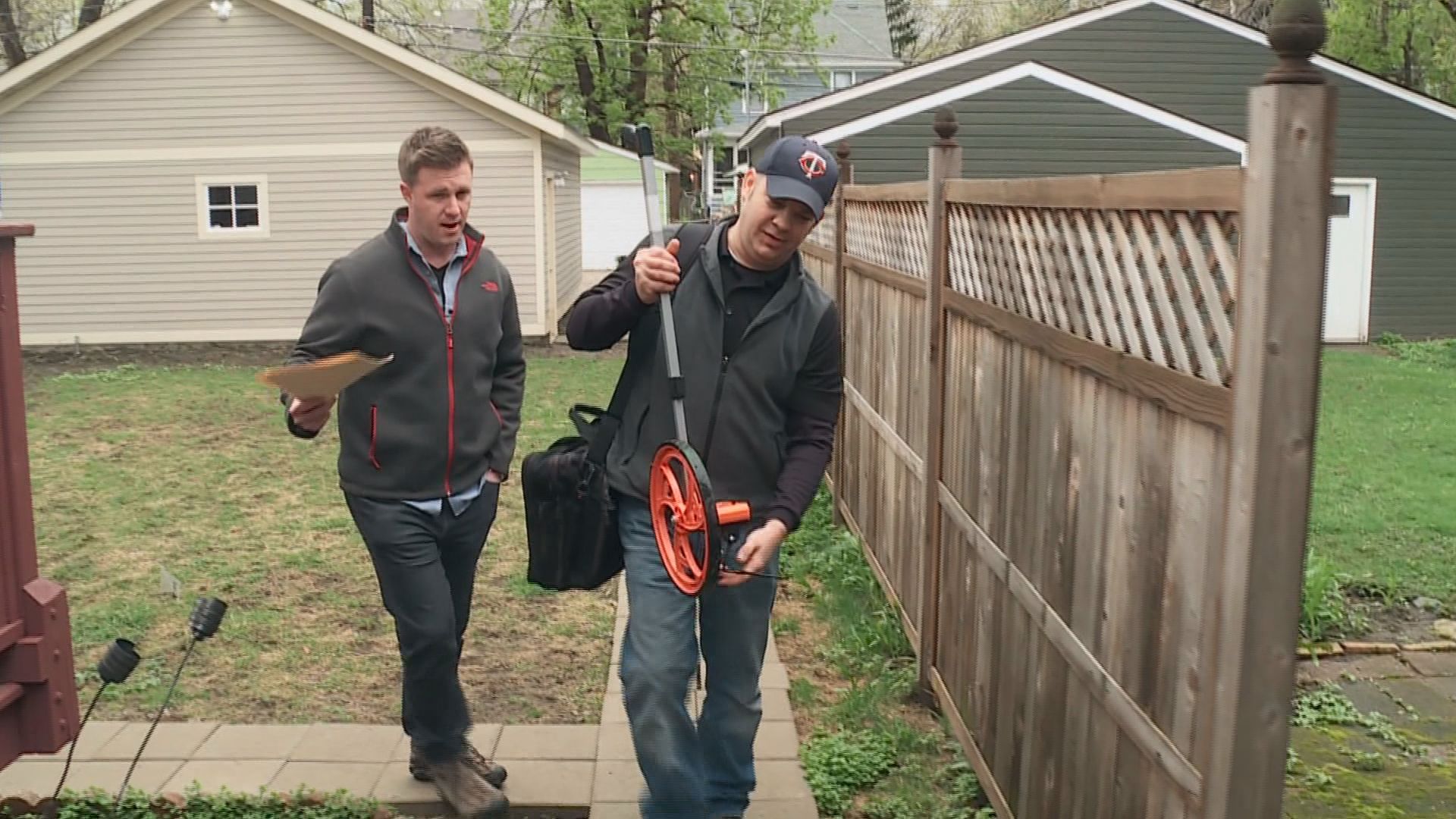 The lawsuit was filed in the wake of a KARE 11 hidden camera investigation launched in March, 2016.
KARE 11 documented how Alpine had been taking down payments, failing to do promised work and then refusing to give refunds. The investigation also turned up evidence the contractor made questionable claims about his license to do business, about Better Business Bureau accreditation and about awards he's won.
WATCH ORIGINAL INVESTIGATION HERE
LAUNCHING THE INVESTIGATION
KARE 11 began investigating Alpine Fence after receiving complaints from several of the company's customers who claimed they'd been misled and ripped off.
A number of concerning discrepancies about Alpine Fence Company quickly emerged. Alpine's website had a large Better Business Bureau logo and claimed Alpine was BBB accredited. The same claim was made on Alpine's contracts and business cards.
But KARE 11 found that was not true.
The BBB's website showed Alpine is "not accredited." There was also an alert posted about the "F" rated business. Joe Pavelko of Chanhassen told KARE 11 that Alpine's claim of BBB accreditation tricked him into a false sense of security.
"False advertising!" Pavelko said. "Obviously if we had of known that he wasn't part of the BBB we wouldn't have hired him."
Pavelko's story is similar to other Alpine customers KARE 11 interviewed. Pavelko says he hired Alpine in August, 2015, but months passed with no work being done. "September, October, November went by with no work being done and really no communication whatsoever," he said.
Pavelko had paid Alpine an upfront deposit of more than $6,000. When he informed Alpine's owner that he wanted to cancel his contract and get his deposit back, he said Chad Thompson pointed to the fine print in the contract. It stated that if a customer cancels for any reason Alpine gets to keep half the deposit.
"He gets the deposit down, does no work whatsoever and then blames it on weather or just doesn't even return a phone call until people want to cancel because no good or service has been given to the customer," Pavelko fumes. "And then he tries to keep 50% of the deposit for doing nothing. For doing absolutely nothing. And tries to rely on the contract to keep that money!"
Pavelko took Alpine to court and won a summary judgement for the return of his full refund. But he struggled to collect.
KARE 11 INVESTIGATES: UNPAID COURT ORDERS
KARE 11 GOES UNDERCOVER
After hearing multiple customer's stories of paying Alpine for work and not getting a fence or full refund, KARE 11 decided to go undercover. We wanted to see for ourselves if Alpine Fence would give us an honest sales pitch. We invited Alpine to provide us with a quote on a fencing project at a St Paul home where we had placed hidden cameras.
Chad Thompson responded and KARE 11 investigative reporter A.J. Lagoe questioned him as the contractor began measuring the yard.
Lagoe: "Tell me a little bit about your company."
Thompson: "Ok, Alpine Fence, I started it myself in 1997. I'm the only owner… and our work is guaranteed for life."
Lagoe: "I wanted to make sure I was dealing with license and insured --"
Thompson: "Yup, licensed and insured."
Lagoe: "So, you're good to go for here?"
Thompson: "Licensed, bonded and insured.
The City of St Paul requires fence contractors to hold a city license, but records showed Saint Paul suspended Alpine's license in 2008 for failure to provide proof of insurance.
Lagoe: "Do you do a lot here in St Paul?"
Thompson: "Less here. It's more on the west side, ok, but I've done a lot of projects here. It's probably 70/30."
In Minnesota, fence contractors are not required to have a state license. However, Thompson claimed Alpine is licensed. The Minnesota Department of Labor and Industry has no record of Alpine Fence or its owner Chad Thompson holding a license of any kind
The Minnesota Secretary of State showed Alpine's business registration had been "inactive" since 2013. That means technically the company was not legally allowed to do business anywhere in Minnesota. And what about Alpine's BBB claims? As Thompson measured the yard, Lagoe also asked him if he was affiliated with the BBB. He responded "Yeah," while nodding his head in the affirmative.
ATTORNEY GENERAL TAKES ACTION
After a lengthy investigation of its own, the state took action to stop Thompson and his company. Minnesota Attorney General Lori Swanson sat down with KARE 11 in December 2016, to discuss the lawsuit she filed against Alpine Fence and Thompson.
Lagoe: "According to the complaint that you filed, you believe there were actual illegalities in this case?"
Swanson: "We do. We believe he's violated the consumer fraud laws, the deceptive trade practices laws. We have laws on the books that basically say don't lie to consumers when you're doing business with them."
Lagoe: "Your complaint uses some pretty strong language: deceptive, fraudulent, unlawful. That's what you found?"
Swanson: "Absolutely!"
KARE 11 repeatedly offered Thompson the opportunity to do a scheduled interview and explain his side of the story. He refused, but in both phone calls and text messages Thompson maintained his claims of BBB Accreditation and that Alpine Fence is licensed and insured. To date, no proof has been provided.
Thompson also claimed on Alpine's website that his company has received numerous "Best of Minneapolis" awards.
"And now we're in the Hall of Fame," Thompson boasted to KARE 11's undercover reporter while delivering his sales pitch in St. Paul. "The Hall of Fame is for businesses that have won the Best of (Minneapolis) more times than anyone else. And now we've done it!"
When asked about the source of those awards he responded they were from "BESTOFMINNEAPOLIS.COM."
KARE 11 found no record of that website. It's one more aspect of Alpine Fence Company that has customers screaming foul. "It actually makes me want to go buy an award for myself that makes me the best of Minneapolis," said David Plante.
KARE 11 INVESTIGATES: BOGUS AWARDS
The Consent Judgement Attorney General Swanson signed with Thompson requires him to repay $42,750 to the former clients he ripped-off.
The victims will not be paid back all at once.
Thompson agreed to a payment plan that requires him to make refund payments of several hundred dollars a month through 2024.
Thompson's attorney, Bassford Hanvik issued a statement regarding the settlement of the case against Alpine and Thompson.
He cites Thompson having health problems as the reason for the problems with his business and wrote:
"For my part, I can state that Mr. Thompson has always accepted full responsibility for the problems that brought this matter to the attention of Attorney General Swanson's office in the first instance and he has expressed profound remorse for the difficulties that his customers have experienced because of these failures."
If Thompson fails to live up to the settlement agreement, either by not making payments or by doing fencing business he'll be hit with a $100,000 civil penalty.
Our investigation started after a tip from a viewer. If you have a suggestion, send KARE 11 Investigates an email.