PAYNESVILLE, Minn. - The disappearance of Jacob Wetterling may be considered Minnesota's greatest unsolved mystery.
But long before Jacob – and not that far from where he was taken -- another young central Minnesota boy, Jackie Theel, disappeared without a trace.
In September of 1944, World War II was raging. Newspaper accounts from the time are dominated with the Allied liberation of France and invasion of Germany. In Minnesota, however, another story also was front page news.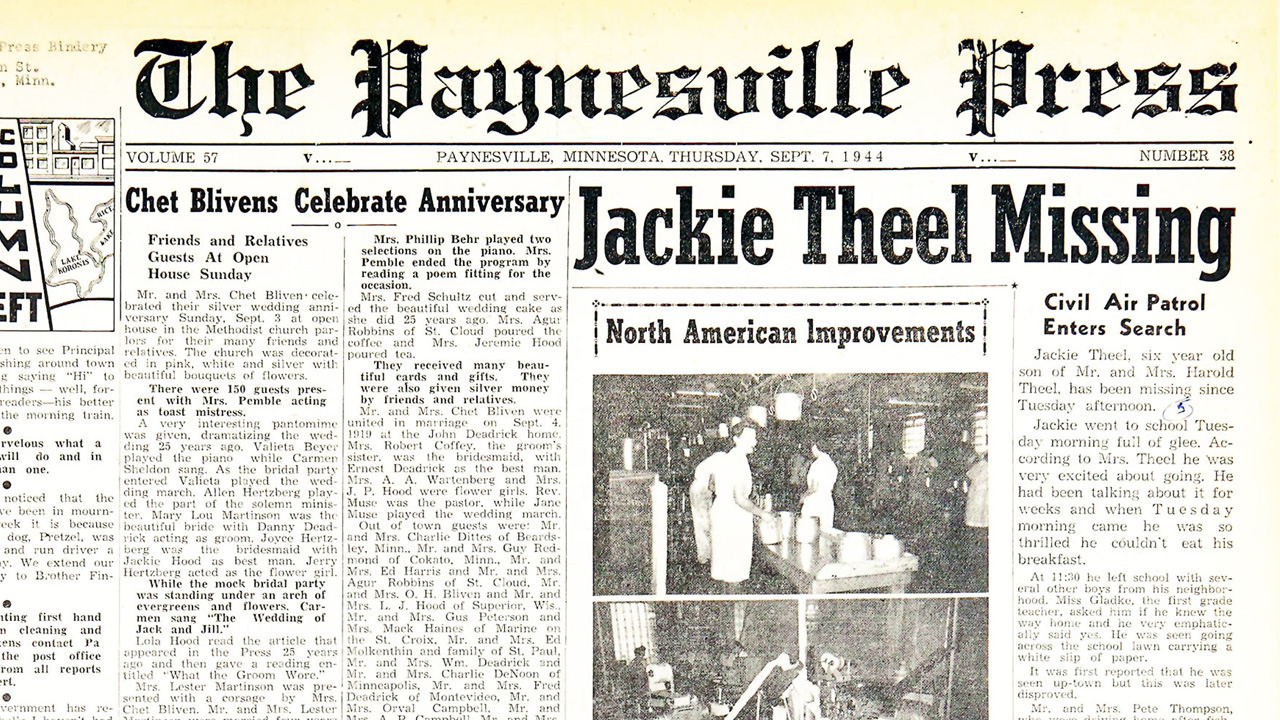 "Jackie Theel Missing" screams the bold headline in the Paynesville Press. For the next two weeks there are daily updates on the search for the missing six year-old boy.
"Something like this was huge news. It was in the papers, broadcast on the radio," said Paynesville Museum Director Brian Haines. "I mean the town basically shut down."
Very few still alive know the story of Jackie Theel's disappearance quite as well Judy Espelund. "Jackie, my brother, he was six-years-old when he went missing," says Espelund. "They did searches. The whole town. They had the whole town out searching for him."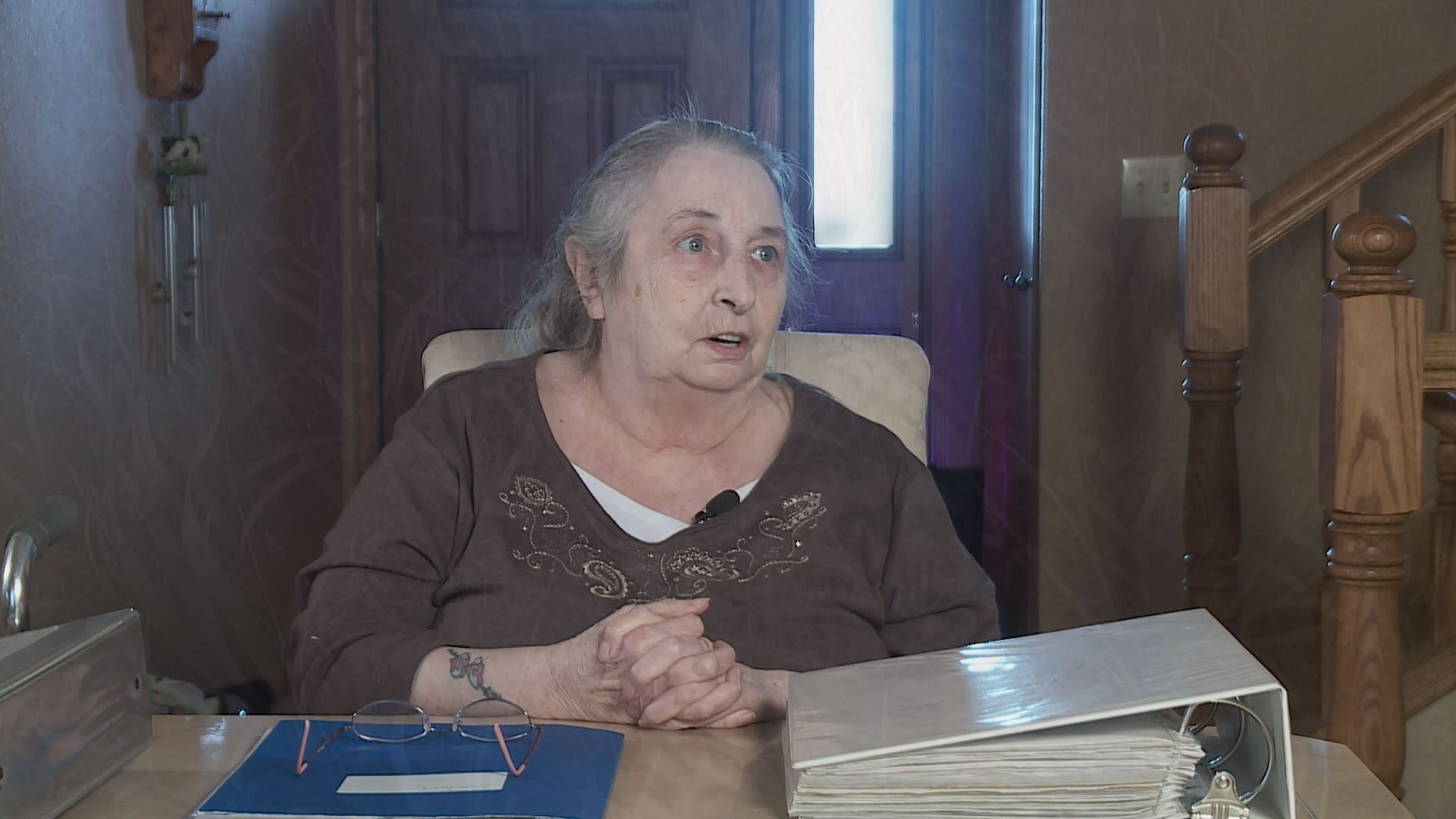 Espelund was not even born when Jackie disappeared. The youngest of 15 siblings, she was born five years later. She grew up hearing the story from her parents and older brothers and sisters. "My mother went through all kinds of hell over this," she recalls.
Here's what happened, as told by Espelund and pieced together through newspaper accounts from the time: On Tuesday, September 5, 1944, Jackie attended his first day of school. His mom sent him with a note saying an older brother would pick him up, but when school let out the teacher allowed Jackie to leave on his own.
"And that was it. Nobody ever seen him again," said Espelund.
When he didn't come home, his mom called the sheriff. That prompted a massive search with hundreds of volunteers. Boy Scout troops from neighboring towns were called in to help. Sheriff's department blood hounds and even the civil air patrol took part.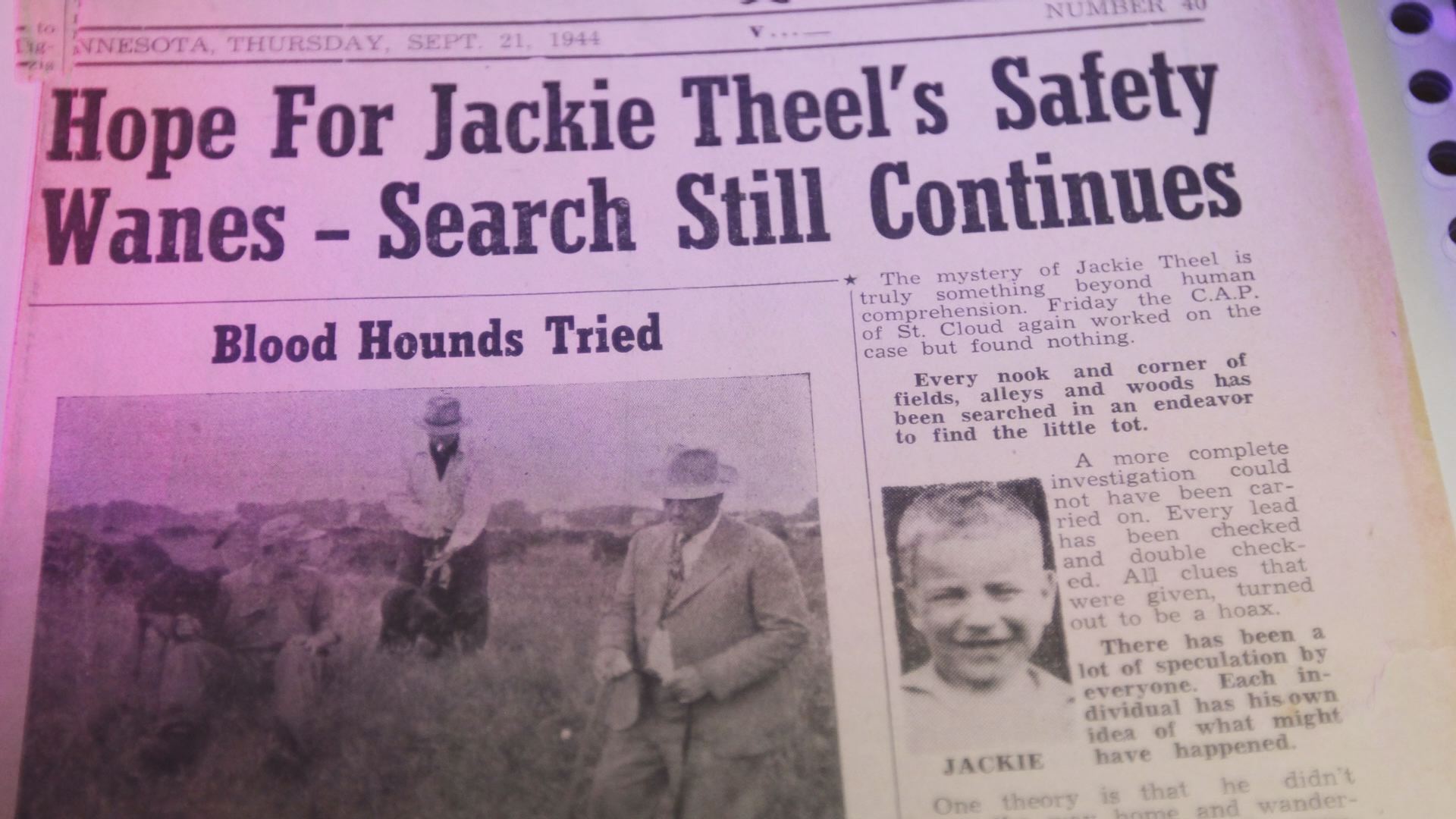 It was a blood hound that found the only clue. It followed Jackie's scent on a wandering trail leading away from the school down to the river that runs through town. Newspaper records detail how the dog then tracked the scent away from the river, through the west end of Paynesville, and out to a ditch along Old Highway 23.
From there Jackie's scent vanished.
"Couple of people had said they'd seen a little boy standing alongside the road crying," said Judy Espelund. "Someone else seen him get into a car."
There was strong speculation that little Jackie had been abducted – decades before Jacob Wetterling's case captured the attention of the nation.
"There was lots of speculation, lots of rumors, but nobody knows," said Brian Haines as he poured over records of Jackie's disappearance at the town museum. "Nobody knows to this day what happened."
When KARE 11 asked the Stearns County Sheriff's Department to review their old records of the Jackie Theel case, we were told they no longer existed. The Department only has records dating back to 1960.
The Minnesota Bureau of Criminal Apprehension told KARE 11 they were not the investigating agency and have no records of Jackie's case either. Jackie Theel is also not listed on the BCA's official missing person's clearinghouse website.
But Jackie's mom kept the original BCA missing poster, complete with a case number on it, in her bible until the day she died.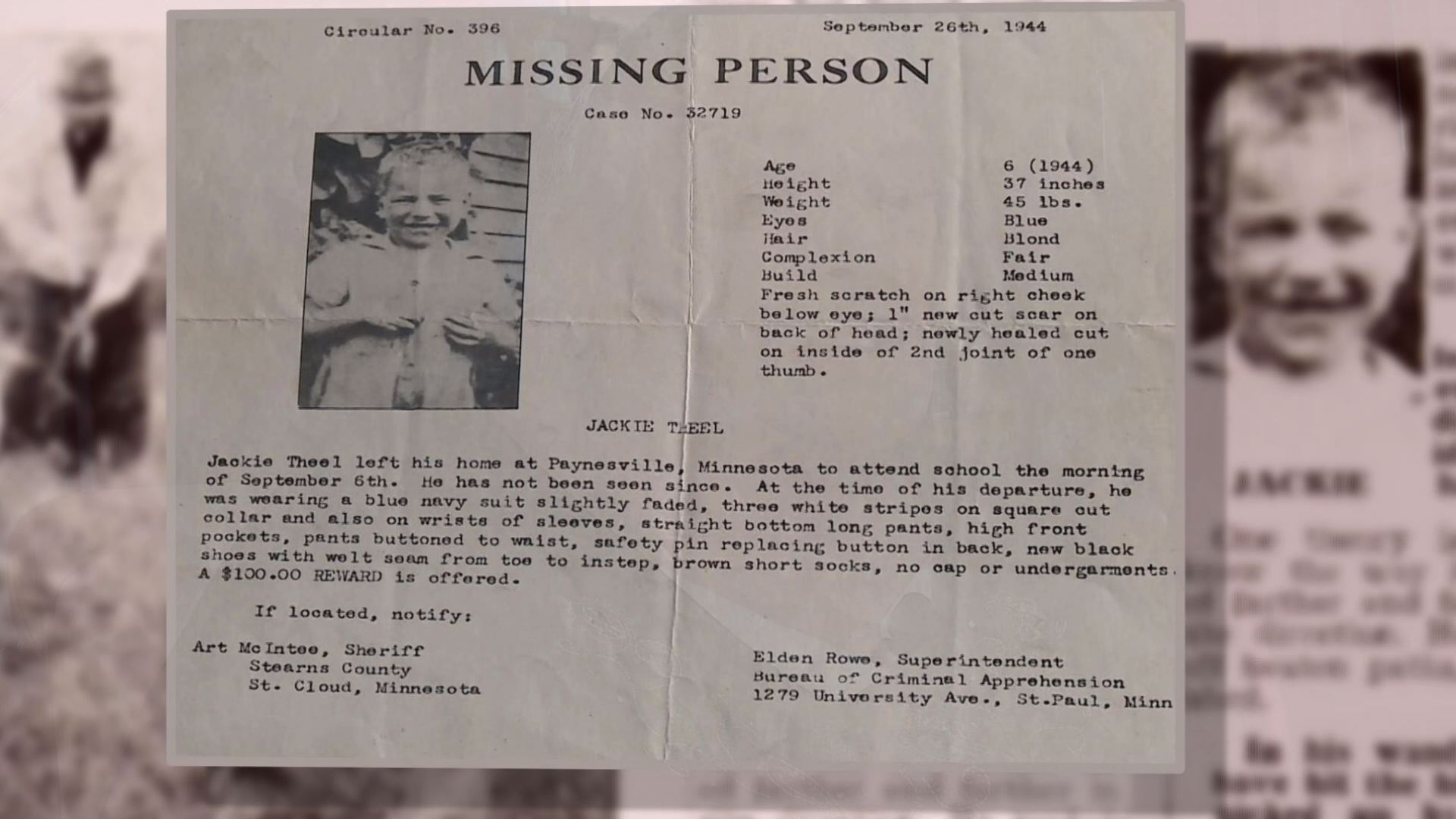 Reading it quickly brings tears to the eyes of Judy Espelund as she thinks about the big brother she never got to know. She refuses to give up hope of one day meeting him.
"I don't think you ever give up," she said. "My mom isn't here to do it. So I'll hope for her."
If Jackie Theel is still alive, he'd be 77 years old.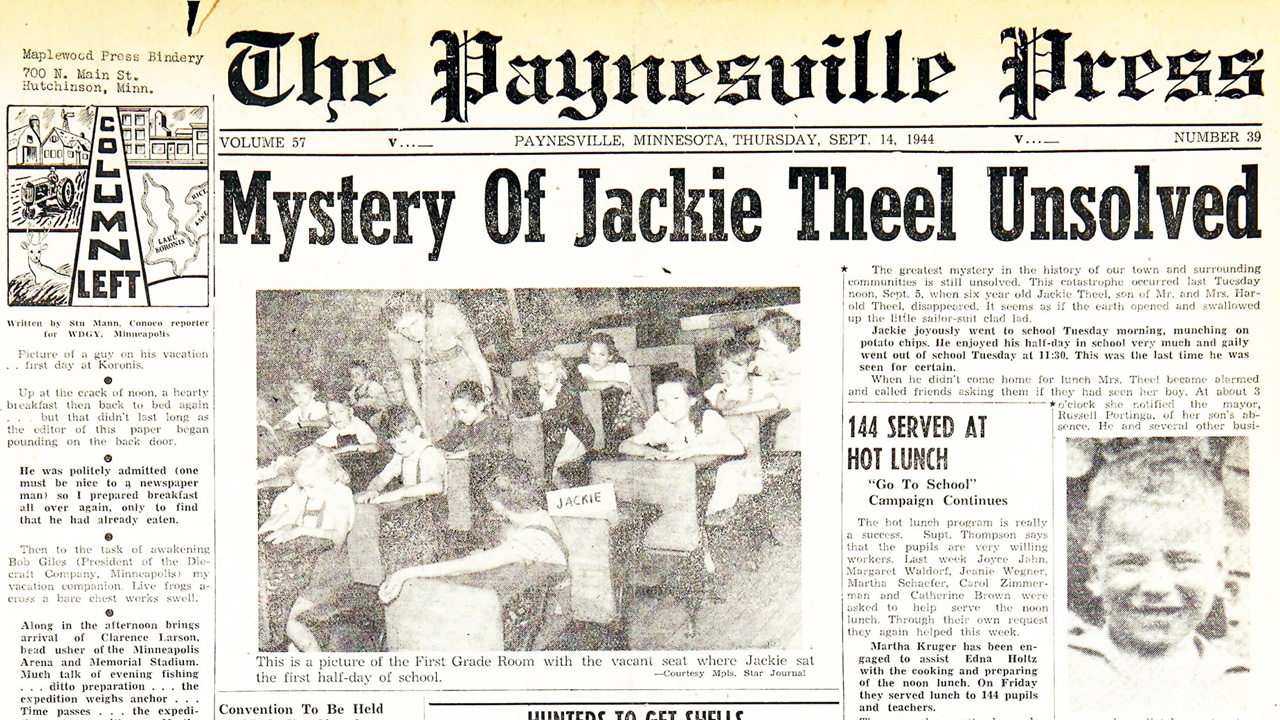 RELATED:
Charges difficult in Wetterling case
25 years later: Wetterlings share their hurt and hope
Jared Scheierl helps move Paynesville forward