BEMIDJI, Minn. - A number of students were injured when a school bus and passenger vehicle collided Wednesday morning near Bemidji.
A news release from Bemidji Public Schools Superintendent Jim Hess says school bus #25 was en route to school about 7:30 a.m. with elementary students aboard when it was struck by a car at the intersection of South Movil Lake Road and Irvine Avenue. The bus careened into the ditch, tipping on its side. One student was pinned inside the bus and had to be extricated by Bemidji Fire and Rescue personnel. First responders also helped a number of students stuck inside the damaged school bus get out.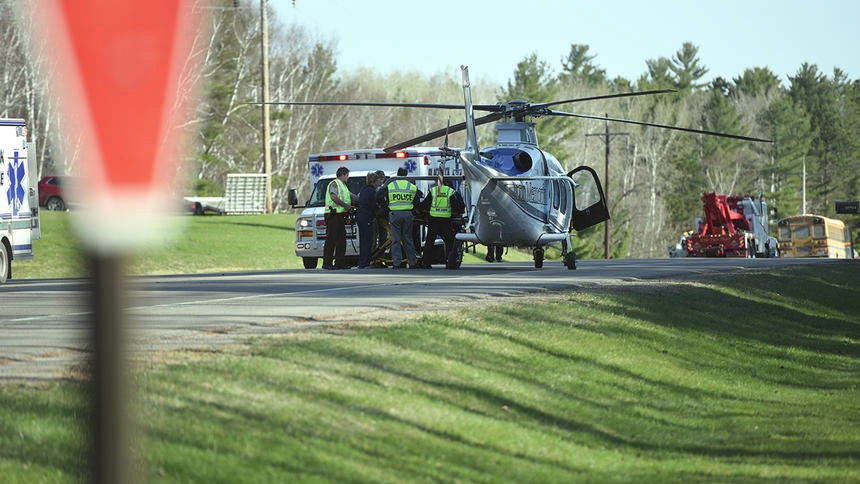 Five students were transported by ambulance to a nearby hospital for treatment, while one was airlifted due to more serious injuries. Many others suffered bumps and bruises when the bus tipped over. All of those were taken to Sanford Health to be checked out by medical personnel. They will then be transported to school or sent home with their parents.
The Pioneer says most of the students aboard bus 25 were from Red Lake Nation, and were headed to Northern Elementary.
Betrami County Sheriff's investigators say the driver of the car was headed eastbound on South Movil Road and failed to stop at a stop sign, then hit the bus. The driver of the car suffered serious injuries, and is hospitalized at Sanford Medical Center.
A parent hotline has been set-up by the district for concerned parents needing information. That number is 218-333-6040.