MINNEAPOLIS - On Aug. 1, 2007 the heavily-used Interstate 35W bridge collapsed, sending concrete and rebar, vehicles and the people inside them plunging into the Mississippi River. Thirteen people lost their lives and 145 were injured, some of them critically.
On the 10-year anniversary of this life-changing event, KARE 11 is checking in with some of those whose lives changed forever that day. We asked each of them three questions.
Here are the answers, in their own words.
Mark Paquin
Where were you when the bridge collapsed?
I was on the bridge! I was the brand new blue Ford Expedition heading north, one section from the one that went in the river. They showed my car/section every time the news shows photos of the bridge.
How did it impact your life?
It made me angry and made me sad for the people that were badly injured and the families that lost someone that day. All I wanted to do was get home. I ended up with PSTD and had a hard time concentrating, so I lost my job the next year.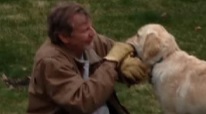 Where are you now? (physically and emotionally)
Since then, I haven't worked a steady job - I seemed to have lost my confidence when I lost my job. Plus I have vertigo that was also a factor. I do OK though. I'm old enough to be "retired" now and I have a supportive family and friends.