EDINA, Minn.--Southdale Center is gearing up to host the 25th annual Susan G. Komen Twin Cities Race for the Cure. The event is Mother's Day, May 14, 2017.
Race for the Cure raises awareness and funds for breast cancer. Funds support finding a cure for the disease while also supporting services that serve both survivors and those battling breast cancer.
Events begin at 7:00 a.m. and will kick off with a health expo, refreshments and an aerobic workout for participants.
Online registration is now closed, but Walk-Up registration is available May 8 - May 14 at the Shop for Cure in Southdale Center. Look for the kiosk on the first level, near center court. Race events include a 5K Women's and Men's Wheelchair Race, a 5K Women's & Men's Combined Run, a 1K Walk and a 5K Walk.
Directions
Southdale Center is in Edina, Minn. on 66th Street and France Avenue. See the map below for details.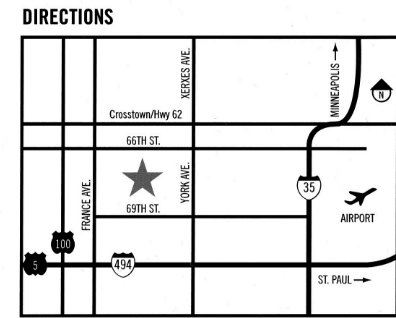 Parking
Carpooling is encouraged! Please arrive early and allow plenty of time for parking. Parking is available at Southdale Center and the surrounding locations.
To help you plan better, the following streets will be closed on Race day from 6:15 a.m.-12:00 a.m.:
-France Avenue from 66th Street to 70th Street.
-69th Street, West of York Avenue.
-Valley View Road, South of 66th Street
Race Course and Specific Event Locations
Click here to access downloadable forms including the 2017 Race Course and Site Map.
Visit the Race for the Cure webpage for more information.