NORTHFIELD, Minn. - As hundreds of students boycott classes at St. Olaf College to demand school action on recent racist incidents, the school says it has reached an agreement with the protesters.
The latest incident at the school in the southern Minnesota town of Northfield happened Saturday, when a woman found a note with a racial slur on her car. The note demanded that she "shut up or I will shut you up."
The St. Olaf administration released a statement Monday afternoon saying St. Olaf College leaders reached an agreement with the student-led group "Collective for Change on The Hill" at 3 p.m. The college said the agreement calls for the creation of an autonomous task force "to examine the issues raised by students."
Speakers have been demanding that the private Lutheran liberal arts college adopt a policy of zero tolerance for racism.
"This is not new to us," read a statement released by a student collective created for change. "We have been voicing our concerns and NOTHING has changed. The Administration has proved itself lackadaisical in in its efforts to create an environment in which St. Olaf students of color, marginalized groups on campus and international students feel safe. "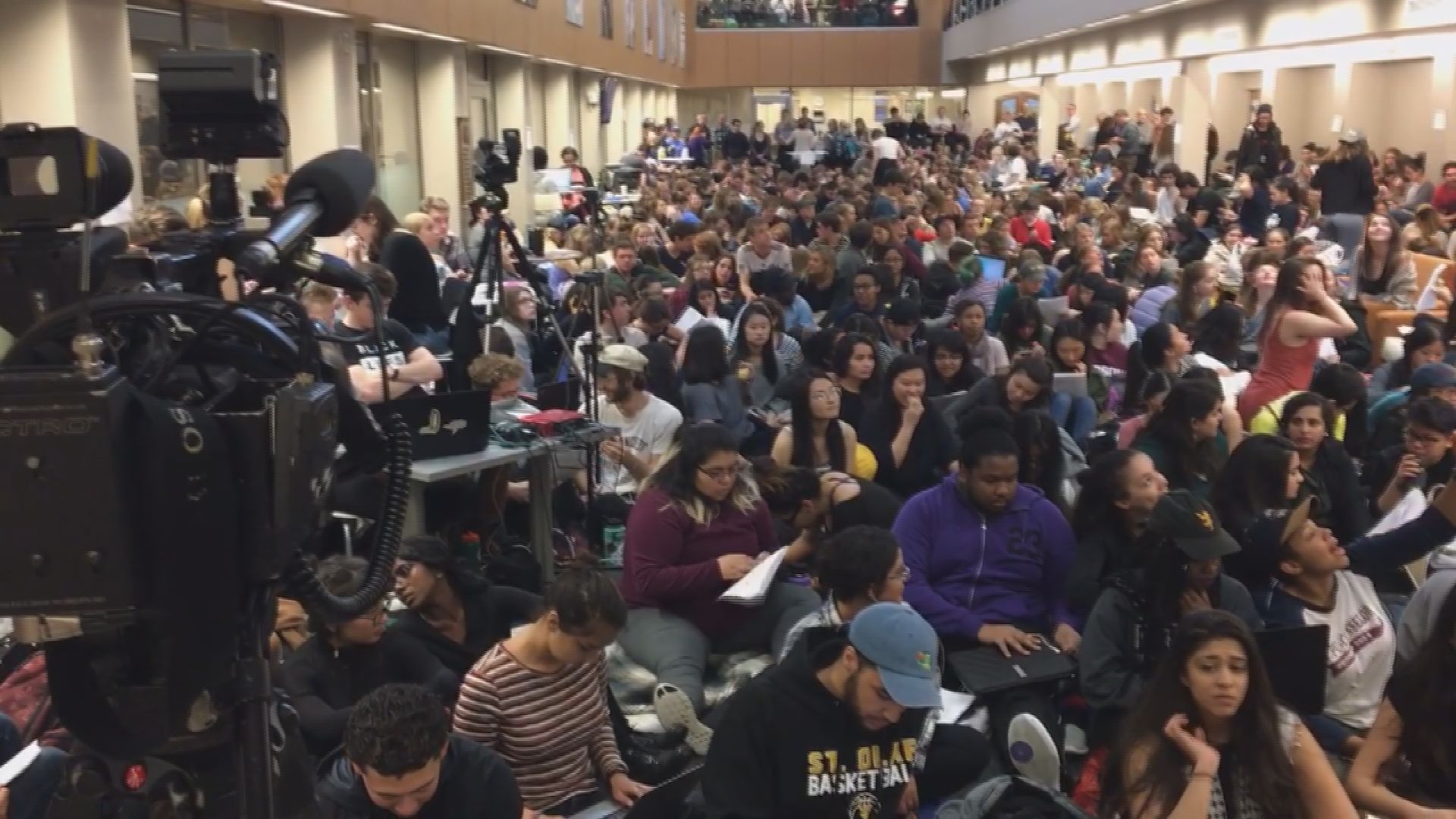 A statement the administration issued Monday morning says that hateful and threatening messages such as the one found Saturday are unacceptable. They say an active investigation is under way.
Below is the statement in its entirety.
"Hundreds of St. Olaf students gathered in Buntrock Commons this weekend after a racist message was left on the windshield of a student's car. Hundreds more students are conducting a sit-in in Tomson Hall today.
The President's Leadership Team will meet with students at 8:30 a.m. in Tomson Hall 280. Classes will not be meeting today so that we may have time for faculty, students, and staff to continue the discussions about racism and diversity on our campus.
The racist message a student received this weekend follows several other racist acts on campus throughout the year, including written racial epithets and a message targeted at another student. In addition to the sharp rise in incidents, it is also deeply troubling that the perpetrators have begun directing messages to specific members of our community.
These acts are despicable. They violate every value we hold as a community, and they have absolutely no place at St. Olaf.
When the first report arose last October, the college notified the campus of the incident and launched an immediate investigation. We are sparing no effort and are using every tool at our disposal to catch the perpetrators of these hate-filled acts. St. Olaf has notified Northfield Police, and we are working with law enforcement. Each time a racist act has been perpetrated, the college has continued notifying the campus.
We ask for the St. Olaf community's assistance in identifying the individuals involved. Someone, somewhere knows who is perpetrating these acts of racism. Anyone aware of any information that could assist in identifying those responsible for perpetrating these or other offenses should immediately contact the St. Olaf 24-Hour Public Safety Dispatch at 507-786-3666.
The students in Buntrock Commons last night shared their fear, anger, and frustration. These recent acts of racism have opened painful — and important — discussions about how we can do better as a community in addressing the broader issue of racial discrimination.
We appreciate the members of our campus community who are advocating for meaningful action. We are supporting their efforts and, most importantly, listening to their insight and concerns."
They say someone, somewhere knows who's responsible and asked for help in identifying the individuals involved.