MINNEAPOLIS - A popular Minneapolis liquor establishment will be fined $2,000, and lose its off-sale license for 30 days after knowingly violating the state's law on Sunday sales.
The city of Minneapolis announced the sanctions Monday afternoon, one day after Surdyk's opened the doors for a busy day at the till, more than three months before a new law allowing Sunday sales goes into effect.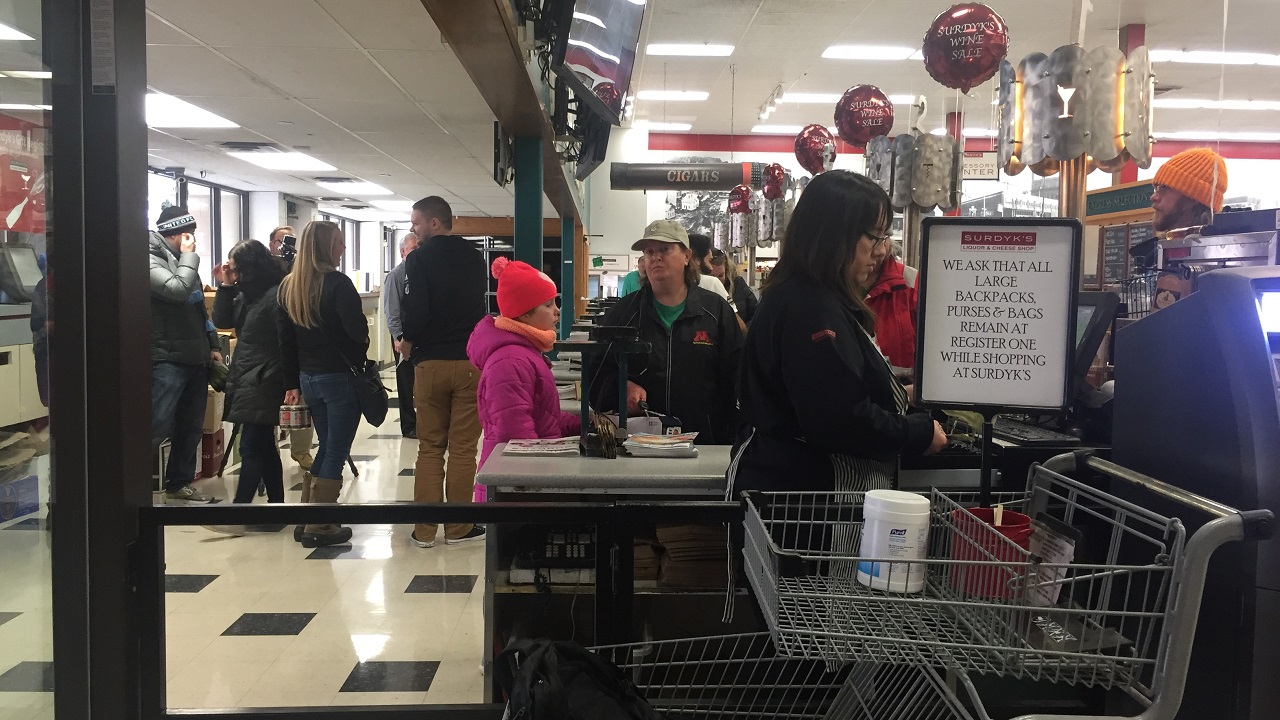 "In response to Surdyk's knowingly and intentionally violating the law by selling liquor on a Sunday, a $2,000 civil penalty is being imposed. In addition, the City will suspend the store's off-sale liquor license for 30 days, beginning July 2, 2017," reads the notice from the City of Minneapolis. "This decision is in lieu of $3,500 in citations that were initially considered yesterday. Surdyk's has an opportunity to appeal the City's decision."
In a notice of adverse license action sent to business owner Jim Surdyk, the department of licenses and consumer services says Surdyk's was in violation by "being open and making multiple unauthorized and illegal sales of alcohol throughout the day." It accuses him of knowingly and intentionally refusing to abide by a lawful notice and order to cease those illegal sales.
If Surdyk agrees a violation occurred but does not believe the penalty is fair he can make his case at a hearing before the City Council. If he disputes that he is in violation of his license a hearing will be held and the results presented to the City Council.
Surdyk has until March 17 to notify the city of his response.
KARE 11 interviewed Surdyk on Monday morning prior to the city handing down the punishment.
Surdyk, who long opposed Sunday sales, said, "If a law changed, I wanted to be the first at the door."
Employees came to work Sunday expecting to do inventory. Instead, Surdyk told them of his plan to open the store. They sent out messages via social media and email.
And he made a lot of customers happy, while drawing the ire of some lawmakers who passed the Sunday sales bill.
"He flagrantly and wide-openly thumbed his nose at the world by violating the law, and he was told 'Don't do it," said DFL Sen. Dan Schoen.
Schoen believes it was a publicity stunt.
"I don't know how it could be anything but. But it should be a pretty expensive one," Schoen said.
After the city handed down the penalty, Surdyk said his attorney advised him not to comment.
Earlier in the day he indicated that he expected other liquor stores to follow his lead, potentially making it difficult to enforce.
"The cat's out of the bag," he said.