MINNEAPOLIS - The last living Medal of Honor recipient from Minnesota has died. Retired Air Force Col. Leo Thorsness passed Tuesday in St. Augustine, Florida, according to the Congressional Medal of Honor Society. He was 85.
Thorsness, a native of Walnut Grove, joined the Air Force in 1951. He served as a fighter pilot with Strategic Air Command and Tactical Air Command before being assigned to Vietnam with the 357th Tactical Fighter Squadron.
While flying a mission in April 1967, his wingman was shot down. Thorsness, critically low on fuel, circled their parachutes and engaged four MIG-17 aircraft in a dogfight damaging one and driving the others away.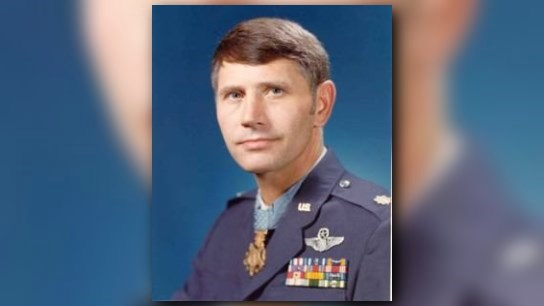 Eleven days after that dramatic mission, Thorsness was shot down over North Vietnam. He was captured and held by the North Vietnamese at the Hoa Lo Prison, nicknamed the "Hanoi Hilton". Among the POWs there, Arizona Senator John McCain.
"One of the greatest honors of my life was serving with Leo, a man whose service exemplified selfless duty and devotion to others," McCain said in a statement.
Thorsness was released on March 4, 1973, nearly six years after his capture. He was awarded the Medal of Honor by President Nixon on October 15, 1973. Thorsness retired from the Air Force that same year.
Thorsness is survived by his wife, Gaylee, and family. Funeral services are pending.
There are 74 recipients alive today. Last fall, more than 40 of them, including Thorsness, gathered in the Twin Cities for their annual convention.
Thorsness' Medal of Honor citation reads as follows:
For conspicuous gallantry and intrepidity in action at the risk of his life above and beyond the call of duty. As pilot of an F- 105 aircraft, Lt. Col. Thorsness was on a surface-to-air missile suppression mission over North Vietnam. Lt. Col. Thorsness and his wingman attacked and silenced a surface-to-air missile site with air-to-ground missiles, and then destroyed a second surface-to-air missile site with bombs. In the attack on the second missile site, Lt. Col. Thorsness' wingman was shot down by intensive antiaircraft fire, and the 2 crewmembers abandoned their aircraft.
Lt. Col. Thorsness circled the descending parachutes to keep the crewmembers in sight and relay their position to the Search and Rescue Center. During this maneuver, a MIG-17 was sighted in the area. Lt. Col. Thorsness immediately initiated an attack and destroyed the MIG. Because his aircraft was low on fuel, he was forced to depart the area in search of a tanker.
Upon being advised that 2 helicopters were orbiting over the downed crew's position and that there were hostile MlGs in the area posing a serious threat to the helicopters, Lt. Col. Thorsness, despite his low fuel condition, decided to return alone through a hostile environment of surface-to-air missile and antiaircraft defenses to the downed crew's position. As he approached the area, he spotted 4 MIG-17 aircraft and immediately initiated an attack on the MlGs, damaging 1 and driving the others away from the rescue scene. When it became apparent that an aircraft in the area was critically low on fuel and the crew would have to abandon the aircraft unless they could reach a tanker, Lt. Col. Thorsness, although critically short on fuel himself, helped to avert further possible loss of life and a friendly aircraft by recovering at a forward operating base, thus allowing the aircraft in emergency fuel condition to refuel safely.
Lt. Col. Thorsness' extraordinary heroism, self-sacrifice, and personal bravery involving conspicuous risk of life were in the highest traditions of the military service, and have reflected great credit upon himself and the U.S. Air Force.