MINNEAPOLIS - Employees at Wells Fargo in Downtown Minneapolis started work on a different foot Thursday, as demonstrators protesting the Dakota Access Pipeline project blocked the elevators.
More than half a dozen protesters held up a sign that read "Wells Fargo Funds Genocide," alleging that the bank plays a role in the project that has galvanized people across the world in support of the Standing Rock Tribe. Tribal members say the oil pipeline threatens both the safety of their water supply and sacred sites that are central to the Standing Rock tribe's culture and history.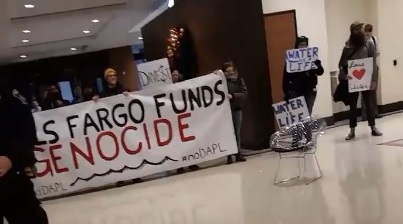 Reports from the scene say protesters hooked arms shortly before 8 a.m. to prevent Wellls Fargo employees from using the elevators. Some workers were seen forcing their way through the protesters, before Minneapolis Police showed up and Wells Fargo officials began steering employees to alternative entrances.
Employees also received a message, saying that law enforcement is responding to an incident at the Wells Fargo workplace, directing them not to use any main entrances, and assuring them that the situation is under control.
KARE 11 has a crew on the scene and will update this story as new details become available.