MINNEAPOLIS - The Hennepin County attorney says four Crystal police officers who shot and wounded a teenager in a park last May were justified in their use of force.
County Attorney Mike Freeman said Thursday Khaleel Thompson refused to drop what appeared to be a gun and pointed at the officers before they opened fire and wounded him in Bassett Creek Park.
WATCH: Squad car video of Crystal officer-involved shooting (Incident unfolds at approx. 2:30)
"This was a justified use of deadly force by the officers," Hennepin County Attorney Mike Freeman said in a written statement. "The officers not only pleaded with Mr. Thompson to drop his weapon, but used a non-lethal bean bag rifle first, in an effort to get him to drop the gun. All those measures failed and ultimately the officers feared for their lives and fired numerous shots. We are grateful that Mr. Thompson did not die and is fully recovering from his wounds."
Dashcam video released by the Hennepin County Attorney's Office Thursday appears to show an officer screen right with an orange long gun, the bean bag weapon Freeman referenced.
Thompson, who was 18 at the time, suffered gunshots to his head, right side and back. He survived and was released from the hospital July 5.
RELATED: BCA says teen shot by officers had airsoft gun
An investigation into the shooting was conducted by the Bureau of Criminal Apprehension. Freeman says investigators found that Thompson had a significant history of depression and paranoid schizophrenia.
READ: BCA report on Crystal officer-involved shooting
An investigation conducted by the Minnesota Bureau of Criminal Apprehension (BCA) details how in October of 2015, St. Louis Park police were called because Thompson was in the street with an axe and told the officers that people were going to die. The officers convinced him to drop the axe and they rushed him to the hospital. They later learned that Thompson made the 911 call and hoped to commit suicide by having the police shoot him.
In June and November of 2016, police were called and both times Thompson was taken to the hospital because he was depressed and threatening suicide. In both cases, doctors said later that Thompson wanted "death by police."
On the morning of the shooting Crystal Police were called to a home where Thompson was staying with a friend, who reported that Thompson was again threatening suicide. Thompson assured them he was OK, but in about a half an hour he left the home with an airsoft BB pistol he took without his friend's knowledge.
Police received a 911 call just before 9 a.m. reporting a young African American man walking down the street carrying a gun. Responding officers caught up to Thompson in Basset Creek Park, and ordered him to drop the gun. Thompson reportedly responded by saying "not today." One officer fired two bean bag rounds, the second of which brought Thompson to his knees. He then got up again and lifted the gun to point it at officers. At that time multiple officers shot multiple rounds at him.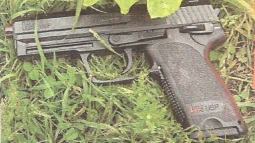 During the subsequent investigation police found a cell phone on the scene and it showed a six minute 911 call to police beginning at 8:53 a.m. When the tape of the call was played for friends, they identified the voice of the caller as Thompson himself. Investigators also found a bottle of Chic Merlot red nail polish near Thompson. It was used to paint the orange tip of the gun so police would think it was a real gun, rather than a bb gun.