Editor's note: An earlier version of the story identified the victim as 84 years old from family reports, however, they later corrected the age to 80.
ST. JAMES, Minn. - Authorities are asking for the public's help after an 80-year-old man was assaulted outside his home.
The victim, identified as Pascual Hulloa Sanchez, suffered major injuries in the incident that took place around 12:45 p.m. Monday, near 11th Street South and 2nd Avenue South.
"My dad was bent over and this guy just pops him," said Sandra Sanchez, the victim's daughter.
Outside the North Memorial Hospital Emergency Room, the family of 80-year-old Pascual Sanchez told the story.
"Just out of nowhere, this guy attacks him. Brutally. It's horrible," Sandra Sanchez said.
They say the elderly man was working on his bicycle outside his home when he was approached by a young man from the neighborhood whom he's helped in the past.
"And actually this boy who did this to him had borrowed a couple bikes from us on a couple occasions," Sandra Sanchez said. "Out of nowhere just starts bullying my dad."
"Out of nowhere" is a phrase Sandra Sanchez and her family use a lot in telling the story.
"He had no reason. Just walked up to him, started bullying him, taking off his cap and pretty much teasing him," said Benita Eiden, the victim's granddaughter.
Teasing, they say, led to punching and kicking, which led to a broken arm, broken nose and brain hemorrhage that required Pascual Sanchez to be airlifted 120 miles to the Twin Cities.
Pascual's wife Maria says it's extremely hard to see him in his current state. And the family is frustrated with police.
"We have not had a phone call from them with any updates. We are the ones going to them," Sandra Sanchez said.
As the Sanchez family continues to keep vigil over their loved one, they're asking for help and asking for justice.
"Justice needs to be served, because we have a right to be at our home, enjoying our day, and not being attacked," Sandra Sanchez said.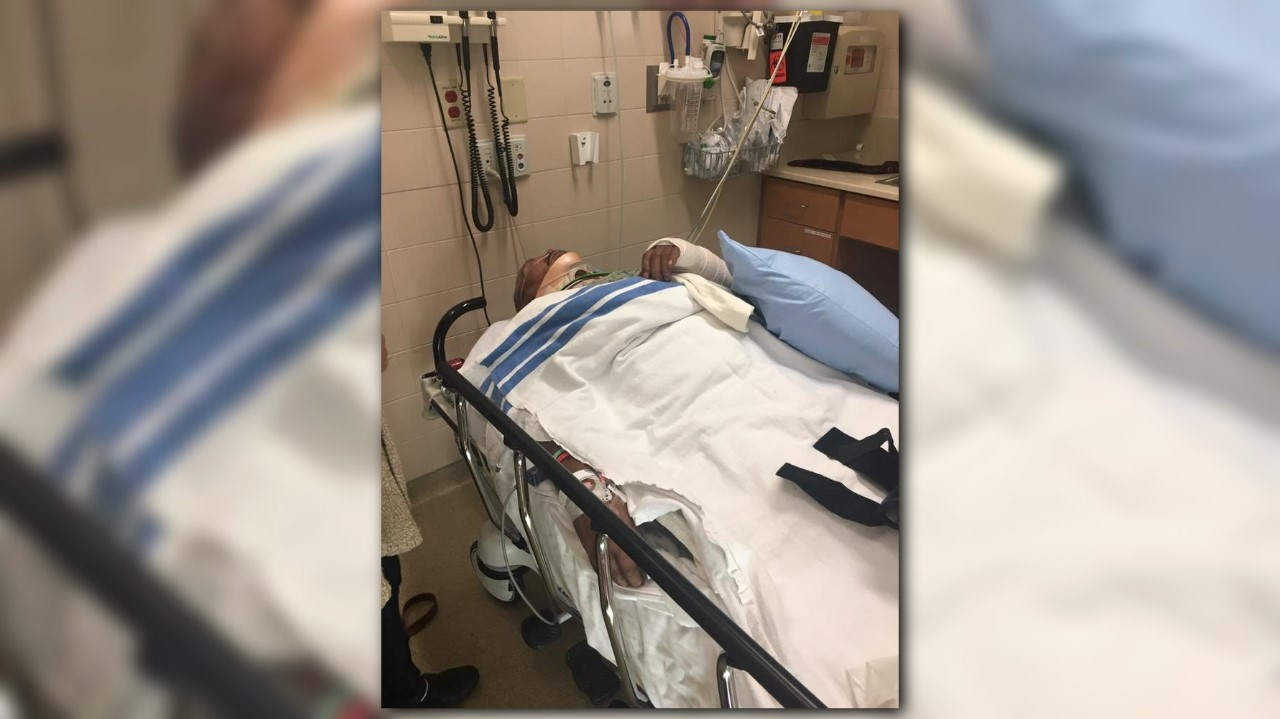 The suspect is described as 5-foot-9 and about 100 pounds.
Sanchez was transported to Mayo St. James, and later airlifted to North Memorial Medical Center.
Family tells KARE 11 Sanchez is currently in the ICU with a broken nose, broken arm and brain hemorrhaging. He needs surgery on his nose but could be discharged by the end of the week.
The victim does not know the name of the suspect, but says he could likely identify him in a photo lineup.
The St. James Police Department is asking anyone with information to call 507-375-3222, and ask to speak with the duty officer.
Family told KARE 11 on Wednesday night that police have arrested a suspect, but authorities have not confirmed it.