BELLE PLAINE, Minn. - Just months after a flap over a veterans displays motivated the city of Belle Plaine to open the door to private displays in a public park, the City Council has voted to close that same door.
The council voted Monday night to rescind a resolution enacted in February that allowed a local veterans organization to place 'Joe', a steel memorial sculpture featuring a cross, to be displayed in city-owned Veterans Memorial Park.
After the 'Joe' memorial was placed in the park in December, the Freedom From Religion Foundation threatened to sue the city if the sculpture wasn't removed, citing the religious symbol and accusing Belle Plaine of violating the first amendment.
To avoid a lawsuit the City Council passed a resolution designating a 'Free Speech' area where private groups could apply to put their own memorials for vets, religious or not. The first application was for the 'Joe' sculpture, but the second one was from the Satanic Temple of Salem Massachusetts. The group wanted to place a steel cube covered by inverted pentagrams, the symbol of Satan, in the park.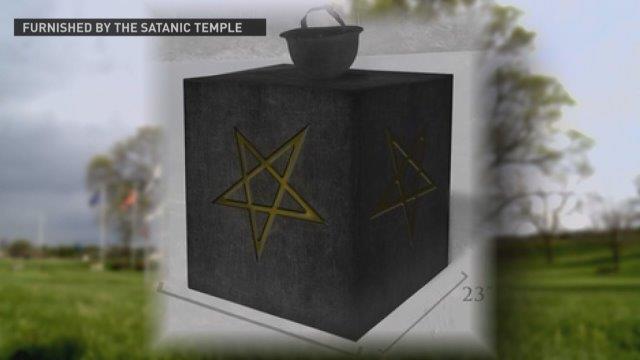 Monday's vote by the City Council to rescind the free speech area makes the debate surrounding the satanic memorial moot. Following the vote city leaders released the following statement.
"The original intent of providing the public space was to recognize those who have bravely contributed to defending our nation through their military service. In recent weeks and months, though, that intent has been overshadowed by freedom of speech concerns expressed by both religious and non-religious communities."
"The debate between those communities has drawn significant regional and national attention to our city, and has promoted divisiveness among our own residents," the statement continues. "While this debate has a place in public dialogue, it has detracted from our city's original intent of designating a space solely for the purpose of honoring and memorializing military veterans, and has also portrayed our city in a negative light."
Owners of all privately owned displays in Veteran's Park are being given 10 days to remove them from the property. When contacted discuss the vote and its impact interim City Administrator Dawn Meyer refused to provide additional details, saying the press release will be the only comment issued on the matter.