Indiana Gov. Mike Pence and Virginia Sen. Tim Kaine hit the debate stage on Tuesday night in Farmville, Va. — catch up on all the highlights of the first and only face-off between Donald Trump's running mate and Hillary Clinton's VP pick.
'Insult-driven campaign' wins Facebook
So people actually posted, liked and shared stuff on Facebook during the vice presidential debate. The two top moments, according to the social media site:
• Kaine and Pence trade jabs on an "insult-driven" campaign
• Kaine: "He is asking everybody to vote for somebody that he cannot defend"
Pence racked up the largest share of conversation on the site, though Facebook doesn't differentiate positive from negative:
• Pence: 54%
• Kaine: 46%
— Donovan Slack
Pence to Kaine: 'You whipped out that Mexican thing again'
It probably won't challenge Lloyd Bentsen's "Senator, you're no Jack Kennedy" in the pantheon of memorable debate lines, but Pence at least got Twitter talking toward the end of Tuesday debate.
After Kaine again brought up Trump's provocative statements on immigration — including during his announcement speech when he said that some of the immigrants Mexico was sending were "rapists" and were "bringing crime" — Pence had apparently had enough.
"Senator, you whipped out that Mexican thing again," Pence said.
— Cooper Allen
Watch 'party' outside the hall
As Pence and Kaine went at it inside, a group of (not-completely-rapt) students watch outside.
Watch party on Stubbs Lawn #LongwoodDebate pic.twitter.com/nlQLQE4qnd

— Longwood University (@longwoodu) October 5, 2016
— Donovan Slack
Balancing faith with policy
Each man was asked to cite a time when they struggled to balance the two. Kaine cited his Catholic religion and résumé, including having been a missionary in Honduras. He cited the Virginia death penalty law and said he had to uphold it as governor. He said he took an oath to uphold the law and that it was "very difficult" to allow executions to go through.
Pence cited abortion and the "sanctity of life" and instead used the opportunity to take a shot at Clinton's support for partial-birth abortion. Kaine said it is not the role of a public servant to mandate faith and that he and Clinton support a woman's right to choose abortion.
"We trust American women to do that and we don't think that American women should be punished," he said, adding that Trump wants to repeal that right. Pence insisted that Trump would "punish" women, which Pence denied.
— Heidi Przybyla
Kaine, Pence can't agree on whether Pence is defending Trump
Kaine and Pence didn't find a lot of common ground at Tuesday's debate — they disagreed on taxes, national security, Russia policy and even whether Pence was actually defending his running mate.
Kaine clearly had a strategy: Make Pence defend some of his running mate's more provocative statements.
This led to countless interruptions and even a disagreement over whether Pence was actually defending Trump.
Kaine, more than an hour in, said Pence hadn't. Pence countered: "Don't put words in my mouth."
— Cooper Allen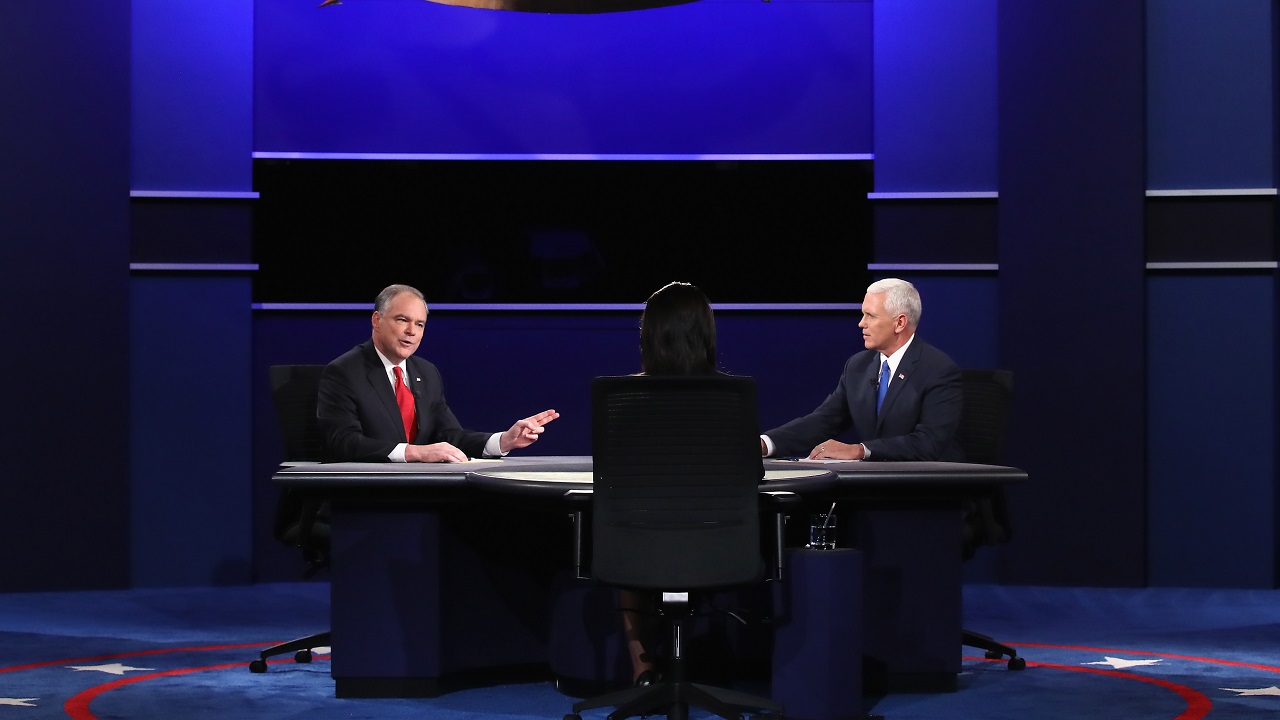 Battle of the foundations
Pence used a discussion over Iran and North Korea to raise the issue of the Clinton Foundation, saying it was a way for foreign governments and donors to give money as a form of "pay to play politics."
Kaine said the foundation is one of the highest-rated charities in the world, noting its record of providing AIDS drugs. Further, he noted, Clinton took no action as a result of those donations. He shifted the focus to Trump's business organization, which he said does undisclosed business around the world and is in the pocket of his children. It's also made an illegal contribution to someone charged with investigating Trump's foundation, Kaine said.
— Heidi Przybyla
Iran deal and Russia
Kaine said the deal Clinton struck as secretary of State is preventing Iranians from developing nuclear weapons, and he blasted Trump's position of allowing more countries to have nuclear weapons. Pence said the deal guaranteed Iran would do the opposite and lead to proliferation.
Kaine again raised Trump's praise for Vladimir Putin and his business dealings with Russia, also calling for Trump to release his tax returns. Pence said that Putin will better respect Trump over Clinton because of "strength, plain and simple." Kaine said "if you mistake leadership for dictatorship" you shouldn't be commander in chief. He said Putin is a "dictator, not a leader" and Clinton "knows exactly who he is."
— Heidi Przybyla
Syrian humanitarian crisis
What is the U.S. responsibility? Pence said the U.S. needs "to begin to exercise strong leadership," citing Clinton's pronouncement of a Russian reset, which has led to Russia "dictating terms to the United States." He said we have got to start to "lean into this with strong, broad-shouldered" leadership. Specifically, we ought to deploy a missile defense shield to the Czech Republic and Poland, he said.
Kaine took the opportunity to highlight Trump's praise for Putin and deals with Russian oligarchs, saying he doesn't know the difference between dictatorship and leadership. He also mentioned Trump's not paying taxes to fund the military and other U.S. needs, and then cited the need for a humanitarian zone in Syria.
— Heidi Przybyla
Debate GIFs are the best
Every time Kaine repeats something Trump has said, Pence is like:
Mood. #VPDebate https://t.co/jBubrAnUP5 pic.twitter.com/6Thgxx5ZcX

— GIPHY (@giphy) October 5, 2016
— Donovan Slack
Pence is not a fan of Kaine's prepared lines
Trump was knocked last week for not being prepared for the opening presidential debate. It doesn't look like Kaine will face that same criticism.
The Democratic VP nominee rattled off a litany of Trump's most controversial remarks and episodes during Tuesday debate, repeatedly challenging Pence to defend them while expressing his astonishment at how he would be able to.
During one long recitation of critiques of the GOP presidential nominee — he "trash talks the military"; he "loves dictators" and has a Mount Rushmore of his favorites — Pence interjected "Oh come on, come on."
After Kaine finished, Pence responded pointedly: "Did you work on that one a long time?"
— Cooper Allen
Homegrown terrorism. How do you prevent it?
The conversation quickly turned to Trump's plan to screen refugees by their religious background and country of origin. Kaine said it's a plan that is incompatible with the Constitution. He said he and Clinton would also screen, but "we won't do it based on the country you come from or your religion." He also said U.S. alliances are "critical" in terms of intelligence sharing.
— Heidi Przybyla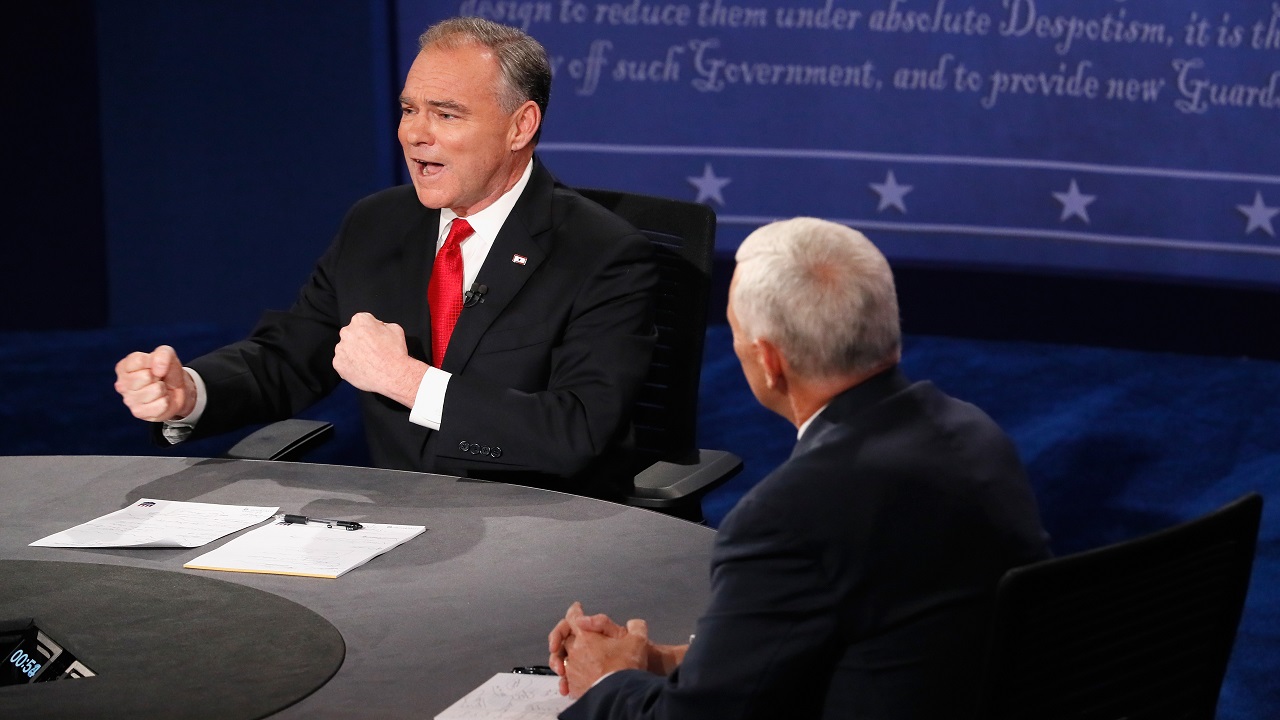 Defeating terrorism
Kaine said Clinton's plan is for a surge in intelligence, working with allies and cracking down on online recruitment. Trump "can't start a Twitter war with Miss Universe" without shooting himself in the foot, Kaine said. Trump has said his plan to defeat the Islamic State is "secret" and that he's going to fire a number of generals, Kaine added, also citing a Trump fascination with dictators like Putin.
Pence said America is "less safe today" than when Obama took office. "Mostly it's been a lack of leadership," he said. He credited Obama for bringing Osama bin Laden to justice but said ISIL has blossomed because Clinton failed to negotiate a deal for U.S. soldiers to stay in Iraq and that created a vacuum for ISIL to grow.
— Heidi Przybyla
ICYMI: Pence flubs host university's name
Oops: Pence flubbed the name of the host university in his opening statement, providing an easy first assignment for fact checkers nationwide.
"Thank you to Norwood University for their wonderful hospitality and the Commission on Presidential Debates," Pence said. "It's deeply humbling for me to be here."
Except the debate took place at Longwood University in the Virginia town of Farmville. "Norwood University" does not appear to exist.
— Josh Hafner
Pence winning Twitter at halfway point
Although it's unclear whether the buzz is negative or positive, Trump/Pence created the most buzz in the first 45 minutes.
The folks at Twitter break down the share of conversation about the vice presidential candidates this way:
• 60%: @Mike_Pence
• 40%: @TimKaine
And about the presidential candidates this way:
• 63%: @RealDonaldTrump
• 37%: @HillaryClinton
— Donovan Slack
Who's more offensive?
The two traded barbs over which campaign has been more driven by insults. Kaine ticked off an array of insults Trump has lobbed, including in the past, saying he's called women "slobs, pigs and disgusting." He cited Trump saying an Indiana federal judge couldn't be impartial because his parents are Mexican, that Sen. John McCain, a Vietnam veteran, is not a hero, that African Americans are living in hell, and that he perpetuated a "lie" that Obama is not a U.S. citizen.
Pence cited Clinton's comment at a fundraiser that half of Trump's supporters are a "basket of deplorables." Kaine said Clinton immediately apologized for her remark.
The two also sparred over immigration as the moderator tried to get Pence to answer whether undocumented immigrants who are not criminals be deported. Pence didn't answer the question, saying the focus has to be on "criminal aliens." Kaine said Pence is "trying to fuzz up" what Trump has said, which is that "they would all be gone."
— Heidi Przybyla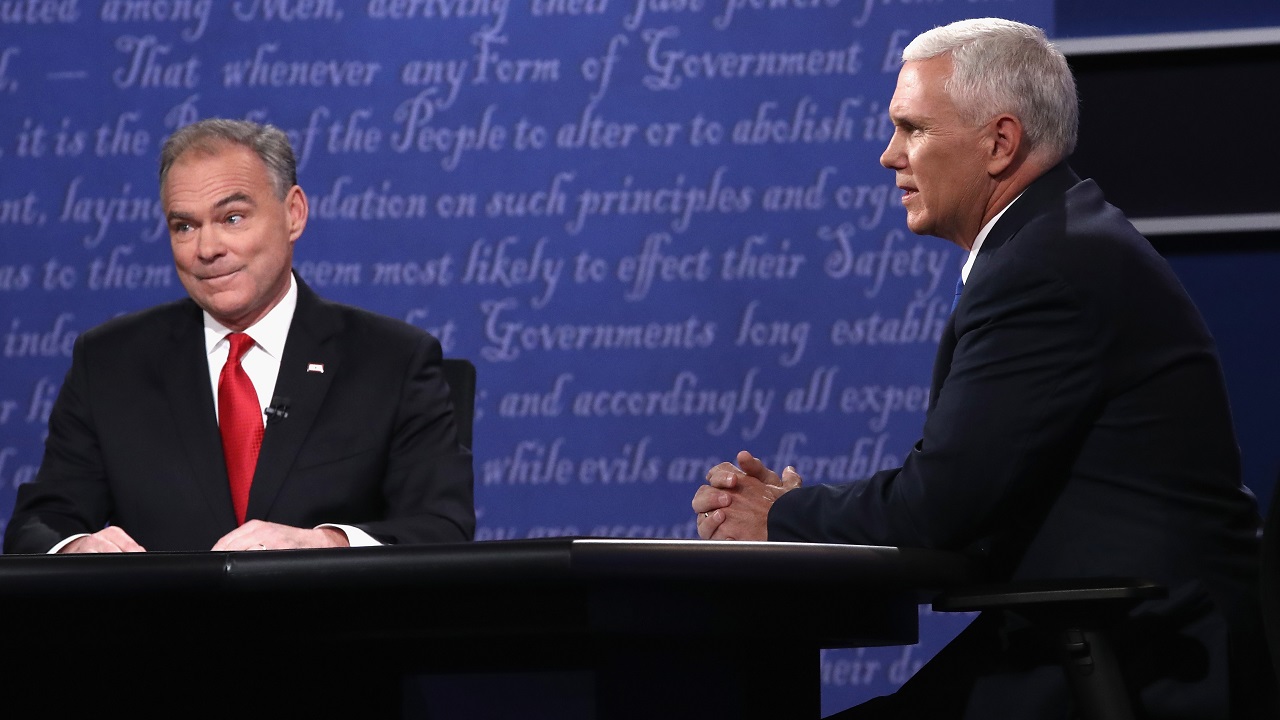 Improving race relations
Kaine said he'd focus on community policing, which helps build trust in communities and fight "the scourge of gun violence" in the U.S. He cited the shooting at Virginia Tech and said "gaps in the background check system should have been closed."
Pence began by paying tribute to police officers "who put their lives on the line every day." He said he agrees with Kaine about community policing to restore "law and order." He cited people who "seize on tragedy" to "accuse law enforcement of implicit bias," which "really has to stop." He cited the fact that many African Americans are being shot by other African Americans. He took a shot at Clinton for "seizing on these moments."
Kaine said people shouldn't "be afraid" to bring up these issues and gave an example of a St. Paul man who "was killed for no apparent reason." He had been stopped by police 40 or 50 times before he was shot dead. "I can't believe you are defending the position that there is no bias," said Kaine. The moderator cited a Republican senator who himself spoke out about being stopped repeatedly, prompting Pence to also call for changes in the criminal justice system.
— Heidi Przybyla
Trump + Twitter forever
The Republican nominee reaped some unflattering headlines last week with an early morning (like, 3 a.m.!) Twitter rant lashing out at former Miss Universe Alicia Machado after the first presidential debate.
But he remains committed to his favorite social media outlet and is live-tweeting the debate.
The question is, will his tweets overshadow his veep nominee's moment in the spotlight? Enjoy!
RELATED: Trump tweets his take on the VP debate
— Donovan Slack
Preserving Social Security
Kaine endorsed preserving the program by raising payroll taxes. Pence said that would create a "mountain range" of debt and resurrected an old Ronald Reagan line, saying "there you go again" in calling for more a more substantial overhaul of the program.
— Heidi Przybyla
Pence defense on Trump taxes
Pence defended Trump's 1995 tax returns — showing he reported a $916 million loss — by saying he "faced pretty tough times" 20 years ago. He said Trump has created tens of thousands of jobs and has filed a financial disclosure form. Kaine cited Trump's comments that he's "smart" for avoiding taxes, which amounts to short-changing the military, veterans and schools.
— Heidi Przybyla
Who can grow the economy?
Pence said his plan with Trump includes lowering taxes across the board, ending "the war on coal" and repealing Obamacare and Obama's executive orders.
Kaine said Clinton is a "you're hired president" while Trump is a "you're fired president." Her plan would invest in manufacturing and green energy jobs, raise the minimum wage, pay women equally, promote small-business growth and target tax relief to the middle class. He said Trump believes "wages are too high" and went after Pence's record of opposing an increase in the minimum wage. He said Trump's plan would enact trillions in tax cuts for the ultra-rich, which has also been shown to be ineffective.
Pence countered by saying that Clinton's plan just amounts to more taxes, spending and debts, deficits and more government. "This economy is struggling and the answer is not more taxes," he said.
— Heidi Przybyla
Presidential leadership
The debate kicked off with the candidates being asked to define what skills and qualities prepare them to be president. Kaine answered by touting Clinton's qualifications to be president. He cited his experience "serving at all levels of government" and also touched on Clinton's biggest challenge, polls showing her trustworthiness is a concern. He said he trusts Clinton as president and commander in chief but the thought of President Trump as commander in chief "scares us to death."
Pence said "the American people know we need a change." He touted his Midwestern upbringing, saying he grew up in the cornfields of a small town and a "lifetime of experience" including as governor.
Kaine said Clinton's "passion" for the issues she cares about has been evident since she was an adolescent and through her career. "That's a sharp contrast with Donald Trump. Donald Trump always puts himself first." He mentioned Trump's role in questioning President Obama's birth place and calling Mexicans drug dealers and rapists. "I can't imagine how Mike Pence" can defend him.
To Pence: Why do so many Americans think Trump is "too erratic?"
Pence went straight to Clinton's vulnerabilities including in the foreign policy arena, saying the U.S. position in the world has weakened. He cited Trump's business record, without much elaboration, before pivoting back to the controversy over the Clinton Foundation. The two tussled over Clinton's record as secretary of State, with Pence saying Clinton failed to negotiate for U.S. troops to stay and Kaine defending her record.
— Heidi Przybyla