Minnesota's lawmakers are well versed in fighting political battles, but on Wednesday they competed for a different kind of prize: the best hotdish at the party.
For the seventh year in a row, Sen. Al Franken gathered the Minnesota Congressional Delegation for a "Hotdish-Off."
All 10 of the delegation's members brought their own concoctions, but after a blind taste test the judges chose Rep. Collin Peterson's "Right to Bear Arms Hotdish."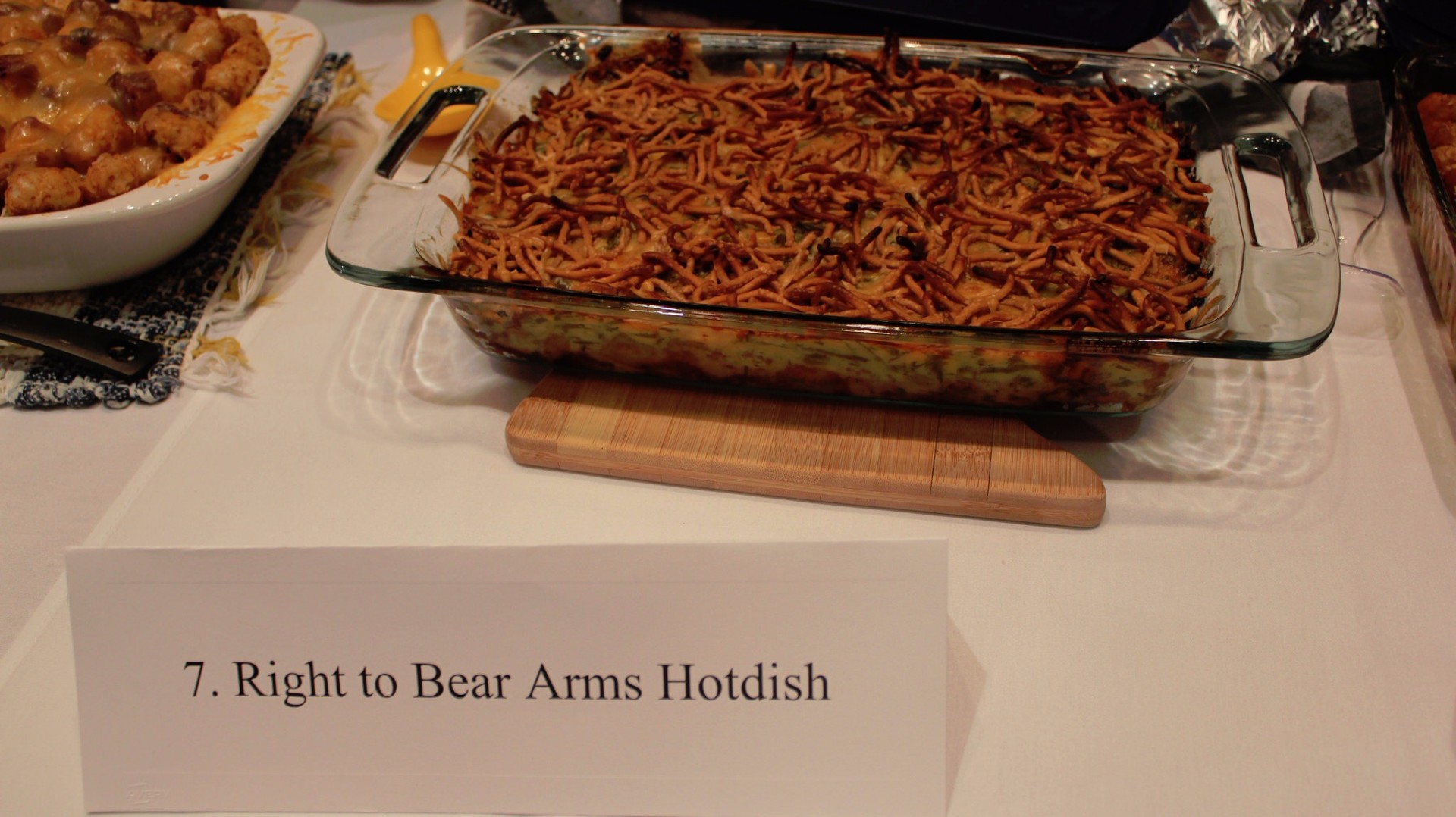 Peterson's winning recipe called for a full pound and a half of "lean ground bear meat," as well as a pound of frozen Potato Olés.
"This event is always a strong showing of bipartisanship and good food," Peterson said. "It is an honor to be this year's winner, with a hotdish that recognizes the great outdoors."
Franken says his goal in hosting this event is to bridge the group's political divides over "a Minnesota culinary tradition."
"After a pretty grueling and divisive election year, it was great to put aside our differences and come together over some great hotdish," said Sen. Franken.
Congrats to Collin Peterson, this year's Hotdish Off winner! My Lake Wobegon Swedish Meatball Shepherd's Pie didn't win… maybe next year… pic.twitter.com/mawqsX4BHB

— Rep. Erik Paulsen (@RepErikPaulsen) March 8, 2017
Among the other hotdishes in the running were Franken's "Potato Pot Roast Potluck Hotdish," Sen. Amy Klobuchar's "Minnesota Melting Tot Hotdish," Rep. Tim Walz's "Prairie Home Hotdish" and Rep. Keith Ellison's "Solidarity Kugel."
Previously, Walz won an impressive three of the last six competitions.
Here's Rep. Peterson's winning "Right to Bear Arms Hotdish" recipe:
Ingredients
1.5 pounds of lean ground bear meat
*may substitute other ground meat (wild game preferred) if bear is not readily available.
1 large yellow onion, diced
1 leek, chopped
1 teaspoon cracked black pepper
1 stick butter
1 pound of frozen Potato Olés
10 ounce can of cream of celery soup
10 ounce can of cream of mushroom soup
8 sprigs of fresh marjoram, chopped
15 sprigs of fresh thyme, chopped
1 bunch of fresh chives, chopped
12 ounces of frozen green beans, French-cut
4 ounces sharp Cheddar, shredded
2 ounces aged Gouda, shredded
2 ounces Gruyere, shredded
1/2 can chow mein noodles

Preparation
Preheat oven to 425°F.
Grease a hotdish pan using a stick of butter until well-greased (don't use all the butter). Line the bottom of the
pan with a solid layer of Potato Olés (you won't use the entire bag). Put the pan in the oven for 15 minutes to
brown the potatoes.
Melt a pad of butter in a cast iron skillet on medium high heat. Add onion and leek and sauté for three minutes.
Put bear meat in the pan and use a spatula to break down the meat as it browns. Do not overcook. Season with cracked black pepper as you go.
Remove browned Potato Olés from the oven and spread the bear mixture on top. Turn oven heat down to 375°F.
In another bowl, mix both cream soups, marjoram, thyme, chives, and frozen green beans. Mix vigorously, then
spread evenly over the potato and bear layers in the hotdish. Sprinkle cheddar atop it all.
Cover the hotdish with aluminum foil and bake 35 minutes.
Remove the foil, and sprinkle Gouda, Gruyère, and chow mein noodles atop the hotdish. Place back in oven,
uncovered, and turn the heat up to 400°F for 25 minutes.
Remove from oven. Let stand for 10 minutes, if you can bear to wait.