The final debate between Hillary Clinton and Donald Trump promised to be a Sin City smackdown, and it didn't disappoint. Catch up on all the highlights here.
The final question
The last of the debates ends with a simple inquiry: Why should people elect you president?
Clinton says she is appealing to members of all parties in an effort to help people against too powerful special interests.
Trump says Clinton will raise taxes, while he will protect the veterans, the military and the inner cities — and he says Clinton will only be another term for President Obama.
— David Jackson
Here's tomorrow's headlines today
Via the guy who runs the Nieman Journalism Lab at Harvard:
Push notifications already telling the story of tomorrow's headlines pic.twitter.com/qEmAxkhC2q

— Joshua Benton (@jbenton) October 20, 2016
Some of Trump's staunchest supporters are weighing in on his refusal to say he will respect the election results and concede to Clinton if he loses.
He should have said he would accept the results of the election. There is no other option unless we're in a recount again.

— Laura Ingraham (@IngrahamAngle) October 20, 2016
— Donovan Slack
Entitlements
Trump says a growing economy will help finance Social Security and Medicare — and seizes the opportunity to bash President Obama's health care plan as well.
Clinton says higher taxes will help finance entitlement growth.
The Republican interjects: "Such a nasty woman."
— David Jackson
National debt
Trump says he will reduce the national debt through job and economic growth. He says "political hacks" have hurt the economy, particularly with bad trade deals.
Clinton says Trump has criticized the nation for decades while arguing that he is the only one who can fix things.
— David Jackson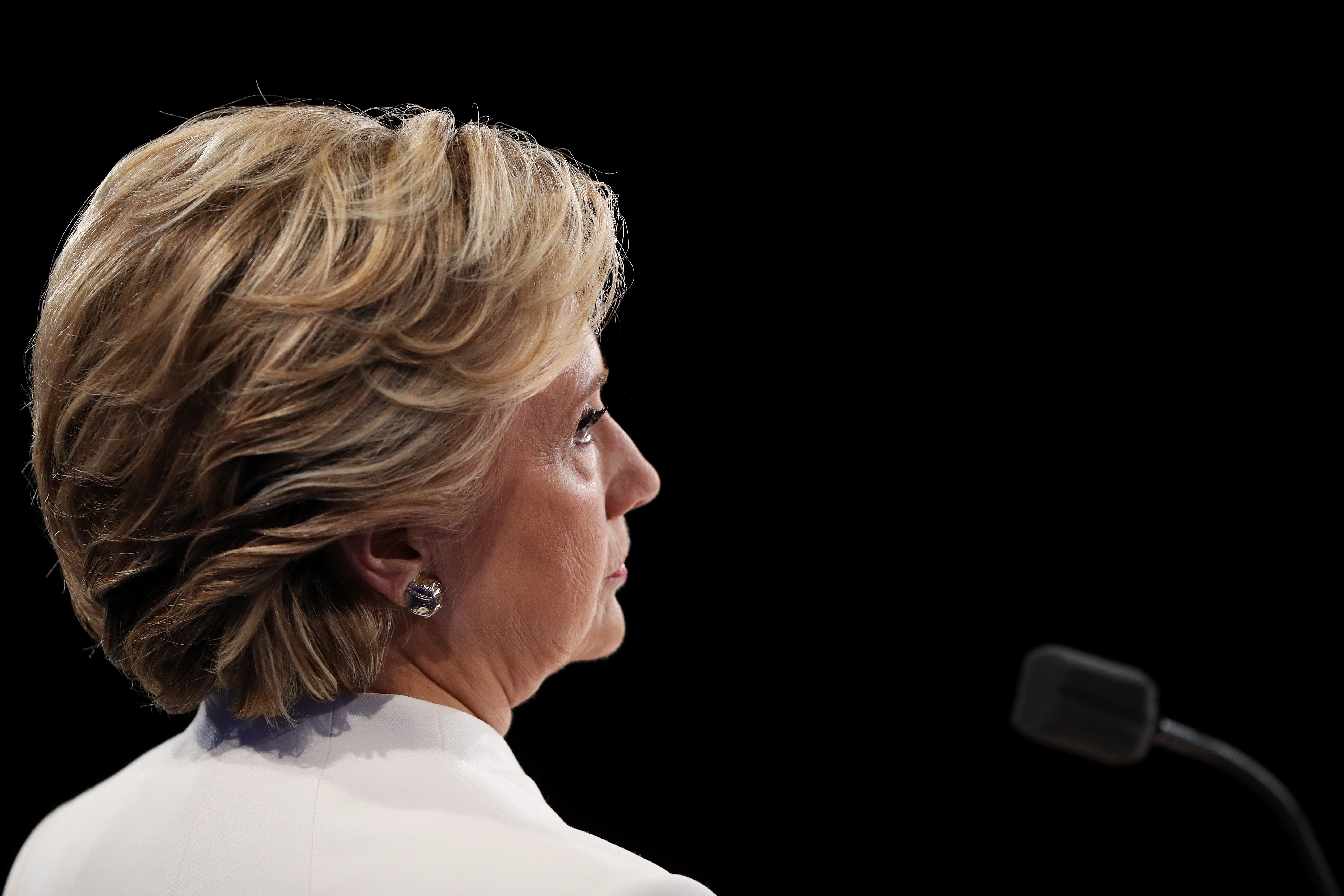 Syria, again
Trump again attacks Clinton over violence in Syria — and says Syrian refugee programs could bring terrorists to U.S. shores.
Clinton echoes her call for a no-fly zone in Syria — and says all refugees will be thoroughly vetted, contrary to Trump's claims.
"I am not going to slam the door on women and children," Clinton says.
Trump again blames the rise of the Islamic State on "stupid" leadership.
— David Jackson
John, Bernie, Donald and Hillary
Trump noted that Clinton campaign chairman John Podesta has questioned her instincts while Bernie Sanders has criticized her judgment.
"I agree with both," he says.
Clinton notes that Sanders is campaigning for her — and called Trump the most dangerous candidate to ever run for president.
— David Jackson
Iraq and Syria
During a discussion of the Mosul offensive, Clinton says she won't put U.S. soldiers back in Iraq as an occupying force and would also keep American forces out of the civil war in Syria.
Trump blames Clinton, the former secretary of State, for problems in Mosul to start with. He also his the Obama administration for telegraphing plans for Mosul and says the biggest beneficiary of current foreign policy is Iran.
The two candidates also clash over whether Trump initially supported the Iraq invasion of 2003.
Clinton also repeats an earlier dig at Trump: He was hosting Celebrity Apprentice the night Obama authorized the raid that killed Osama bin Laden.
— David Jackson
Did you see this?
In addition to the word "Right," which appears behind both candidates depending on the angles, an eagle-eyed Clinton staffer points this out.
Superlative set design. pic.twitter.com/mctuTHswIo

— Jenna Lowenstein (@just_jenna) October 20, 2016
— Donovan Slack
A rigged election
Trump is asked about his claims that the election is "rigged" against him — and is also asked whether he will respect the results of the election, win or lose.
Trump won't make that commitment: "I will look at it at the time."
He repeats: "I will tell you at the time — I will keep you in suspense."
Clinton calls that response "horrifying" and notes that he claims any contest he loses as being rigged — even a race for a television Emmy.
"I should have gotten it," Trump says.
Clinton replies: "It's funny, but it's also really troubling."
— David Jackson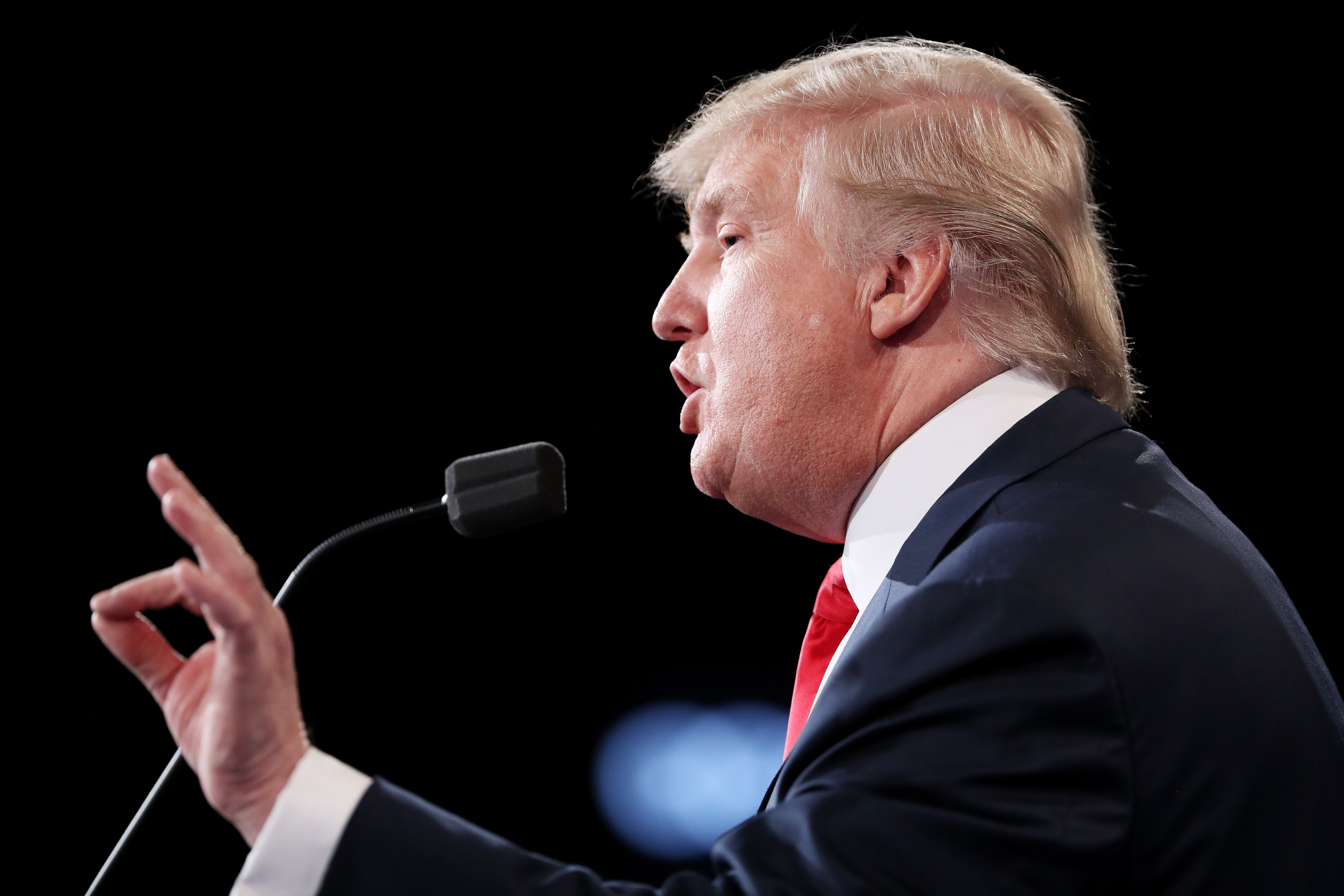 The Clinton Foundation — and taxes
The Democratic candidate is called upon to defend her family's foundation, saying there were no "pay to play" arrangements at her State Department.
Clinton praises the foundation as a world-class charity, while Trump describes it as a "criminal enterprise."
She blasts questionable expenses by the Trump Foundation, including a six-foot portrait of the businessman himself. "Who does that?" she says.
For good measure, Clinton attacks Trump for not releasing his taxes, as well as evidence that he did not pay any federal taxes in some years.
Trump said he used the tax laws on income losses, as did some Clinton backers.
— David Jackson
And then things got uglier
A sensitive topic: the dozen or so women who have accused Trump of inappropriate sexual advances.
Trump denies it all — "it was all fiction" — and suggests the "very sleazy" Clinton campaign put his accusers up to it. For good measure, he cites reports that Democrats encouraged people to start fights at Trump rallies.
Clinton says it sounds like Trump's accusers are acting honestly and cites her rival's frequent critical comments about women.
"Donald thinks that belittling women makes him bigger," Clinton says.
Trump refers back to Clinton's use of private emails and her "lies" about it.
Clinton says Trump denies responsibility for all his insults and actions, whether it's women or former Vietnam POW John McCain. She calls it a "a pattern of divisiveness."
Each candidate accuses the other of inciting violence.
— David Jackson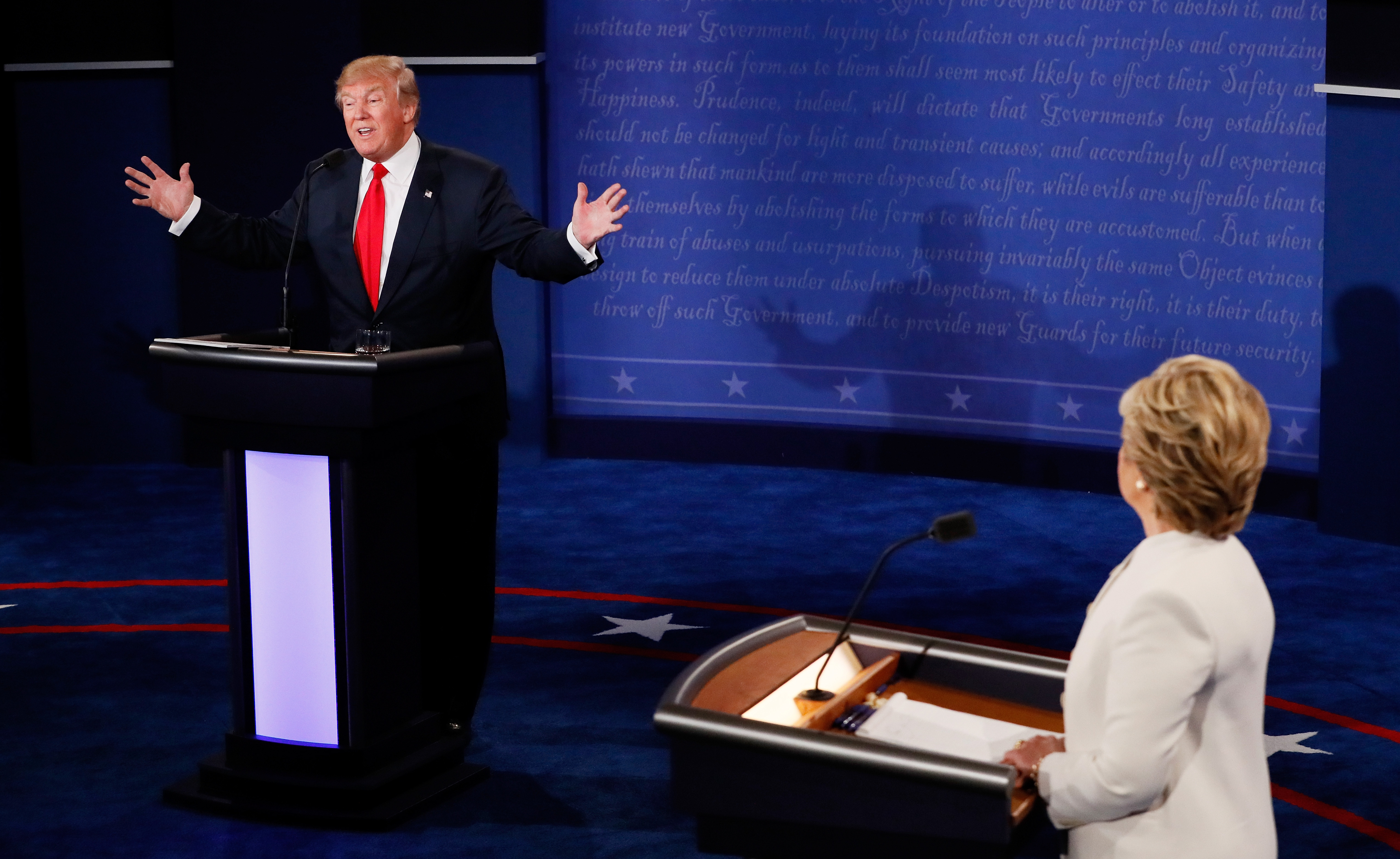 The thirty-year battle
Trump bashes Clinton's experience, asking why she hasn't already gotten her proposals done during the 30 years she's been in politics.
"You talk, but you don't get anything done, Hillary," Trump says at one point.
Clinton says she's happy to compare her experience to Trump's years as a bankrupt businessman and reality TV show host.
"I'll let the American people make that decision," Clinton says.
— David Jackson
Stimulus
Clinton is called upon to defend President Obama's stimulus plan, despite the sluggish growth of recent years. Clinton says Obama helped the country rally from a devastating recession, and that takes time.
"We're standing, but we're not yet running," Clinton says, and her plan will speed things up.
Trump is called upon to defend his plan against claims that his numbers don't add up. He avoids specifics and instead dwells on the nation's current problems, particularly trade and lost jobs.
After Trump hit her on trade, Clinton says she will oppose a new Asian trade deal — then accuses her opponent of using dumped steel for his building.
— David Jackson
The economy
Clinton talks about her college aid plan (and name-checks Bernie Sanders), saying the goal is to train people for high-paying jobs. She talks about higher taxes for the wealthy, while Trump's plan only benefits the rich.
Trump says Clinton wants to raise taxes while he would cut them. He also returns to an earlier topic, saying U.S. allies should "pay up" for mutual defense programs. He then complains about trade deals he says are shipping U.S. jobs to other countries.
Another sharp exchange:
Clinton: "Let me translate that if I can."
Trump: "You can't."
— David Jackson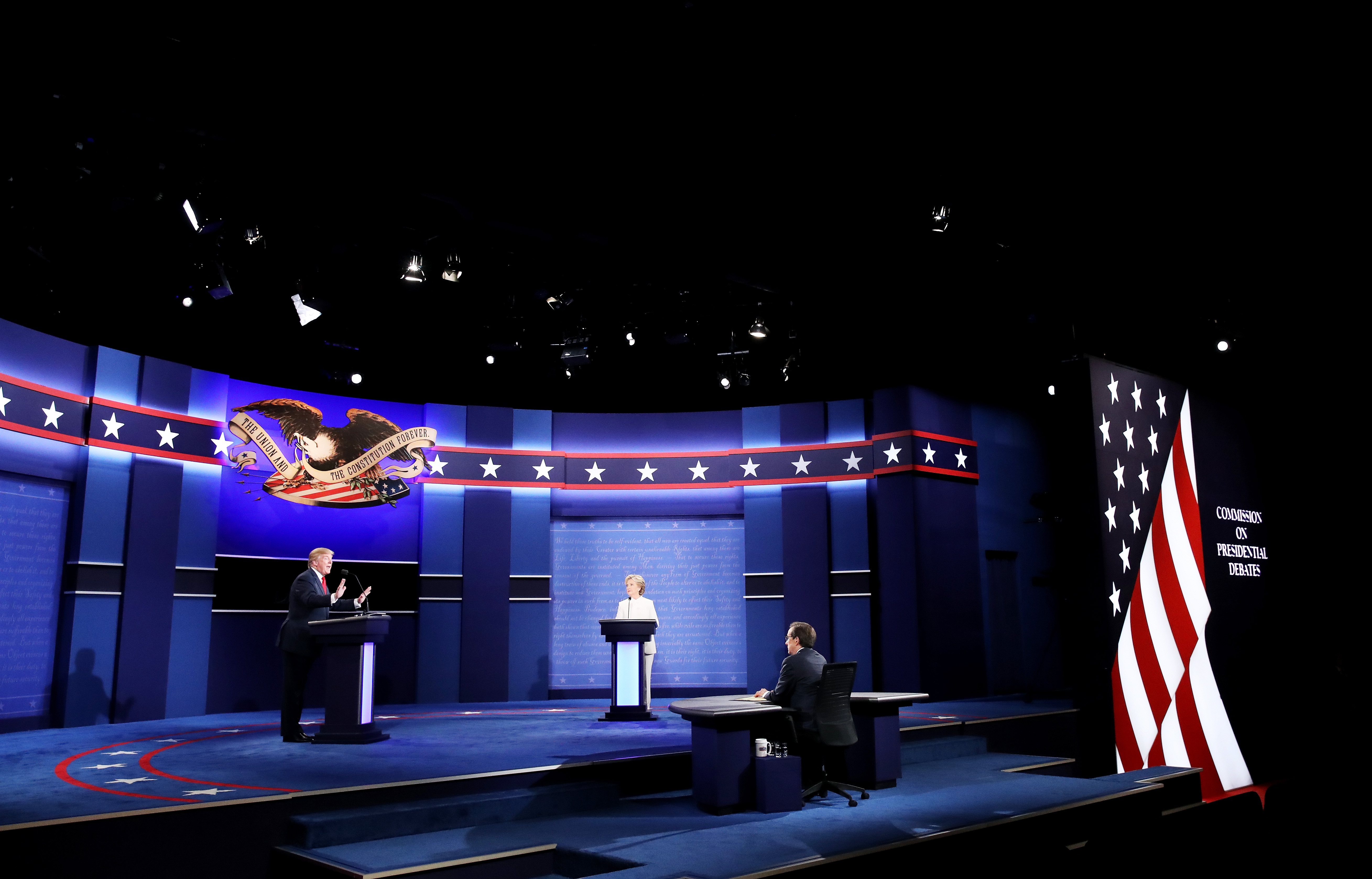 Wikileaks — and Putin
The first Wikileaks question produces the first big clash of the evening, and it involves Vladimir Putin.
Clinton is asked about a speech in which she says she wants "open borders" and a hemispheric free-trade zone, comments revealed by a Wikileaks document dump.
Clinton says "I was talking about energy" — and then flips the question to say that the Russians are hacking Democratic officials and giving the info to Wikileaks.
She calls on Trump to denounce President Vladimir Putin and the Russians for trying to influence the U.S. election — to which Trump says he doesn't know Putin but notes that he doesn't have respect for Clinton.
"That's because he'd rather have a puppet" for U.S. president, Clinton says.
Trump replies, "You're the puppet."
The two continue to argue; Clinton says Trump is little more than Putin's agent; Trump says Putin "outsmarted" Clinton when she was secretary of State and later calls her "a liar."
— David Jackson
'Bad hombres' turns into a thing
When Trump said there are a lot of "bad hombres" that need to go, of course, it became an instant meme.
Bad Hombres is a good band name. #debatenight

— Zach Braff (@zachbraff) October 20, 2016
"Bad Hombre" is my favorite of the Spaghetti Westerns pic.twitter.com/2hjFjcWbC1

— Jason Riley (@JasonRileyWDRB) October 20, 2016
The Wall
Immigration surfaces, for the first time in all three debates
Trump touts his proposed wall, saying "we need strong borders" while Clinton backs "open borders." He also talks about deportations: "We have some bad hombres here and we're going to get them out of here."
Clinton says Trump wants to deport all undocumented people, ripping up families and costing too much money to boot. She says her immigration plan will protect the border while focusing on deporting criminals. She adds: "We will not have open borders."
As for the wall, Clinton said Trump "choked" and didn't even bring up the idea when he met with the Mexico president. Trump notes that Clinton has also backed the wall, though Clinton says only in certain high-problem places.
The two clash over attitudes toward undocumented workers.
— David Jackson
Abortion
The candidates clash over abortion rights.
Trump says he will put "pro-life" justices on the Supreme Court, meaning it will eventually overturn Roe vs. Wade — the key abortion rights ruling —and send the question of abortion regulations back to the states.
Clinton says states are already passing legislation designed to limit abortion rights, and courts and lawmakers should beat back those efforts. She says abortions are painful decisions that should be left to individuals, not the government.
Trump criticizes Clinton for backing late-term, ninth-month abortions. Clinton accuses him of "scare rhetoric" and repeats that the abortion decision belongs to women, not the government.
— David Jackson