FALCON HEIGHTS, Minn. - Around 100 protesters marched and blocked traffic near the Minnesota State Fair Sunday afternoon.
The #InjusticeOnAStick marchers held signs reading the names of people who have been killed by police and signs reading: "MN STATE #AINTFAIR" and "blue LIES matter."
"I do love the fair, and we talk about there's more things added on a stick every year," said Monique Cullars-Boty, an organizer of the march and rally. "So this year we've added something on a stick, and those are the headstones that we made that represent people that have been killed by law enforcement in Minnesota."
The protest was organized by groups including Black Lives Minnesota, Twin Cities Coalition for Justice 4 Jamar, Minnesota Communities against Police Brutality and other organizations.
It started with a rally in Hamline Park where protesters shouted several chants, including: "No cops! No KKK! No racist USA!" Protesters then marched a mile and a half down Snelling Avenue to the fairgrounds main entrance,
St. Paul Police warned drivers near the State Fair that part of Snelling Avenue was temporarily shut down.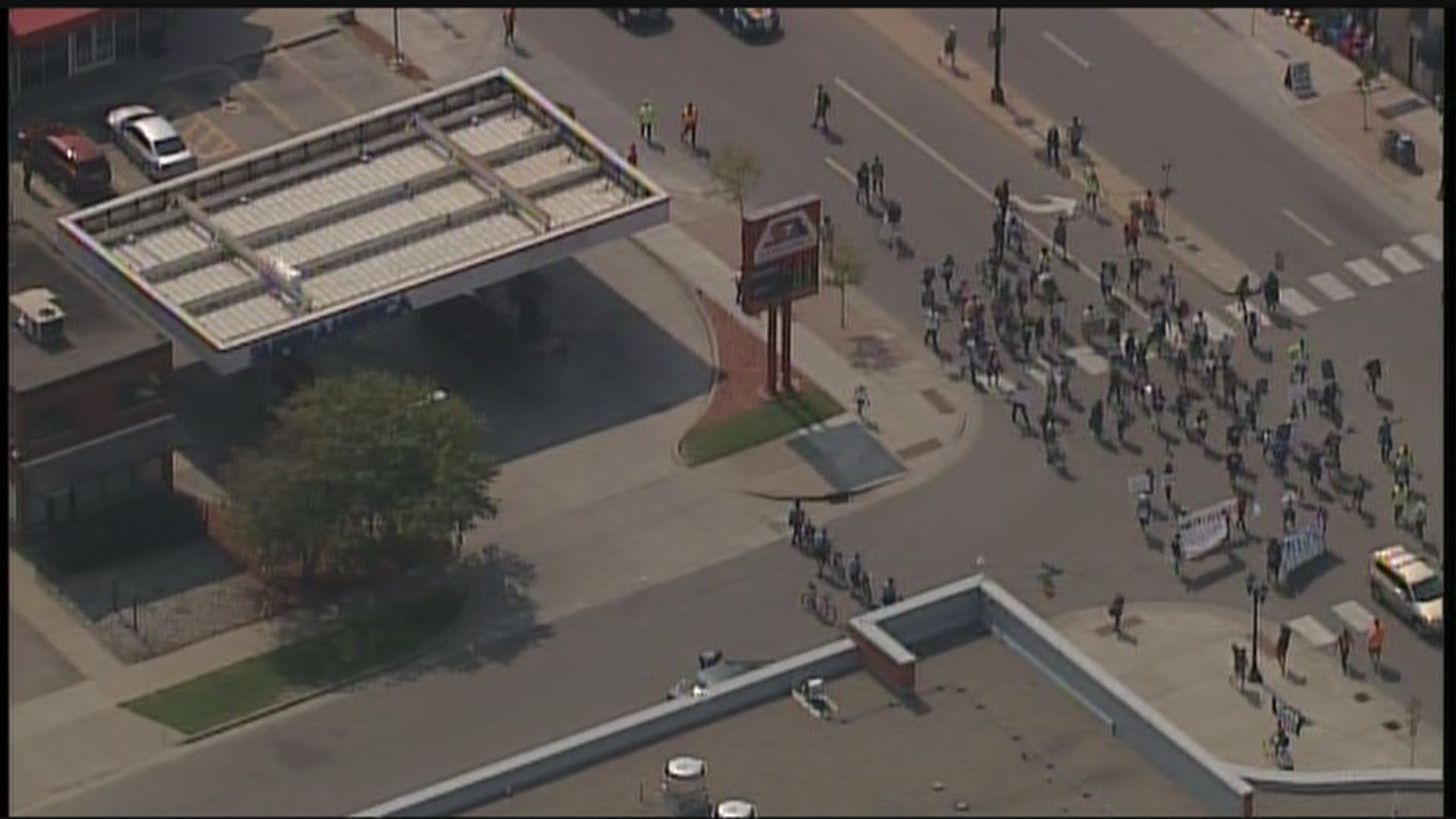 The State Fair closed down the main entrance for about 15 minutes when the protesters reached that point.
Some fairgoers expressed their displeasure over the demonstration.
"I think it's bogus. They're ruining a perfectly good day. I was having fun. Like I said, I'm not against it, but all lives matter. Not just black lives, all lives," said Mitch Bruneau from Blaine.
"To sit here and affect a family event, which county fairs are and the state fair, it doesn't make a lot of sense to me. I find it very disheartening that they have the right to do that," said Ann Menke from Fond du Lac, WI.
But organizers say they protest at the Minnesota State Fair because of the number of attendees from other parts of the state who might not have heard their message before.
"If we have empathy, we should be able to unite and support each other in whatever trials are coming our way," said Monique Cullars-Doty.
And they say there are many injustices in the state they want to bring attention to.
"The policing system needs to be overhauled. It needs complete overhaul and offering little reforms like body cams, or giving training, it's not working," said Sam Sanchez.
According to St. Paul Police, no one was arrested, no one was hurt, and no property was damaged. Police say the march down Snelling Avenue was illegal, as no one obtained a permit to block traffic. Police say they chose to facilitate the march anyway, blocking traffic in the area before the march began.