MINNEAPOLIS - Thousands of nurses on strike at five Allina Health hospitals in Minnesota are voting on the company's latest proposal to get them back to work.
In two previous votes this summer, union negotiators recommended that members reject Allina's offer. Union leaders haven't directed its 4,800 members on how to vote Monday. Health insurance was the main issue that led to the strike that began Labor Day.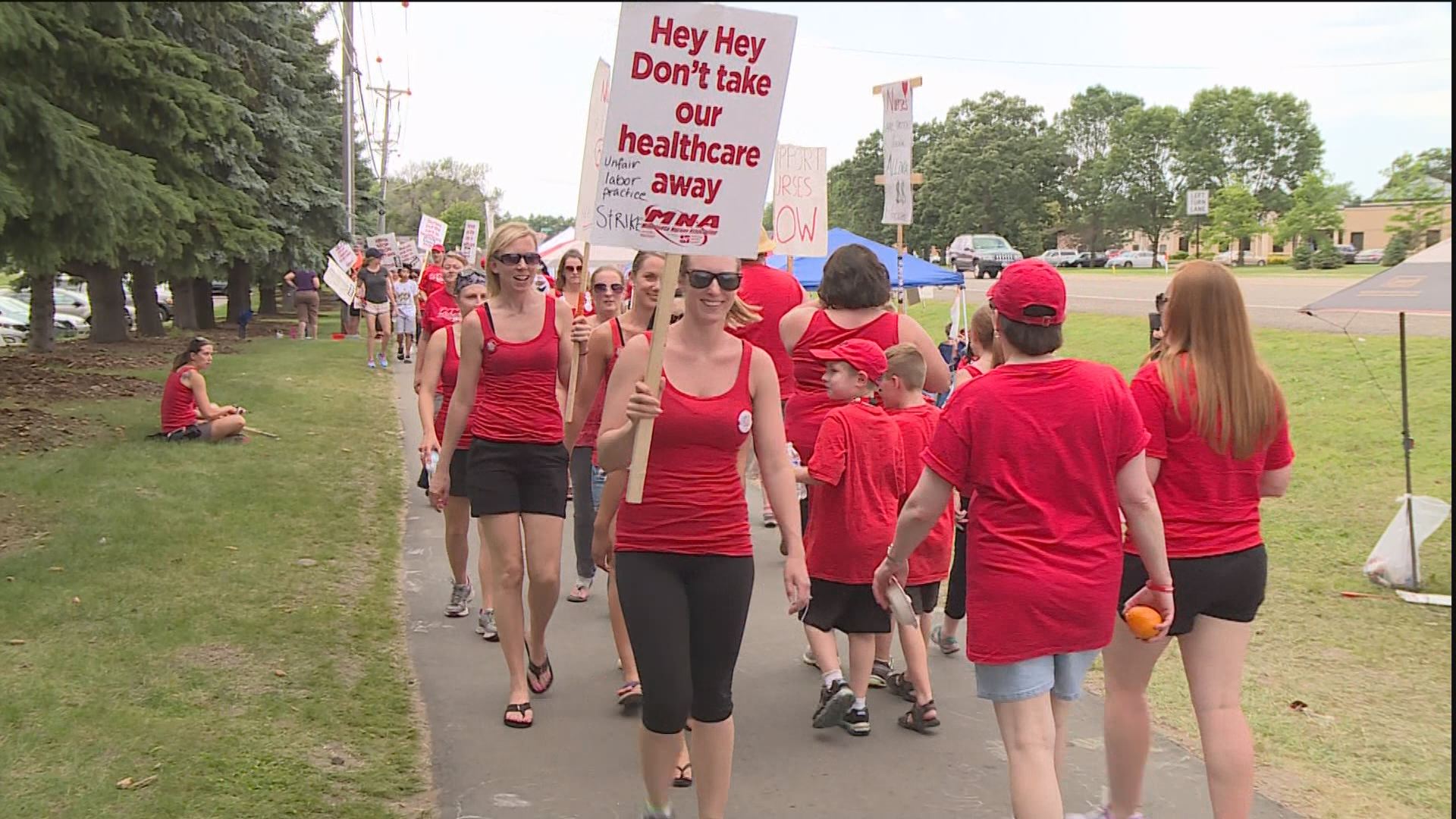 This latest round of voting will be tallied differently to previous votes. Minnesota Nurses Association spokesman Rick Fuentes says nurses' votes at all five Twin Cities' hospitals will be counted together, rather than at separate facilities.
The hospitals affected by the strike include Abbott Northwestern and Phillips Eye Institute in Minneapolis, United in St. Paul, Mercy in Coon Rapids and Unity in Fridley.
If they vote yes to accept a proposed three year contract with Allina, 4,000 striking Twin Cities nurses could go back to work as early as this week.
But those who are vocal about their vote are those who voted No.
"Everybody I've talked to has voted no," said Amy Ellis, an Abbott Northwestern nurse.
"I think what they're offering doesn't have enough of what we want yet," said Aaron Wallace, an Abbott Northwestern nurse.
"There were some small gains for the nurses, but there were also a lot of take-backs," said Angela Becchetti, from the Minnesota Nurses Union negotiating team.
According to the Minnesota Nurses Union negotiating team, the latest Allina proposal gives small concessions for safety improvements, staffing and health care coverage.
But Allina refused to budge on its position of moving Nurses from a union-controlled health plan to its corporate plan. That was the key reason so many supported striking in the first place.
"We pretty much have the same contract proposed over and over again with slight tweaks," Ellis said.
"They haven't been fair in their negotiations. They haven't been negotiating until just this past negotiation," said Jennifer Williams, an Abbott Northwestern nurse.
No one who voted in favor of the contract wanted to talk about their vote on camera. It is the unpopular position within the union. But there are nurses financially struggling because of the strike, who need their paycheck again.
That's why this time, the union didn't tell the nurses how to vote.
"The negotiating team felt we wanted to bring it to the nurses and let them decide. We want them to make the best decision based on their family, their current situation," Becchetti said.