MINNEAPOLIS -- King's Highway near the Chain of Lakes in Minneapolis has fallen into such disrepair that neighbors have put up signs calling it the "Street of 10,000 potholes."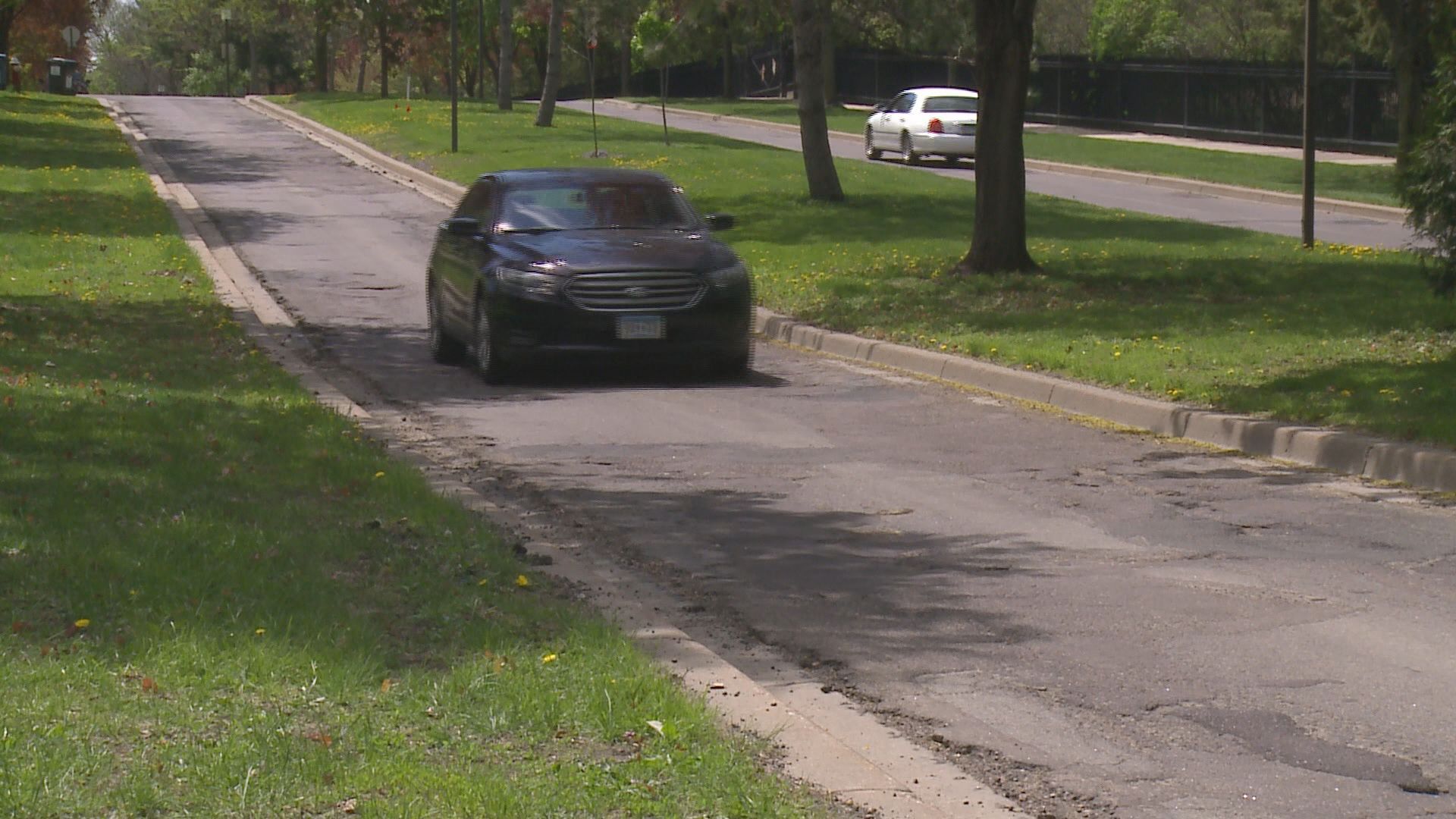 "I often times equate it to the surface of the moon," said Jim Pikala who lives on King's Highway, also known as DuPont Avenue S.
Mickey O'Kane also lives on the pothole-riddled parkway. She says it's been a rough road since the late 1990s.
"It hasn't been fixed since 1984 when we first moved into this house," said O'Kane.
This year O'Kane decided to organize with two of her neighbors and come up with the "Street of 10,000 potholes" signs.
"We have forty signs in a four block area--people who want to get this done," said O'Kane.
Part of the problem will finally get a fix this summer, according to Casper Hill with the City of Minneapolis. Hill says Public Works will re-pave six blocks on the northern part of the parkway, going past the Lyndale Park Rose Garden. The city and Park Board deemed the section of parkway from 36th to 42nd Street to be most in need of repair. The work is scheduled to begin in June.
Park Board officials say part of the delay in repairs has been due to lack of funding. The city designates $700 thousand to parkway maintenance per year, and that allotment hasn't changed for decades, said Dawn Sommers with the Park Board. She says $700 thousand is no longer enough to maintain all parkways in the city.
Sommers says in 2011 the Park Board began asking state legislature for state funding to help pay for repairs. The state approved that funding in the 2014-2015 budget but has not done so since, said Sommers.
This year, to make sure the repairs happen, the Park Board is re-designating funding for capital improvement project to be spent instead on re-paving, said Sommers. It's the first time the board has done this, said Sommers. The Park Board will contribute $62,000 to the repairs this year. About $190,000 for parkway repairs will come from assessments--fees charged to the people who live on the parkway.
"I think we're being asked to pay between $300 and $400--each neighbor," said Richelle Huff, who lives on the secion of King's Highway that is scheduled for repair this year. "We already pay really high taxes on this road, because we face the park."
The Park Board and city are committed to making sure funding is available to re-pave the rest of King's Highway in 2018, said Sommers. Neighbors say they're not holding their breath.
"The reason we're doubting it...is because we've had promises broken before," said O'Kane.
O'Kane says the Park Board promised repairs when it received state funding in 2014-2015, but the repairs never happened.
"Assertions have been made in the past, and obviously it hasn't happened," said Pikala, adding he's holding out hope that this year's promises will be kept.