ST. PAUL, Minn. -- Poison hemlock is spreading in Minnesota and early reports show it popping up in the Twin Cities.
According to the Minnesota Department of Agriculture (MDA), the most confirmed reports are in southeast Minnesota. However, MDA data shows it in the metro area, including five confirmed reports in Hennepin County. Those reports were confirmed through photos but still need field confirmation.
"It does appear to be spreading throughout more parts of the state. There are more infestations in southeast Minnesota and Rochester, a few around the metro, and then one as far north as Grand Rapids," said Emilie Justen, MDA research scientist.
According to Justen, poison hemlock is native to Europe and was first documented in Minnesota in 1992. The state started seeing more reports of it about two years ago.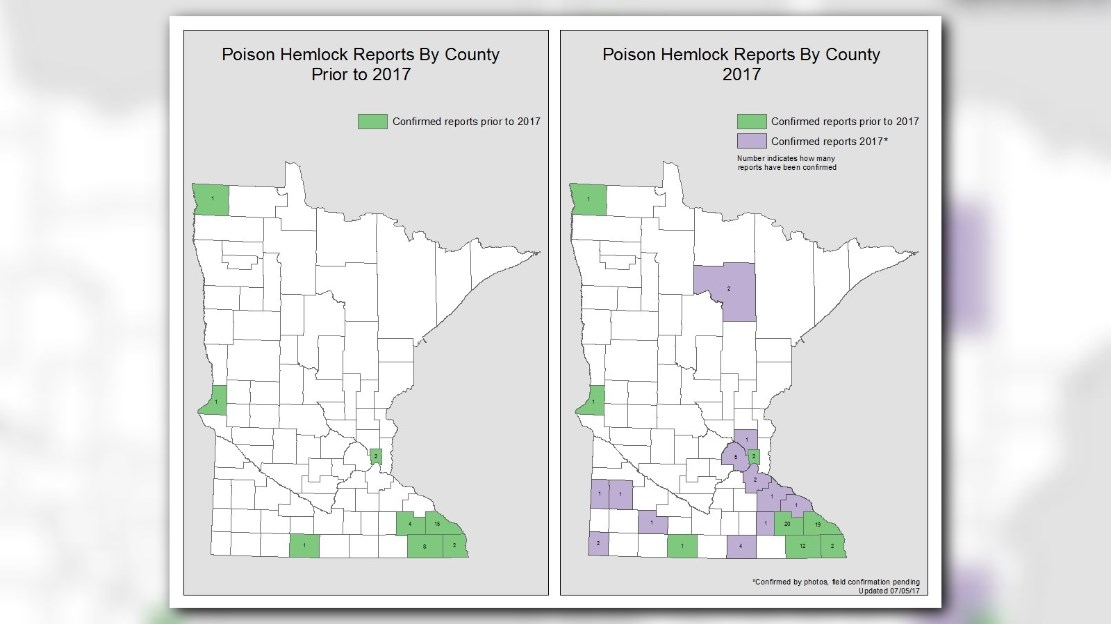 "Because it prefers wet areas like river banks, it appears to be spreading after flood events. So if there's seed or even plants that have seeds standing there and we have a flood along, for example the Root River, it's been showing up on some of those high water mark areas, as well," Justen said.
Justen said poison hemlock can be confused with the plant, yarrow, as well as wild carrot. Justen said yarrow also has white flowers but they are larger and in a denser cluster. There are also fewer leaves on the stems.
Wild carrot has similar fern-like leaves compared to poison hemlock but it does not grow as tall.
Poison hemlock can grow up to eight feet tall, has fern-like leaves and purple spots on the stems. Its flowers are small and white and are currently in bloom in parts of the state.
MDA is warning Minnesotans about the dangers of this toxic weed.
"All parts of the plant are poisonous and toxic to humans," Justen said. Humans and animals should not ingest it. If working in an infestation, Justen recommends wearing gloves, long-sleeve shirts, pants and closed-toe shoes before touching it.
Symptoms of toxicity include nervous trembling, salivation, pupil dilation and slowing of the heartbeat.
If you suspect toxicity from poison hemlock, Minnesota Poison Control should be called immediately at 1-800-222-1222.
MDA requests that if you find poison hemlock, take a picture of the plant and email it to arrest.the.pest@state.mn.us, or contact your local University of Minnesota Extension office.