MINNEAPOLIS - More than 24 hours after a severe storm tore through the Twin Cities metro area and knocked down power lines, trees and blanketed some areas with hail, thousands are still without power.
Kelly Bloch with Xcel Energy says at the height of outages, more than 165,000 of their customers lost power.
By Monday afternoon, about 9,300 customers were still without power. Bloch said most customers will have power again by Tuesday.
According to Connexus Energy, a lineman working on restoring power to customers near Becker on Sunday was burned and airlifted to Hennepin County Medical Center.
And update on the company's Facebook page says doctors are amazed at how well he is doing.
Meanwhile, the City of Coon Rapids received so much hail that it looked like snow was on the ground. Public works crews used front-end loaders and even a snowplow to brush away several inches of hail from the streets.
One more we can't resist - snowplow out in June! It's helping in low areas where other vehicles are getting stuck. #plowinginjune #OnlyInMN pic.twitter.com/upgbnD9Zki

— City of Coon Rapids (@coonrapidsgov) June 11, 2017
Near the Osseo Ice Arena, a truck became submerged in water. Police say the driver thought it was just a puddle and misjudged the depth.
The storm hit downtown Minneapolis just before 9 a.m.
A large tree came crashing down on Inglewood Avenue blocking the street in St. Louis Park.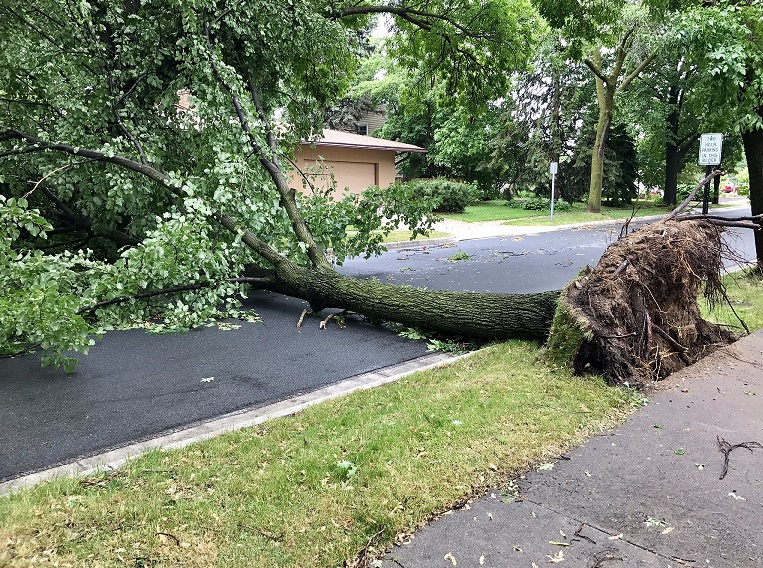 The National Weather Service reported wind gusts as high as 60 mph in some areas.
The Minnesota State Patrol says two people were hurt when wind gusts flipped a pickup and camper as the driver was moving onto the shoulder on a county road in Meeker County. They were taken to a hospital with non-life threatening injuries.
The St. Paul Fire Department rescued two people after a tree fell on them. At first the fire department said the tree was being cut, but they later reported that the victims were just standing next to it when it fell.
Tree being cut fell on 2 adults at 1829 W M'haha. FFs extricated. Medics 14 & 22 took to Regions non-life threat injuries. Chief 1 command. pic.twitter.com/upZhVeXRgT

— Saint Paul Fire Dept (@StPaulFireDept) June 11, 2017
Weather alerts were posted for Wisconsin as the storm continued its path eastward.
PHOTOS: Wind, clouds, hail from storms 6-11-17
Between Eden Valley and Watkins. Photo: Kris Jacobson-Klatt
Between Eden Valley and Watkins. Photo: Kris Jacobson-Klatt