MINNEAPOLIS -- Minnesotans are getting rare access to all the Super Bowl rings created by Minneapolis-based Jostens.
Jostens teamed up with the Minnesota Super Bowl Host Committee for a "Championship Ring Tour" across the state.
The traveling display kicked off Tuesday at the Star Tribune Atrium at Capella Tower in downtown Minneapolis.
"It's never been done before. In fact, the NFL gave us special permission, because Jostens is located here in Minnesota, to put the rings on display early," said Maureen Bausch, Minnesota Super Bowl Host Committee CEO. "They normally come to town, all 51 would come to town during the Super Bowl but they're here early because of Jostens."
Jostens has created 33 of the past 51 Super Bowls. This year, the company is celebrating its 120th anniversary.
"So we created the first Super Bowl ring for Vince Lombardi and the Green Bay Packers and since then we've done 32 other championship rings, all the way right straight through this past year's New England Patriot's Super Bowl ring," said Chris Poitras, vice president of Jostens sports and college division.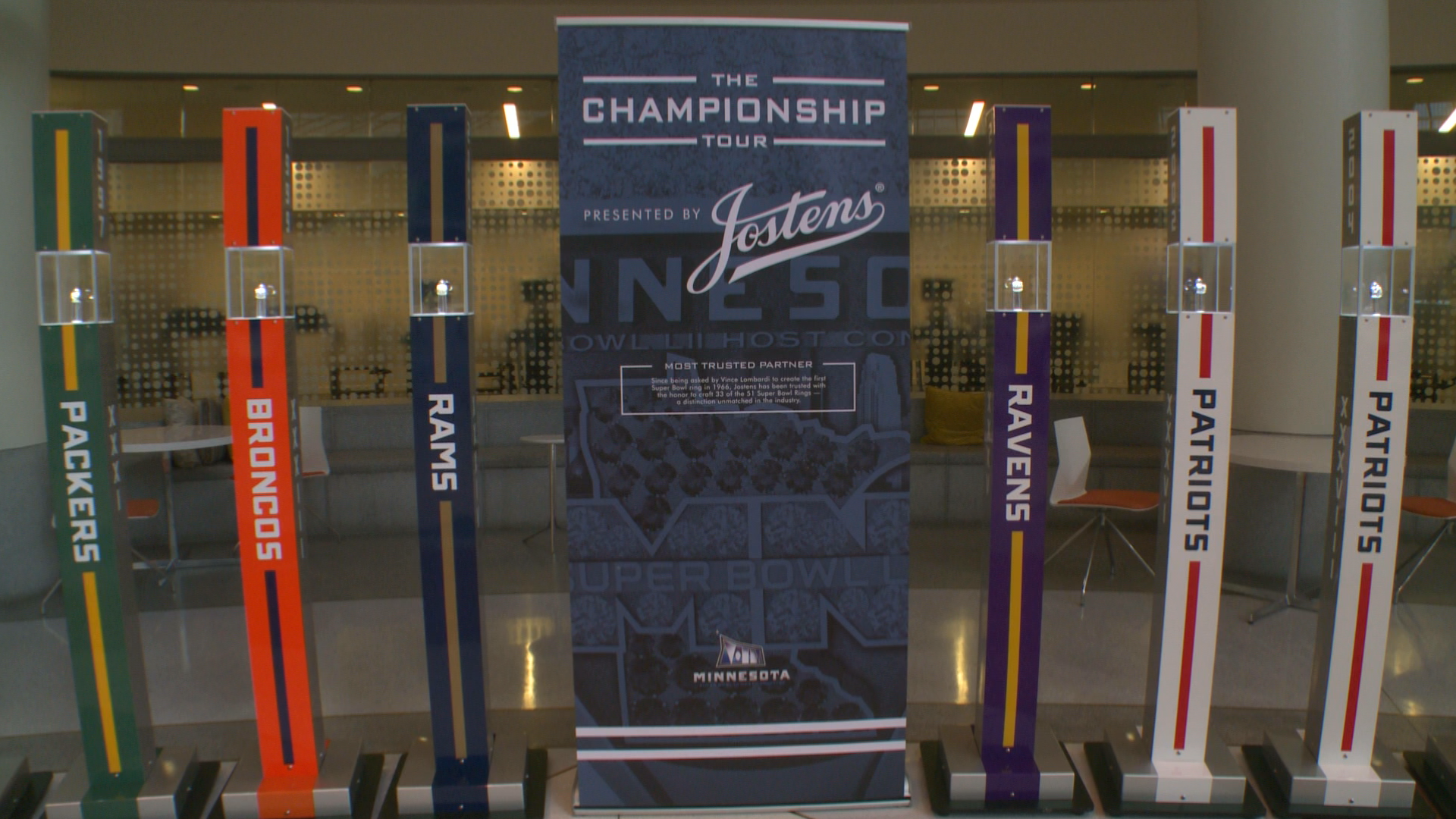 According to Poitras, each ring takes 6-8 weeks to design and another 6 weeks to manufacture.
Throughout the years, the design of the ring has become more elaborate.
"What we're trying to do at Jostens is we're trying to work with the team to craft their story. And every story is unique, every story is different," Poitras said.
Jordan Smith of Dayton visited the display Tuesday and said, "It's pretty cool to see all the different ones. Hopefully the Vikings get to have one soon."
The Championship Ring Tour includes stops in Bemidji, Bloomington, Duluth, Minneapolis, Owatonna, Rochester, St. Cloud and St. Paul.
A full list of locations and hours can be found, here.