MINNEAPOLIS – The celebratory signs of a 5-0 start were everywhere Sunday, except along the row of lockers where the Minnesota Vikings' offensive line dresses.
Right guard Brandon Fusco, who suffered a concussion early in a 31-13 romp over the Houston Texans, sat in silence. O-line coach Tony Sparano put an arm around T.J. Clemmings, who gave up two sacks in his third game filling in at left tackle, and told him to keep his head up.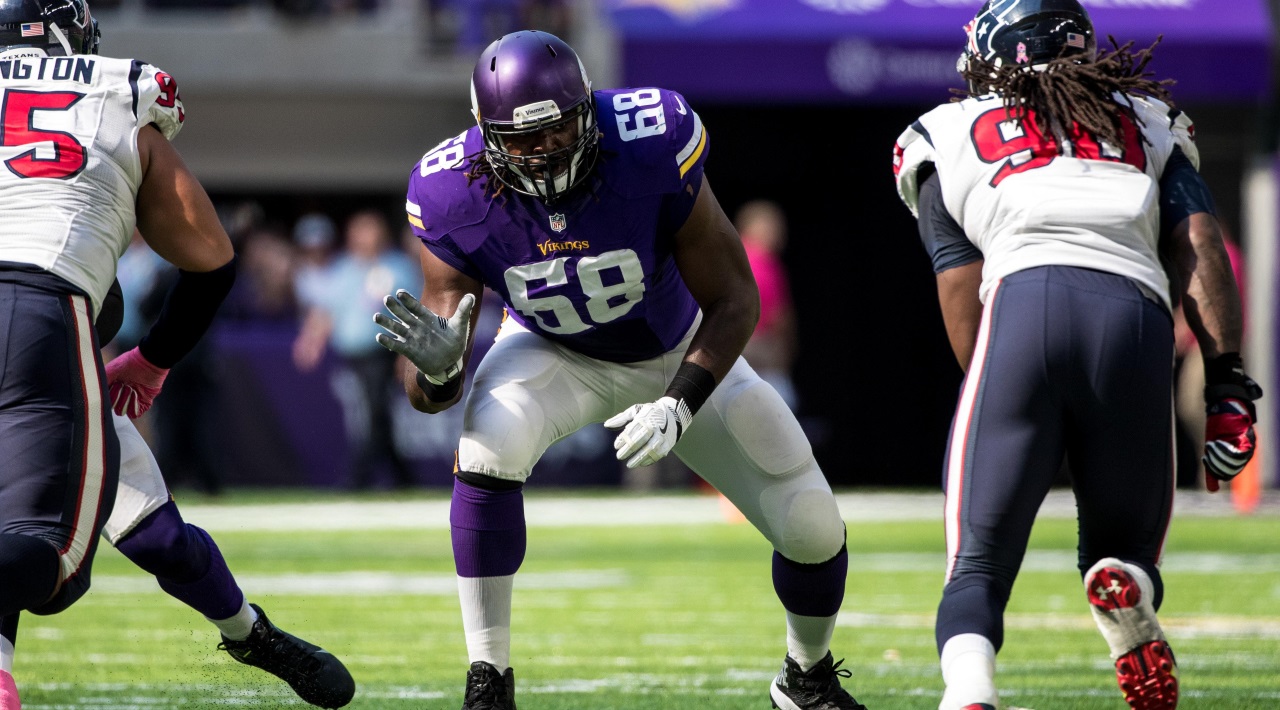 Veteran left guard Alex Boone, who suffered a hip injury two weeks ago in Carolina and a knee injury that limited him in practice Friday, acknowledged the Vikings' waning depth could become an issue sooner than later.
"If we lose one more, it's going to be a problem. It's going to be a real problem," Boone told USA TODAY Sports. "We have no more spots to give."
This is the one red flag stuck behind the purple one that's waving strong for the NFL's last unbeaten team, led by a defense that's pounding the snot out of everyone and quarterback Sam Bradford's virtually flawless play – six touchdown passes, no interceptions – with the offense on his shoulders.
Left tackle Matt Kalil (hip surgery) is done for the season. On Monday, Mike Zimmer announced the Vikings would put tackle Andre Smith (triceps) on injured reserve as well. Fusco's concussion history has to be considered when figuring out when he might be back on the field, even with extra time before the Vikings return to action Oct. 23 at Philadelphia.
Vikings general manager Rick Spielman looks awfully smart right now for sending a first-round draft pick and change to the Eagles last month for Bradford after Teddy Bridgewater's season-ending knee injury. But Spielman has a few more phone calls to make during the upcoming bye week to ensure he's doing everything he can to protect that investment.
Could the Vikings pry Joe Thomas from Cleveland? Could they talk somebody like Eugene Monroe out of retirement? Could they get some use out of a beat-up free agent like former No. 1 pick Jake Long? Every possibility is worth exploring at this point, with the most plausible involving an experienced backup that doesn't cost a high pick.
"Well, we keep getting guys hurt. It's always a concern," Zimmer said of the depth. "But we'll continue to figure things out and we'll play."
The irony is upgrading o-line depth was perhaps the Vikings' greatest priority in the offseason – and they accomplished that. But then tackle Phil Loadholt retired, guard Mike Harris got stuck on the reserve/non-football injury list, center John Sullivan was released after losing the center job to Joe Berger and injuries hit.
Protection hasn't killed them (or Bradford) yet. But a stagnant run game is "driving us nuts," Boone said. All-pro Adrian Peterson was averaging 1.6 yards a carry before he hurt a knee in Week 2. Even with some creativity and modest improvement the past two weeks, Jerick McKinnon and Matt Asiata combined for all of 91 yards on 34 carries (2.7 average) on Sunday.
The Vikings appeared to give Clemmings more help Sunday after he got whipped twice on third down by Texans linebacker Whitney Mercilus' rush, took a facemask penalty and let Jadeveon Clowney blow up a run play. That was really their only option, since they had nobody to replace Clemmings even if they wanted to.
Third-year pro Jeremiah Sirles made his first NFL start in place of Smith. Second-year pro Zac Kerin, who replaced Fusco, hasn't started a game either. The only linemen left on the bench Sunday were Nick Easton, who made his NFL debut on special teams, and rookie Willie Beavers, who got cut in camp and only recently was promoted from the practice squad.
"At the end of the day, we won," Clemmings said. "Yes, you don't want to give up sacks. You don't want to do those kind of things, get your quarterback hit, but it's the game of football. Just got to get better at it."
Had anyone else gotten hurt Sunday, Boone probably would've moved to tackle – a scenario he colorfully declined to discuss. "I think that the guys have done a great job stepping in," Boone said. "I think there's things that we can get better at."
So far, the Vikings' line has done well enough to get by. But as the numbers dwindle, can it last?