The Stanley Cup is returning to Pittsburgh after Patric Hornqvist scored the go-ahead goal on a bad-angle shot with 95 seconds left in a 2-0 win over the Nashville Predators in Game 6.
Carl Hagelin sealed the win by scoring into an empty net with 14 seconds left in leading the Penguins to become the first NHL team in nearly two decades to win consecutive championships. Penguins goalie Matt Murray stopped 27 shots to register back-to-back shutouts following a 24-save outing in a 6-0 win in Game 5.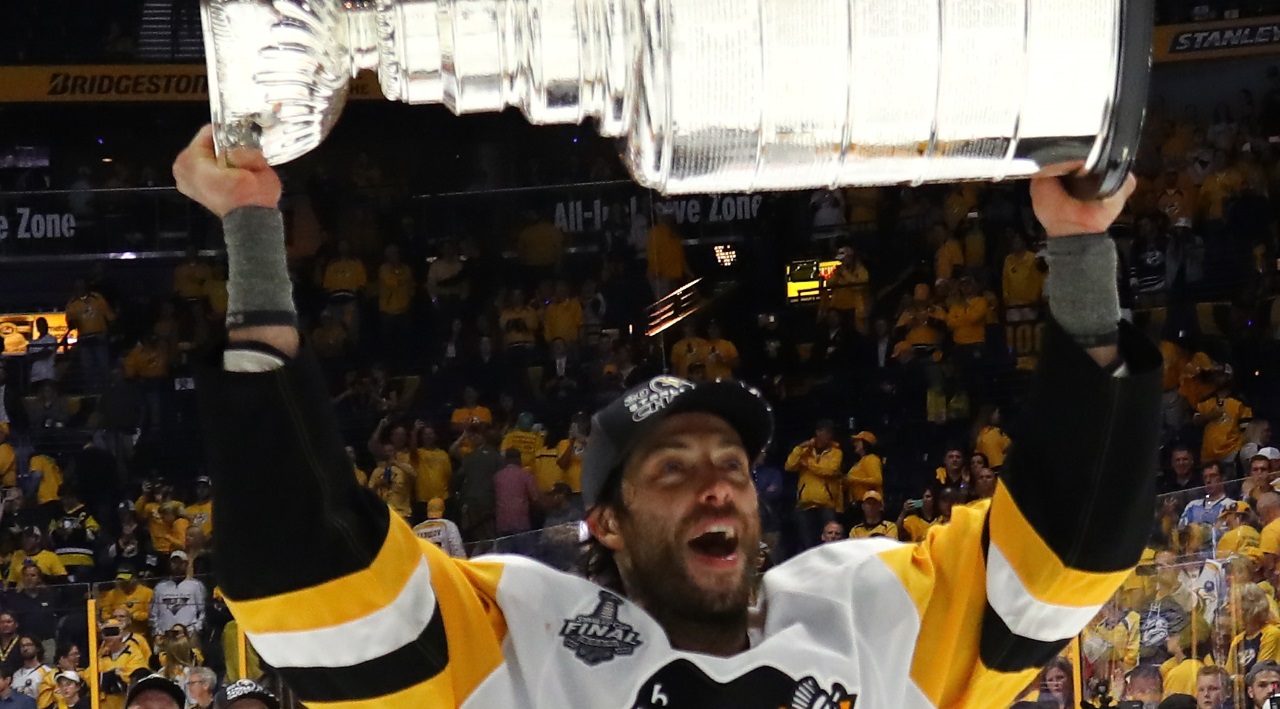 Pittsburgh Penguins captain Sidney Crosby was awarded the Conn Smythe Trophy for a second consecutive year following a 2-0 win over Nashville in Game 6 of the Stanley Cup Final.
Though held without a point on Sunday night, Crosby finished second on the team with 27 points (eight goals and 19 assists). He entered the game with a three-game point streak, including three assists in a 6-0 win in Game 5 on Thursday. An argument could be made that Minnesota native Jake Guentzel was also deserving, as he led all skaters in playoff goals with 13, and notched 21 total points. Another Minnesota native, center Matt Cullen, was dominant in the faceoff circle and on penalty kills, and former Gopher Phil Kessel also played a major role in the Penguins' success this season.
As good as it gets #family #stanley cup champs pic.twitter.com/BAbKuJ6htv

— Mike Guentzel (@mlghockey) June 12, 2017
At age 40, Cullen all but said that last night's Cup-clinching contest was the final game of his career. "It's a pretty good way to go out," he told tthe Pittsburgh Post Gzette. "You can't beat it. Like I said, I'm just going to take a little bit of time when we get home and let things sink it. It still hasn't really sunk in. It happens so fast, but it's been awesome."
Cullen, who skated for St. Cloud State University before turning pro, has played for three Stanley Cup champions.
Was this the final time Matt Cullen will lift the Cup as a player? If so, he went out with a BANG! #StanleyCup pic.twitter.com/X0eUResOMd

— NHL on NBC (@NHLonNBCSports) June 12, 2017
The Penguins won their fifth title - all of which have been clinched on the road - to tie the Wayne Gretzky-Mark Messier-era Edmonton Oilers for sixth on the all-time list. The Detroit Red Wings in 1997 and '98 were the last champion to defend their title.
The loss ended the upstart Predators' deepest playoff run in the franchise's 19-year history. Having won just three of 12 playoff series before this year, Nashville opened this postseason by eliminating the top-seeded Chicago Blackhawks in four games. In doing so, the Predators became the first eighth-seeded team to sweep a first-round series since the current playoff format was introduced in 1994.