CHASKA, Minn. - Patrick Reed took over his match and the rest of the Americans followed suit. Now they need to win only five of 12 singles matches to win the Ryder Cup.
The Americans won three of the four afternoon matches for 9 1/2 to 6 1/2 lead Saturday.
Reed holed out a wedge from the fairway for eagle on the par-5 sixth hole to take a lead that he and Jordan Spieth never relinquished against Henrik Stenson and Justin Rose.
Phil Mickelson delivered the key putts for another point, and Lee Westwood gave the Americans help they didn't need by missing a 2-foot putt on the final hole.
Not even the undefeated partnership of Rory McIlroy and Thomas Pieters could dig Europe out of a hole.
The next challenge for the Americans is history. They led 10-6 at Medinah four years ago only for Europe to rally for another victory.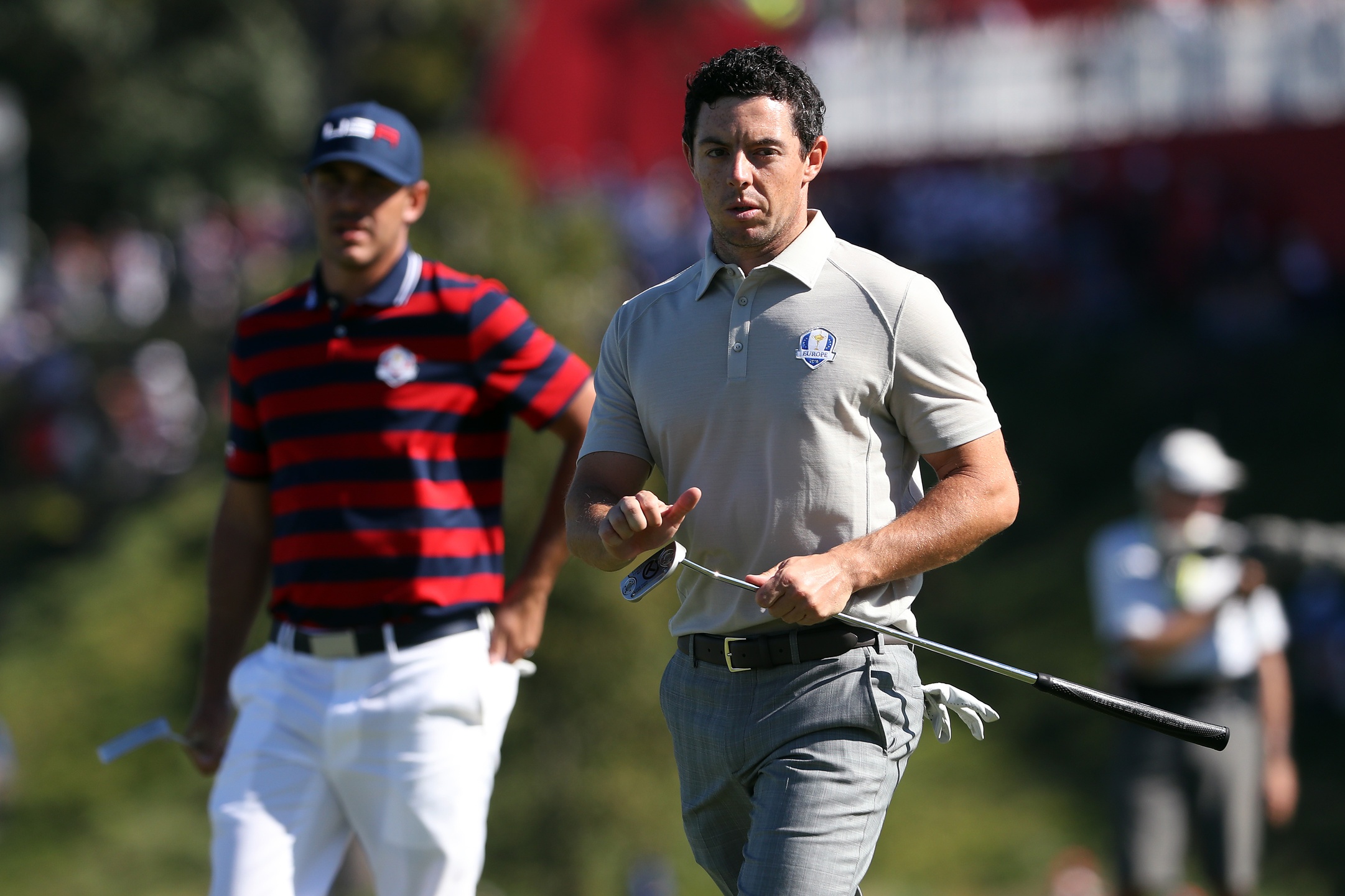 McIlroy has heckler ejected
Rory McIlroy got the best of a heckler, then paired with rookie Thomas Pieters to do the same to the U.S. duo of Brooks Koepka and Dustin Johnson, giving Europe the first point of the afternoon four-ball session.
Pieters sealed the 3-and-1 win with a short birdie putt. It was McIlroy's third consecutive match win and drew Europe even at 6 1/2-6 1/2.
Earlier, he got into an exchange with a fan between the seventh green and eighth tee. After officials came over and McIlroy identified him, the fan was removed from the grounds.
Patrick Reed shines
Patrick Reed has been one of the stars of the show for the Americans so far at this Ryder Cup.
Playing again with Jordan Spieth, Reed hit one of the best shots of the tournament to give the duo a 1-up lead at the one-third mark of their four-ball match against European power couple Justin Rose and Henrik Stenson.
Reed dropped his approach onto the sixth green just right. The ball rolled back perfectly and plopped into the cup for an eagle and a second straight hole won for the U.S. pair.
Reed erupted in celebration, pointing a double-arm pump at the crowd behind the ropes and exchanging hard hand slaps and fist bumps with his partner and their caddies.
Rory McIlroy finally got a victory over Phil Mickelson
Mickelson had never lost any of three Ryder Cup matches he played against McIlroy, but Lefty didn't have much of a chance Saturday morning in foursomes. McIlroy and Thomas Pieters won three of the opening five holes. McIlroy said he wanted to win even more because Mickelson had his number.
The American got within 1 down with four holes to play until Fowler missed too many key putts.
McIlroy says he and Pieters were never meant to play foursomes, never practiced together and even flipped to see who would tee off on which holes. It worked. They are undefeated in two matches.