MINNEAPOLIS - Vikings tight end Kyle Rudolph is used to wearing his heart on his sleeve...and feet.
During Breast Cancer Awareness Month, that meant donning pink. This week's purple pair of cleats is personal.
Week 13 of the NFL season is being called "Cleat Week" or #MyCauseMyCleats. More than 500 players will sport customized cleats in an effort to showcase the causes they support.
This Thursday night, Rudolph plans to wear 'Anton Tough' cleats in tribute to a boy who passed away.
Anton Delgado was diagnosed at birth with a rare genetic skin disorder. It left him with open wounds comparable to third-degree burns and a future so bleak that his biological parents in Russia left him at the hospital.
"I don't know if there's anyone as tough as that kid.," said Rudolph.
Rudolph met Anton last fall, after he was adopted by the Delgado family in Dallas and brought to the University of Minnesota Children's Hospital for a bone marrow transplant.
"I remember him coming out and just full of energy. Huge smile and tons of personality," added Rudolph.
Anton went to a Vikings game with his family to watch Rudolph. Weeks later Rudolph returned to the hospital to say goodbye Anton.
"I was just fortunate, I was able to get to the hospital and see him one last time. As much as he was going through and in as much pain as he was in, he still found a way to crack a smile," said Rudolph.
Kyle, his wife Jordan and their new twins, surprised Anton's mom Vanessa with a call Wednesday.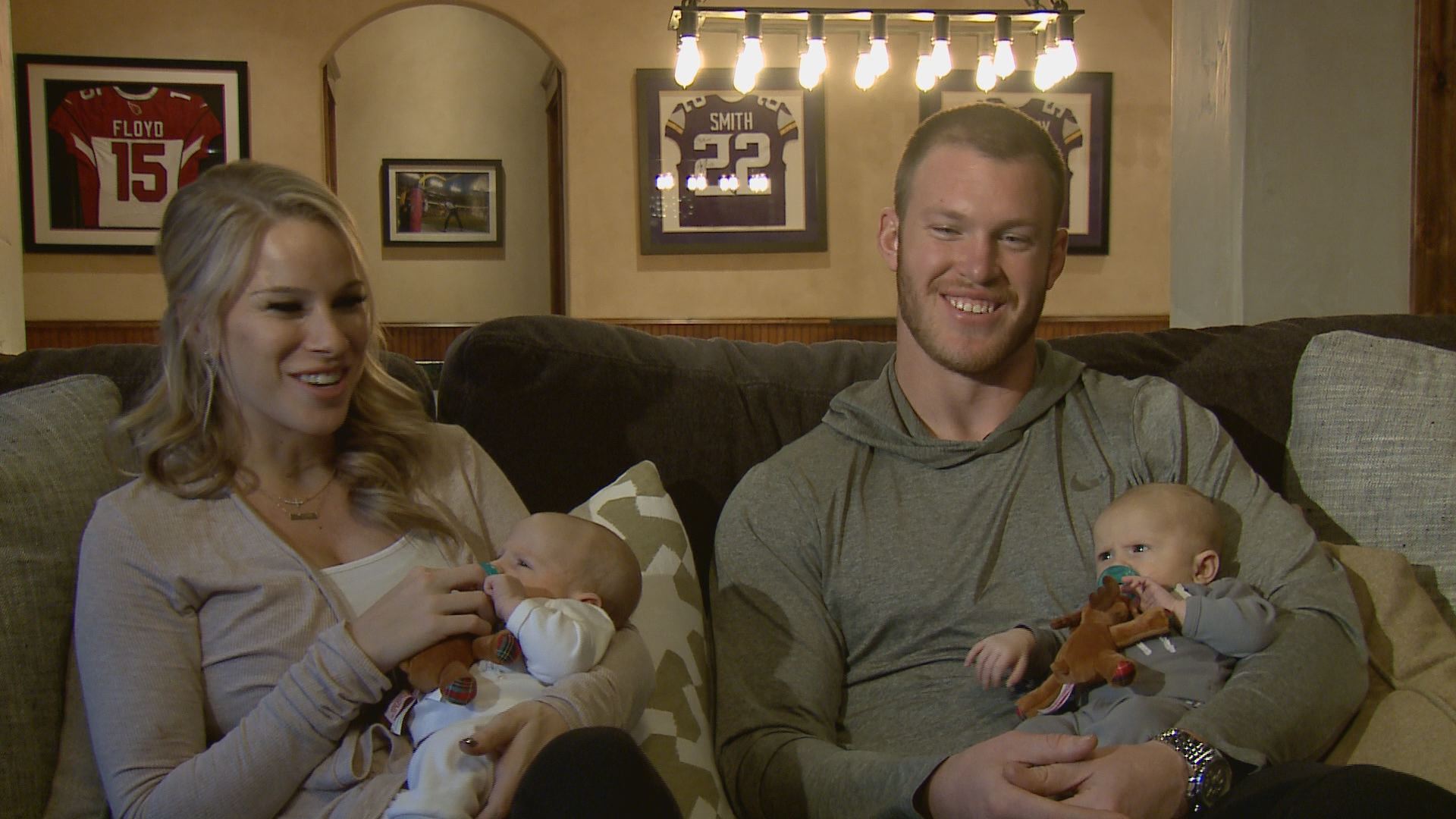 Rudolph said he will be wearing special cleats as a tribute to Anton Thursday night when the Vikings take on the Cowboys.
"It's just a huge honor, but also to know that Anton is still kind of making an impact on people," said Vanessa Delgado.
Below are pictures of other Vikings players wearing custom cleats during "Cleat Week":
@chadgreenway52's #MyCauseMyCleats for the Lead the Way foundation, which supports chronically and critically ill children.
A photo posted by Minnesota Vikings (@vikings) on
Everson Griffen's #MyCauseMyCleats to support breast cancer patients and @americancancersociety.
A photo posted by Minnesota Vikings (@vikings) on
Excited to be able to represent @BolderOptions for this weeks game! Thanks to @MACHE275 for hooking it up! #cleatsforacause pic.twitter.com/e6zh5qgFKw

— Adam Thielen (@athielen19) November 30, 2016
Excited to wear this cleat customized by the 4th thru 8th grade kids I tutor thru @aces4kids! Tune in tmrw night for the @vikings vs. Cowboys game to see my teammates and I wearing customized cleats supporting our favorite charities. @nfl #skol #education
A video posted by Jeff Locke (@jefflocke18) on
Honored to represent my @kidz1stfund and @umnhealth family, which raises awareness and funds for #FanconiAnemia research, on the field this week! 👟 Please join the fight against #FA and celebrate #GivingTuesday by donating today! #IFightFanconi 💪🏾#MyCauseMyCleats Thanks @mache275 @explicit_sports ! @theoneagency www.kids1stfund.com/donate
A photo posted by Xavier Rhodes (@_xavier29) on