MINNEAPOLIS - The Minnesota Lynx drive to a WNBA championship may seem like a familiar road, but look down and you'll notice something is afoot.
Though the players' sneakers would typically be white, black or clad in Lynx colors, this postseason the entire team laced up purple kicks in honor of a music icon from Minnesota.
"Every year we kind of have a different theme of a shoe that we wear so," said Lyndsay Whalen. "This year we thought it would be fitting to do Prince."
Fitting, not just because Prince was the Lynx most legendary fan, but because after the Lynx 2015 championship he threw a legendary team party at Paisley Park.
"It ended up being the capstone of our season there," said Maya Moore. "Having a personal concert with Prince after we won."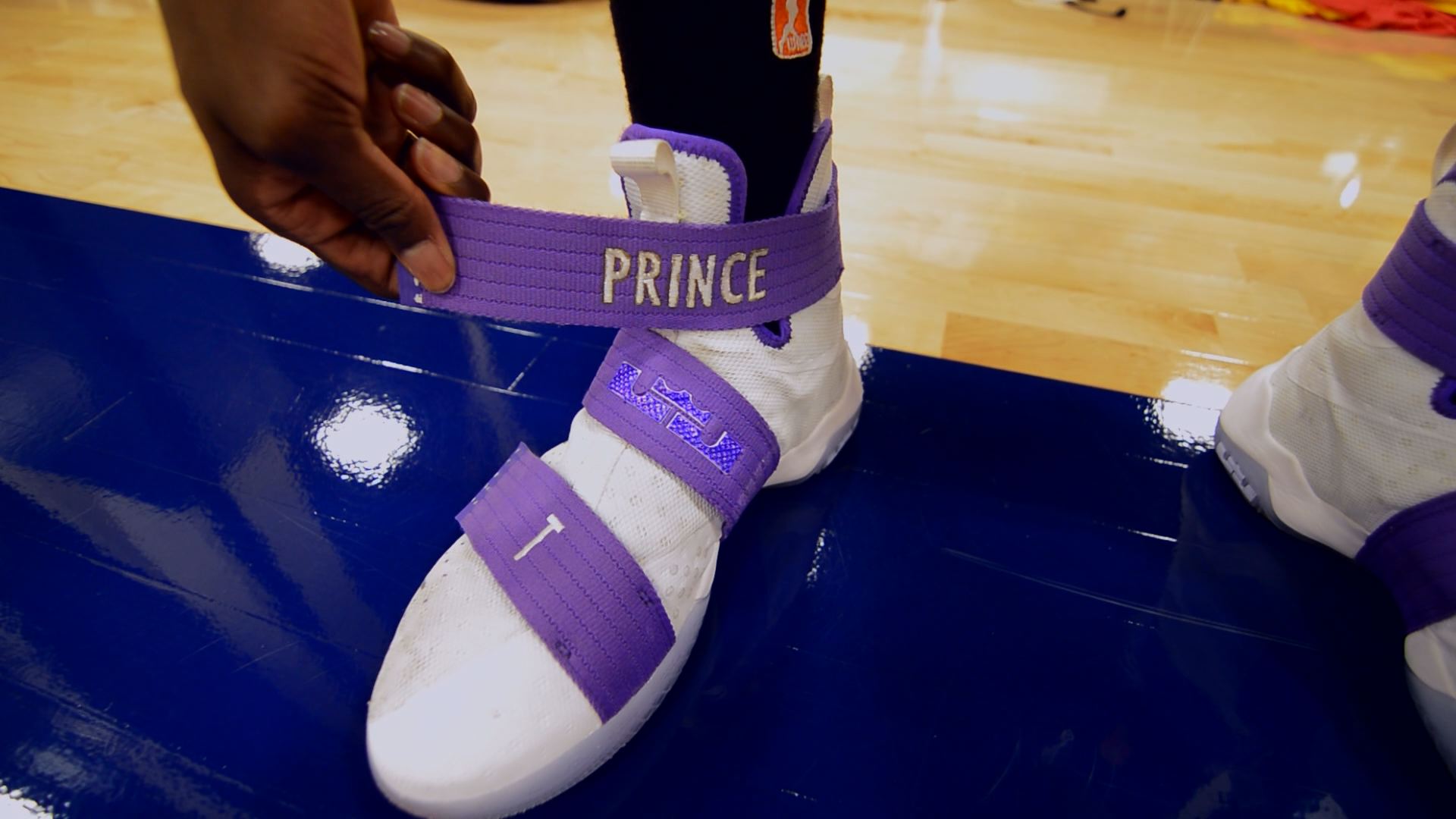 "We still have a lot of great memories from that night," Whalen said.
"He was singing all of his songs I like knew all of them, and I'm like, I am a Prince fan after all!" said Lynx Guard Renee Montgomery. "I was dancing on stage with him. Now I'm giving him these shoes and my effort as a thank you."
Moore says the team planned to wear purple shoes earlier in the season, but it took the players a while to get their colors coordinated. Moore debuted a brand new purple colorway of the new Air Jordan 31 during the first playoff game.
Many of the players even took their tributes a step further.
"On the strap right here it says Prince," said Lynx Forward Natasha Howard, showing off her white and purple Nike Lebron Soldier 10 shoes with custom artwork.
"The raindrops, the Prince logo," Howard said. "Janel did it."
She was referring to Lynx Center Janel McCarville.
"I had fun," McCarville said with a laugh. "I enjoy doodling and when the chance came upon me for the ability to design these shoes I stepped on it."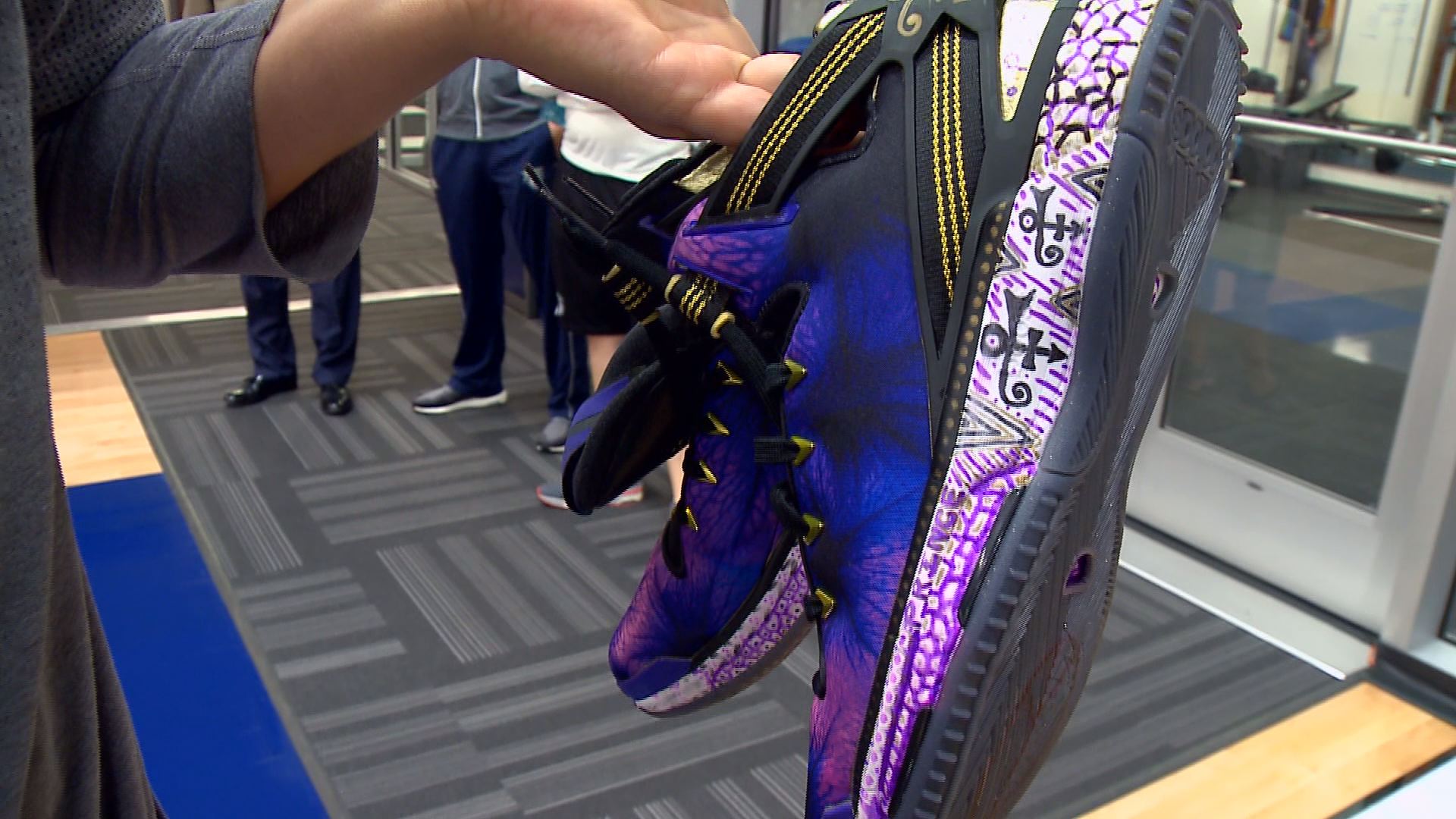 The center started with her own pair and got a little help.
"That's what I did originally with my niece," she said, pointing to her purple Addidas D Rose Boost 6 shoes. "My niece Grace."
Lynx guard Renee Montgomery was next in line, handing over her purple Kobe XI shoes.
"This says Purple Rain, and it has the rain drops on it," Montgomery said. "I gave these shoes to Nellie and I told her just go crazy. I don't know if it was therapeutic or what but she took pride in it. I mean, I think she did an excellent job."
"She dabbles. She apparently dabbles," Moore said with a laugh. "Some hidden talent there."
There are also some hidden tributes in her work.
"I went along the bottom here and put all of Prince's top hits," McCarville said, pointing to the outsoles of another pair she customized.
In all, she put her mark on five of her teammates shoes, making some wonder whether she'll ever be an artist formerly known as a basketball player.
"After my basketball career is over, I could possibly become a shoe designer, for sure," McCarville said with a laugh.
Until then, she and the rest of the team have designs on bringing home another championship.
"That would be the ultimate," Montgomery said. "Obviously we can't top last year when he invited us to Paisley Park but that would just, yeah, that would be a nice icing on the cake for our thank you."
And the key to doing it requires a look up.
"Make it rain, that is the goal to see some rain on the court, in our favor," Moore said.
"Throwing up raindrops man," McCarville said. "Purple raindrops all night long."