MINNEAPOLIS - Plan ahead. Have fun. That's the message from the City of Minneapolis as Twin Cities motorists prepare for a hectic evening commute Thursday.
The Minnesota Twins, Vikings, Golden Gophers and St. Paul Saints are all in action. Oh, then there's the Minnesota State Fair. And yes, summer road construction.
If you are going to the fair, beware, due to the Gopher game, all of the Park Free Ride Free shuttles from the U of M campus to the fair will not run on Thursday.
On Interstate 94, all six lanes of the Lowry Tunnel, going in both directions, will be open Thursday morning for the first time since June. However, the westbound lanes will close at 11 p.m. Thursday for maintenance.
That closure was originally supposed to happen at 10 p.m. but due to the amount of sports traffic anticipated, they moved it back an hour.
According to Tim Nelson, MnDOT project manager, the westbound lanes will be closed because of a safety hazard. Nelson says a semi truck took out the lights in the westbound lanes and crews need to replace those before Labor Day weekend.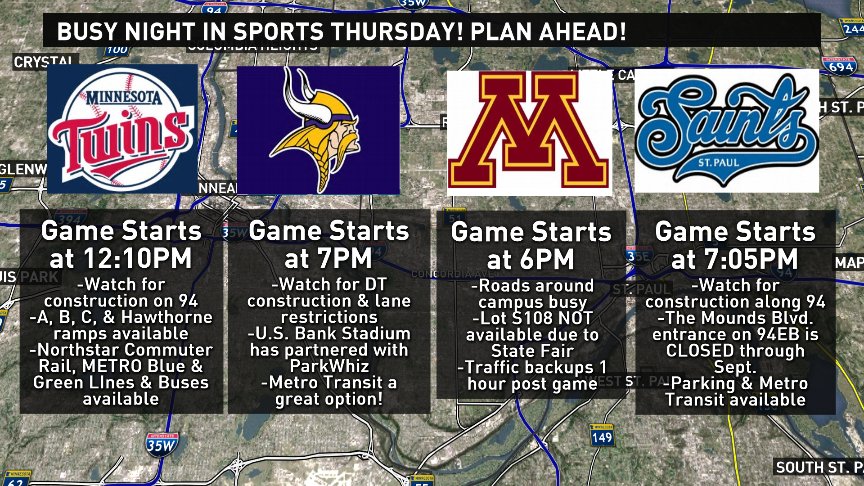 The City wants fans heading into downtown to know that some streets are under construction, including Washington Avenue and I-94. Motorists will see some street and lane closures. Click here for the city's traffic page.
Fans that plan to attend these games are encouraged to know their route and parking options. The City is also encouraging fans to bicycle or take public transportation to the events, like the Northstar commuter rail line or METRO Blue or Green Lines. Click here for more public transportation options and times to plan your trip.