GOLDEN VALLEY, Minn.- Many Minnesota families will be enjoying the long MEA weekend and if you are planning to stick around the Twin Cities metro, there are a few closures to be mindful of.
Interstate 494 southbound in the west metro will close beginning 10 p.m. Friday, Oct. 21 through 5 a.m. Monday, Oct. 24. The closure happens between I-94/I-694 to I-394 and northbound I-494 will be reduced to a single lane from Hwy 55 to I-394. There will also be several ramp closures during this time along southbound I-494.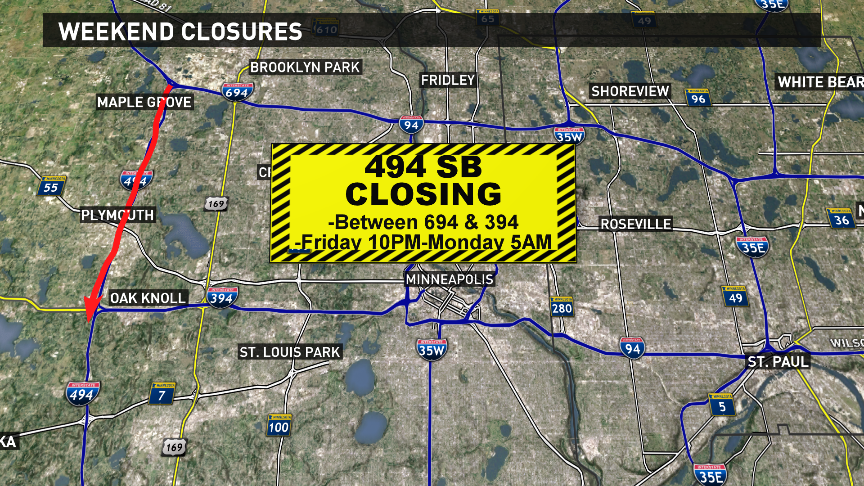 Another not so fun closure in the west metro is Highway 100 in St. Louis Park.
Beginning 10 p.m. Friday through 5 a.m. Monday, both directions of Highway 100 will be closed between I-394 and Hwy. 62. The highway ramps along the closures will close at 9 p.m. on Friday. Some good news, after the weekend closure, Highway 100 between Minnetonka Blvd and Excelsior Blvd will reopen to two lanes in each direction.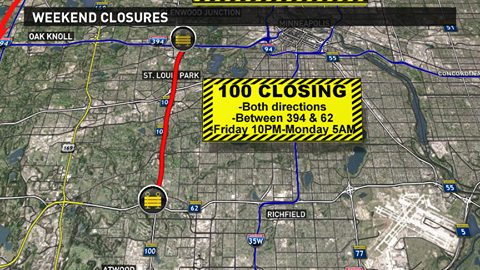 Also, the ramp from southbound Hwy 100 to 50th Street/Vernon Avenue is closed through mid-December.
For more on the weekend closures and other closures around Minnesota click here.