CHETEK, Wis. - Authorities confirm one person was killed and more than two dozen others were injured after a tornado ripped through a mobile home park in western Wisconsin Tuesday evening.
Barron County Sheriff Chris Fitzgerald described the scene as "total destruction" and said first responders could hear people yelling for help when they arrived on scene.
At least one child is among the injured. At this point it appears everyone in the neighborhood has been accounted for.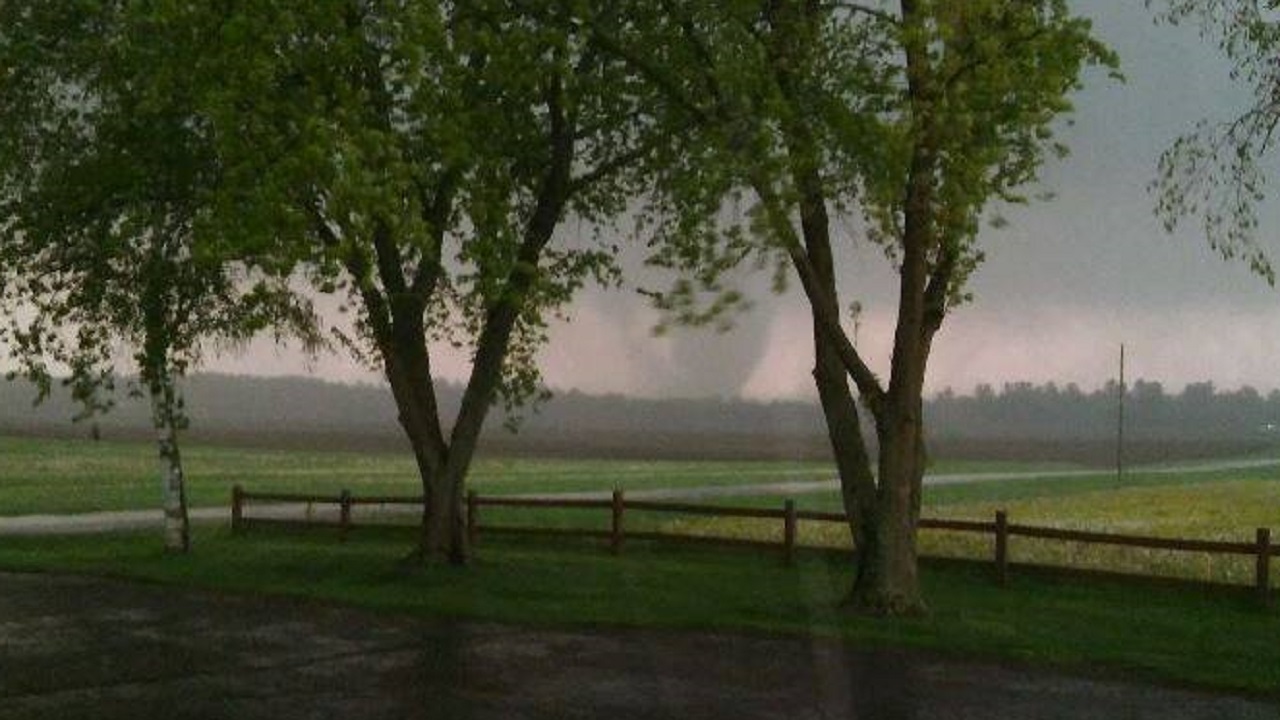 The National Weather Service received a report from a trained weather spotter that a tornado touched down at Prairie Lake Estates, on Highway 53 between Chetek and Cameron, at 5:35 p.m. The spotter said in the report, "trailer homes were hit and walls were on top of people."
Tornado touchdown confirmed near Chetek, possible injuries, in mobile home park, details at 6pm.#kare11weather pic.twitter.com/zG2TnvWj9N

— Jeff Edmondson (@JeffKARE11) May 16, 2017
Devin Feuerhelm's sister, Lenna Samuelson, lives in the park with her two daughters, Ashley and Brenna. He says her sister also had her 2-month-old grandson, Nolan, in the house when the storm hit. Feuerhelm says they had nowhere to go but the bathtub.
"When I saw there was a tornado on the news I called my sister right away...and no answer," Feuerhelm told KARE 11's Jay Olstad.
Amazingly, Nolan escaped with just a couple of scratches. Samuelson's daughters suffered minor injuries. Lenna suffered a gash on her head. All are expected to be okay.
Their home? Flattened. The SUV next to it? Untouched.
Just one of the many stories we expect to hear from residents there in the coming days and weeks as the look to recover from the storm.
"Items can be replaced but lives cannot," Feuerhelm added. "My heart goes out to the families that lost loved ones."
The Red Cross says dozens of the residents who lost their homes are staying with relatives or friends while others are using donated hotel rooms and a temporary shelter.
Red Cross spokesman Luong Huynh says 30 to 50 people came through a reception center at Mosaic Telecom in Cameron after the destructive tornado hit nearby Tuesday.
The severe weather also caused extensive damage to several turkey barns across from the mobile home park. Mayor Jeff Martin in nearby Chetek says turkeys can be seen wandering in the damage.
Earlier Tuesday, severe weather moved through parts of the Twin Cities metro earlier in the day. Around 3 p.m., heavy rains and hail hit areas in the southeast metro including Inver Grove Heights and Eagan.
This is a developing story. Stay with KARE 11 for updates.