KARE 11 Investigates: High lead levels in children in MN neighborhoods
MINNEAPOLIS - Hundreds of children in Minnesota every year are exposed to permanent neurological damage because of lead hazards in their homes.
A KARE 11 review of state data found neighborhoods in our state where as many as one in 10 children have too much lead in their system.
The numbers are staggering, especially when compared with those in Flint, Michigan. That city made national headlines and sparked outrage when one in 20 children tested positive for elevated lead levels.
KARE 11 found as many as 40 neighborhoods in Minnesota where the percentage of children with elevated lead levels was just as high – or even higher.
In Flint, water was the culprit. In Minnesota, it's usually the windows.
Dustin's story
Ticiea Fletcher, and her son Dustin Shields, have lived the nightmare of lead poisoning.
"I noticed something around the 11th month," Fletcher says. "He wasn't developing like he should have at the time."
Fletcher says a routine test for lead showed Dustin had severely elevated levels of lead in his blood. A follow-up inspection of the Minneapolis apartment she was renting at the time revealed chipping lead paint on windows and the porch.
The landlord fixed the problem and Fletcher moved her family, but the damage was done. Dustin wouldn't speak until he was nearly 7 years old.
Today, the 9-year-old boy with a bright smile and a love of music is home schooled and still struggles with learning disabilities.
"My son has severe damages done to his life," Fletcher says. "It's heartbreaking."
Permanent damage
In the years since Dustin was poisoned, Minnesota has made strides in preventing lead poisoning. Data from the Minnesota Department of Health shows a significant decline in the numbers of children who test positive for elevated lead levels.
During that time the standard for what is considered "elevated" was also lowered from 10 milligrams per deciliter to 5 milligrams per deciliter, reflecting the opinions of pediatricians that even at small amounts, lead can have permanent and severe impacts on a child.
"Most significantly it can impact their neurocognitive development," explains Dr. Abe Jacob, Chief Medical Officer, UMN Masonic Children's Hospital. "Things like their IQ, their ability to control their behaviors."
But many local advocates and the American Academy of Pediatrics say there are still too many gaps in the way we protect children, especially given that once damage is done, it's irreversible.
They point out that federal funding has declined in recent years after peaking in the early 2000s.
State Representative Karen Clark (DFL-Minneapolis) says lead poisoning still doesn't get the attention it deserves. "700 children every year in Minnesota. That's unacceptable. It's immoral," she argues.
It's a frightening diagnosis for many parents who only learn their homes are potential lead hazards after their children have been exposed.
Billie's story
Emily Baird of Minneapolis has owned her home for more than a decade. Her older children never had any problems with lead. She was surprised when at her daughter Billie's 1-year-old checkup, a lead test came back at 5.2 milligrams per deciliter. Remember, 5.0 is considered elevated.
Baird says doctors told her it was probably a flawed test. However, at Billie's 2-year-old checkup, they discovered her lead levels had risen to 19.9 milligrams per deciliter.
"Then it is really scary because you think this is permanent damage that we basically caused without knowing it," Baird says.
They immediately began working with Sustainable Resource Center, a group which helps families after a high lead test.
The inspectors discovered lead in the window wells of the Baird family's home. It was also in floor dust and in the soil outside. Baird says she had no idea.
The family has learned new two-bucket cleaning techniques and is working to have the windows replaced.
Lead hot spots
The maps below illustrate Minnesota's lead hot spots. Most are in Minneapolis and St. Paul where aging housing stock contains lead paint. Experts say leftover lead from gasoline emissions also remains in the soil.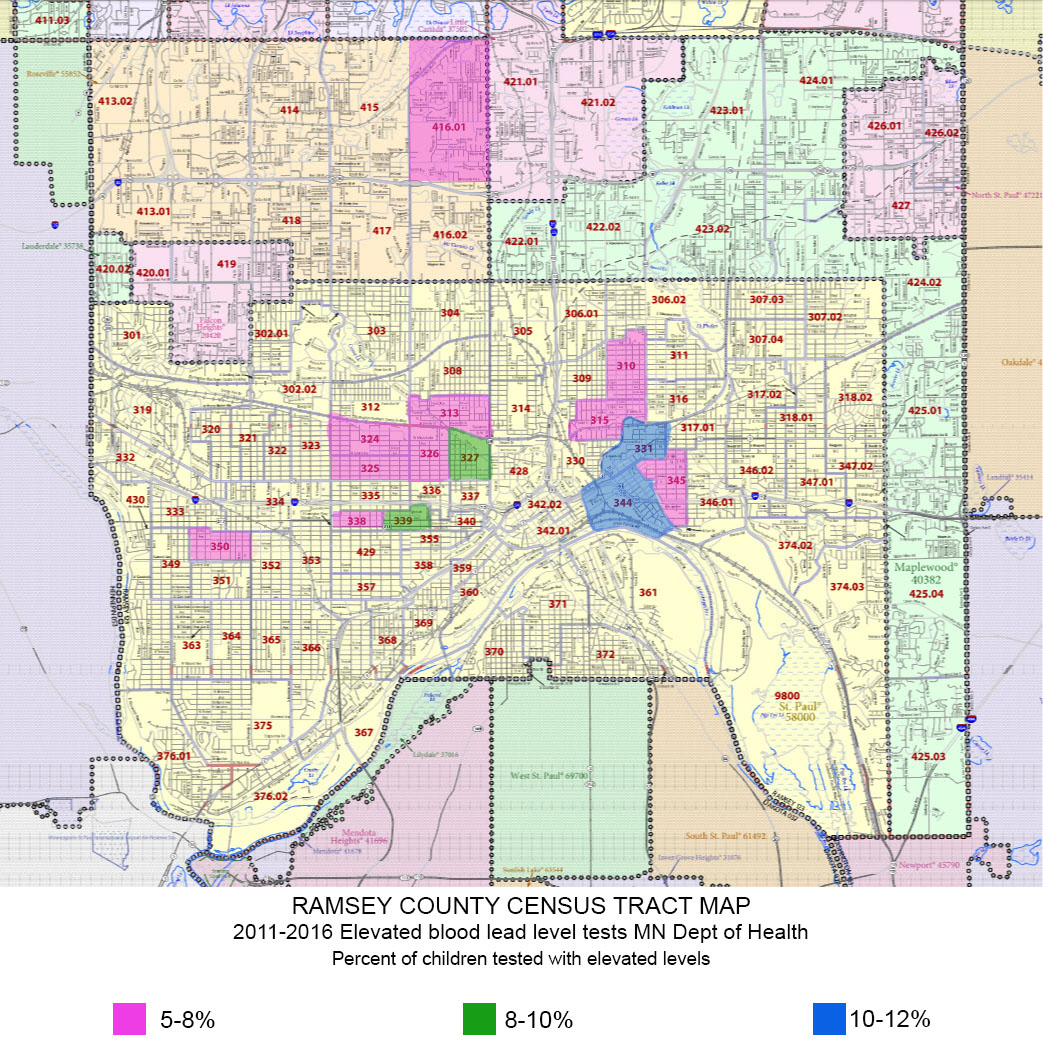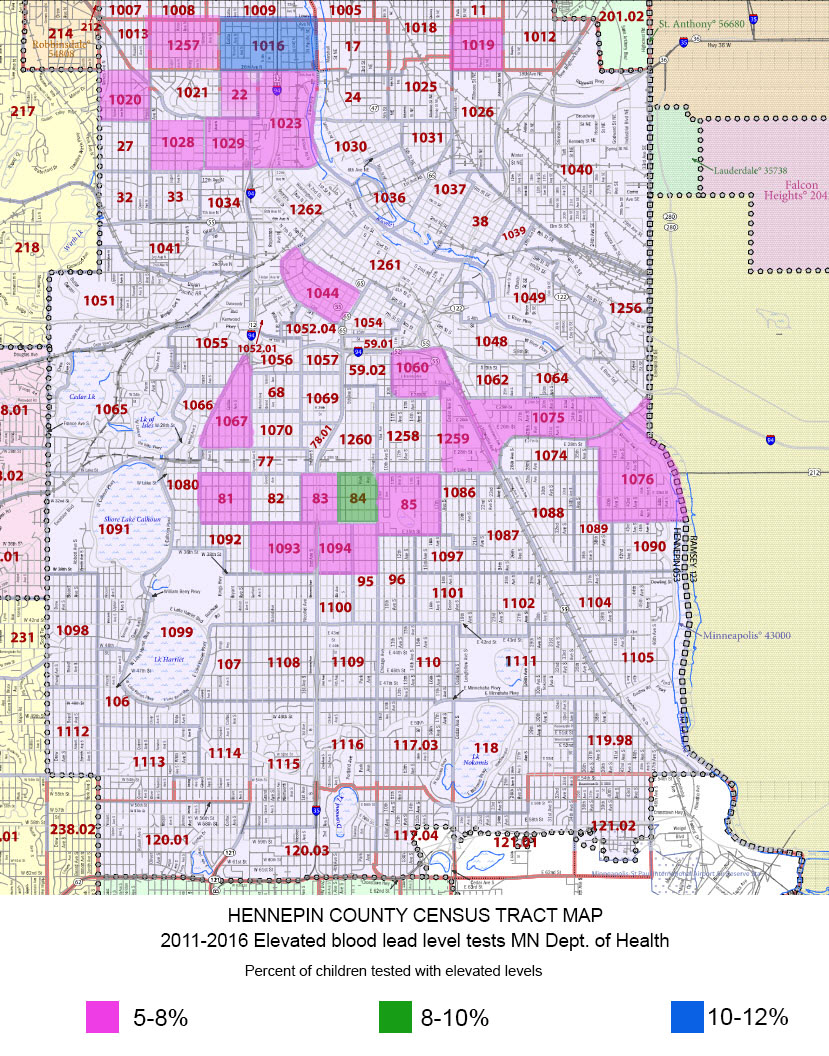 The Minnesota Department of Health recommends that pediatricians test all toddlers in both cities for lead. In several census tracts between 5 and 10 percent of children tested between 2011 and 2016 had elevated lead levels. In one St. Paul neighborhood, nearly 12 percent of the 160 kids tested had elevated lead levels.
Over in western Wisconsin, some areas have even higher percentages of children testing positive for elevated lead levels, though fewer numbers of children are tested.
In one census tract in Burnett County, roughly one in four of the children who did receive lead screenings had elevated levels.
RELATED: Elevated levels also found in Barron, Dunn, Polk, Pierce, St. Croix and Washburn Counties.
What's being done?
Jim Yannarelly of Ramsey County Environmental Health explained why some of those percentages are so high.
"Those same census tracts in those same neighborhoods are now 130 years old. Many are rental properties in low-income areas. They have original windows and that's kind of the battleground for us right now," he explained.
Yannarelly met KARE 11 in a home in one of St. Paul's most lead-ridden neighborhoods. He was testing the home because a child had registered an elevated blood lead level. What he found in the windows and the painted staircase was concerning.
"The house is poisoning them," he said.
Yannarelly says the county has had tremendous success using federal "Healthy Homes" grants to replace windows and to help abate lead hazards.
But those efforts don't begin until after a child already has an elevated lead level. In the best cases, they are able to address the problem before lead levels get any higher.
"The key is getting in early," he said.
Lead tests not required
Representative Clark believes one way to decrease the number of children poisoned would be to require landlords to test for lead in their properties. She proposed the "Dustin Luke Shields Act" that would force those selling or renting their homes to know whether the property was a lead hazard. She says it's something the current lead disclosure does not do.
"The loophole is, if they never test, and claim to never know, they never have to tell," she said.
Like other bills to address lead poisoning this session, it never received a hearing.
Opponents argue it would be a costly new mandate for landlords, which would in turn be passed on to tenants.
Clark is hoping that at least some funding for lead testing and abatement will be included in this year's state budget.
Lost potential
Ticiea Fletcher argues the disclosure law could have saved her son from years of suffering. And she says it would have been far less expensive than caring for children like Dustin, who is permanently disabled. He will likely never be able to work.
She asks, what is the price tag on a child's potential?
Resources for more information
Any home built before 1978 could have lead paint. It is most likely to be exposed in areas where there is friction, like windows.
Both Hennepin and Ramsey County offer programs for testing and for abatement. Those meeting income requirements may qualify for free testing.
Funding assistance for lead paint hazards in Hennepin County
Ramsey County 'Lead at Home' information
Lead risk assessment and inspection from Sustainable Resources Center