Joe Jonas has questions about the Jonas Brothers' star on the Hollywood Walk of Fame. On Monday, the "Sucker" singer and his brothers, Nick and Kevin Jonas, were celebrated with the honor for their work in music and entertainment. Following the ceremony, Joe wanted to know about the status of their star -- should the group ever disband again. 
"What happens if we break up again?," Joe quips to the camera in a TikTok filmed while the brothers were having a photoshoot with their star. "Does it split in half? Split them in threes?"
Taking in the playful banter, the person holding the camera chimes in, "Too soon, Joe."
The Jonas Brothers disbanded in 2013, and the group went on to do solo projects. In 2019, Kevin, Joe and Nick reunited and released their album, Happiness Begins.  
Fans -- and Joe -- don't have to worry about the group splitting up anytime soon. On Monday, during the ceremony, Nick revealed that the Jonas Brothers' album, The Album, will be released May 5. In addition, the boys will hit the road for a new tour. 
"I don't think you're ready, honestly," Kevin told ET.   
Not only were they celebrating their upcoming single, but the trio were also taking in the moment with their star.  
"It's just unbelievable," Joe told ET. "I think we're kind of in shock, not sure how to really feel yet. As we were up on stage, I was just looking back on all the names behind us, some iconic bands and artists from back in the day. Just to be near them means the world."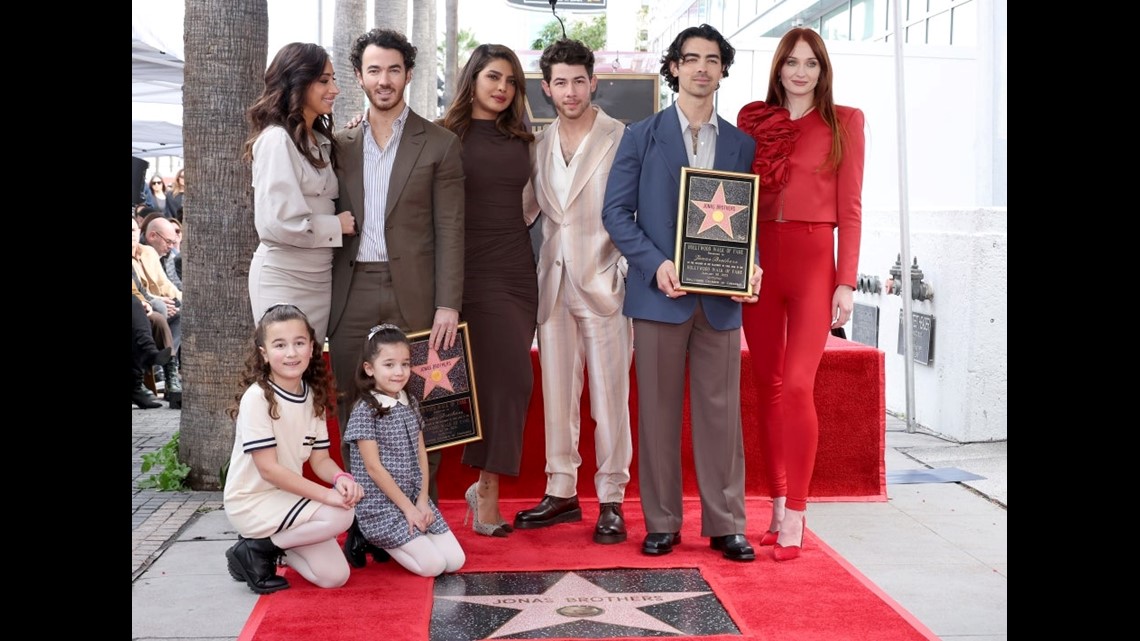 Priyanka Chopra and Malti Marie Jonas
The group's parents, Denise and Kevin Jonas Sr., younger brother Frankie Jonas, and their wives, Sophie Turner, Priyanka Chopra and Danielle Jonas, had a front row seat to witness their milestone occasion. Kevin and Nick's daughter's were also present to witness their dads and uncles get their star. 
For Nick, he's counting down the days until his and Priyanka's daughter, Malti, can really enjoy the experience. 
"It's a crazy thought," Nick told ET about being able to bring their children to their star. "I think I even said something about hoping to come and embarrass her here someday. It's a special thing and I think as parents everything has a new meaning and has even more meaning, moments like this especially."