FALCON HEIGHTS, Minn. — We know what you're thinking. If there's a vegan food option at the fair it's back in the corner, hidden somewhere behind a cow giving birth, a butter sculpture and a hot dog vendor taking a lunch break.
But KARE 11 Meteorologist Laura Betker found a ton of delicious vegan options around the Minnesota State Fair, and it wasn't even that difficult.
From the International Bazaar to the Food Building to the stands on the street, you can find healthy vegan options, not to mention a lot of deep-fried, sinfully delicious ones. Here are a few.
Of course, we went straight for the sweet stuff. The American Apple Pie from Sara's Tipsy Pies in the Food Building is an absolute treat, it's clearly marked vegan, and there's a coupon for $2 off in the Blue Ribbon Bargain book.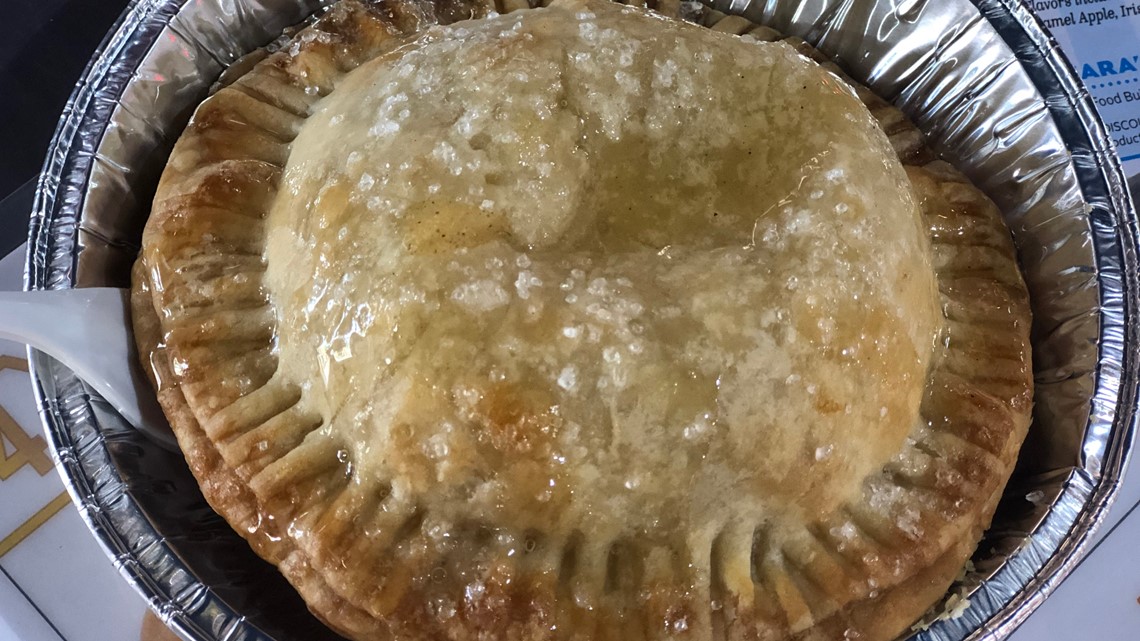 Easily overlooked: Curry Chickpea Roti
These ones you might not even check for. Harry Singh's Caribbean Restaurant serves up two great vegan options: Curry Chickpea Roti and Trinidadian Doubles. They make the Roti wrap fresh in house, and it's a filling meal if you're really hungry. Look for it in the Food Building, east wall.

Snack #1: Olives on a Stick
We love anything we can break a $5 bill on, and the Olives on a Stick at St. Martin's Olives are only $3. You get five stuffed olives: garlic, pimento, jalapeño, sun-dried tomato and lemon. This place is located in the International Bazaar, south wall.

Snack #2: Grape Leaves on a Stick
This one might scare people a little because it's unusual-looking, but we're here to calm your fears. Also ringing in at $3, the Grape Leaves on a Stick at Holy Land in the International Bazaar are filled with a rice and dill mixture. "It's kind of creamy, almost, and cold and refreshing," says Betker.
Holy Land has one of the biggest selections of vegan foods at the fair. Offerings include the Falafel Tray, Hummus Tray, Samosa Tray ($6 each), Tabouli Tray ($8) or you can try all of it in the Veggie Combo Tray for $10.

OK OK, this one's deep fried: Tacos on a Stick
Pro tip: The Vegetarian Fried Tacos on a Stick, ordered without cheese, are vegan. (Shhh!) Find them at Midtown Global Market's Taco Cat in the International Bazaar. They've got corn, carrots and black beans inside. The sauce on top has a bit of a kick, and we're digging it.

French fries! (Surprised?)
Fun fact: The fries at Fresh French Fries on the east side of Liggett Street between West Dan Patch and Carnes Avenues are vegan. And they're clearly marked with big signs! We love the transparency, and we love the fries!

We made friends with a couple people eating the fries, and they were surprised to hear they were vegan. Their verdict? "Amazing." "Fantastic."
Getting thirsty? Green Tea Slushie time.
The Green Tea Slushie is at Cloud Forest Cafe (sometimes called Tiny Footprint Coffee, since that's what they're serving) on the south side of Carnes Avenue, between Nelson and Underwood Streets. Betker's synopsis? "It's like an adult Icee."

Looking for more? We'd recommend downloading the Minnesota State Fair app. They've got a food section, and you can search specific treats, locations, or the word "vegan."
PHOTOS: Vegan treats at the State Fair