FALCON HEIGHTS, Minn. — When it comes to growing produce, at the Minnesota State Fair, bigger is better.
So if you're going to enter the fair's annual Giant Pumpkin competition, you'll need to come prepared.
Darrin Asplin, of Dassel, Minnesota, did exactly that.
This year, Asplin took home first place in the Giant Pumpkin - Adult Entry category with an 814.5-pound gargantuan gourd.
The prize pumpkin was nearly 40 pounds heavier than the second-place finisher, a 776.5-pound colossus grown by Nate Zachmeier in Blaine.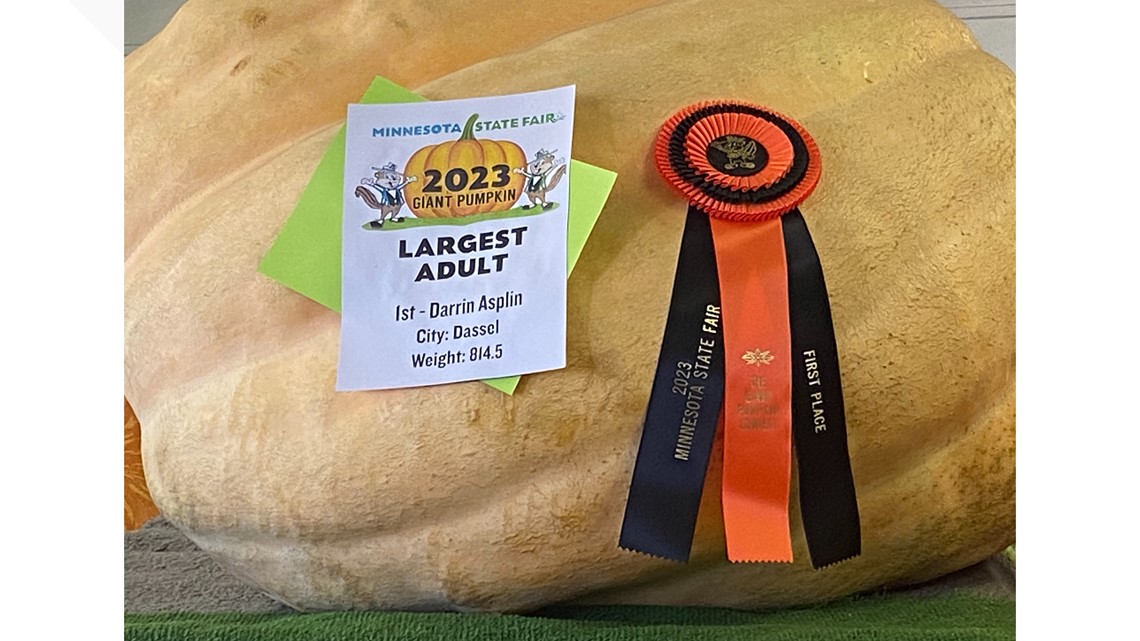 And while Asplin's girthy gourd marks an impressive feat in produce engineering, the biggest pumpkin to come out of Minnesota was a whopping 2,560 pounds. Last October, Anoka teacher Travis Gienger set a new U.S. record for the heaviest pumpkin at the 49th Safeway World Championship Pumpkin Weigh-Off in California.
Gienger's pumpkin was five pounds heavier than one grown in New York that set the U.S. record just days prior.
WATCH MORE ON KARE 11+
Download the free KARE 11+ app for Roku, Fire TV, Apple TV and other smart TV platforms to watch more from KARE 11 anytime! The KARE 11+ app includes live streams of all of KARE 11's newscasts. You'll also find on-demand replays of newscasts; the latest from KARE 11 Investigates, Breaking the News and the Land of 10,000 Stories; exclusive programs like Verify and HeartThreads; and Minnesota sports talk from our partners at Locked On Minnesota.