"Mom, I just won an Oscar!" he said, adding he started in a refugee camp and ended up in Hollywood. "They say stories like this only happen in the movies. I cannot believe it's happening to me. This is the American dream."
Quan, 51, had anything but a straightforward journey to the Academy Awards. After his family immigrated to California from Vietnam, he starred as a child actor in two of the most beloved films of the 1980s — as Short Round in "Indiana Jones and the Temple of Doom" and Data in "The Goonies."
But after a handful of TV roles, work dried up for Quan in the 1990s — few roles for Asian-American actors were available. Quan went to film school and began working behind the camera as a stunt coordinator and then an assistant director.
"For a long time I thought I was at peace with it, but something was missing, and I really didn't know what it was until 'Crazy Rich Asians' came out," Quan told GQ last year. "I saw my fellow Asian actors up on the screen, and I had serious FOMO (fear of missing out) because I wanted to be up there with them."
Quan's return to the silver screen was a triumphant one: He won the Oscar for best supporting actor for his role in "Everything Everywhere All At Once" as part of the sci-fi hit's seven-award sweep.
Full circle:
A handful of emotional moments called back to Quan's early days in Hollywood. First, he thanked his "Goonie brother for life" Jeff Cohen -- the child-star-turned-lawyer who drew up Quan's contract for "Everything Everywhere."
The former costars embraced, Quan kissing Ford on the cheek and literally jumping up and down in excitement.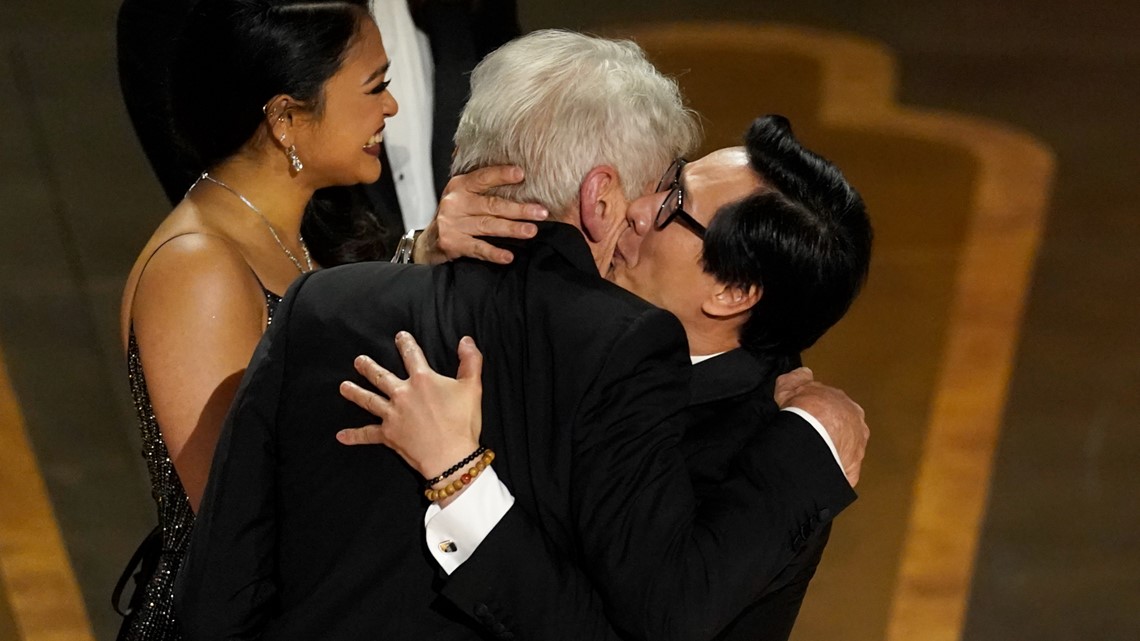 Quan and Ford had already reunited last year at Disney's D23 Expo, with Quan sharing a photo of the two hugging backstage. He later spoke about the meeting in an interview with the Associated Press: "I remember that day very well. It's been 38 years... In that moment, I felt so comfortable. I could not help myself but to wrap my arms around him – this man that I love dearly."
Quan said fans around the world responded emotionally to the photos, telling him it brought tears to their eyes.
"I was emotional when I hugged him," he said. "And to see him smile the way he did! It was just one of those very special moments in life you don't get very often. I will remember it as long as I live."
Quan said he's long been recognized as "the kid" from his two childhood blockbusters, but always wished to be known for something he did as an adult. Now that long-forgotten wish is realized.
"When I go out, people say, 'Wow, you're Waymond from 'Everything Everywhere All at Once,'" he said.
The Associated Press contributed to this report.