MINNEAPOLIS — More than 4,000 miles from where her life began, Lucia Sarmiento has never felt more at home.
"This is where my cats and my bed are; this is where my community is, you know, musicians. I've been living here for almost a third of my life."
"I've played everything from funk, pop, jazz, to polka, to merengue — just everything," Sarmiento said. "Now, with everything that I've absorbed, I can make my own music and integrate everything."
She came to the U.S. from her hometown of Lima, Peru to study at the McNally Smith College of Music. A supportive and nurturing art community, coupled with Sarmiento's raw talent and outright passion to play, allowed her the freedom to follow her instincts to create.

Drawing wide from influences across cultures, Sarmiento and her music continued to evolve. Meshing styles like Afro-Peruvian rhythm with jazz fusion and classical and electric guitar, the marriage of melody culminated in Sarmiento's forthcoming debut album, which is set to be released sometime this summer.
"This first album, it is literally a mix of, you know, almost 30 years of existing in Latin America, and in the United States, and traveling and soaking it up," she said.
Beginning in the fever dream of the COVID-19 pandemic, her album is now a palpable reality. But while Sarmiento admits a lot of her life thus far has been lived in a dream, she concedes that dream hasn't necessarily always been one of her own.

"In 2018, I was fresh out of college and still kind of figuring out what to do with my life and my career. I wrote down my goals," she said. "I wrote down, 'In the next five years, I want to go on tour with a very big pop artist,' and then, three years later, four years later, it happened.
"I was like, 'Oh, my God, I'm living my dream.' And when I was on the road, I actually realized that that wasn't what I wanted to do; I felt like I was putting all my time and energy into somebody else's project, or somebody else's music — somebody else's dream. I also wanted to create and to do my own thing. [Pitbull] has a vision and it's his baby. I kind of wanted to do that."
LISTEN: Escape by Lucia Sarmiento
While Sarmiento said the knowledge she gained on that tour was invaluable, both personally and professionally, a production of that magnitude didn't come without its challenges. As the only woman in the international superstar's band, Sarmiento was left to navigate a lot of it on her own.
"I mean, that comes with its advantages, but it also comes with its own set of difficulties — [like] how to handle a lot of social interactions. I had to learn how to stand up for myself," she said. "[It] definitely has been a thing that I had to get over that I feel like a lot of my male counterparts don't even think about. They just think about playing music and being happy. As a woman in a male-dominated environment, there's more things you think about, you know?"
That's part of the reason why Sarmiento also teaches music lessons via her YouTube channel and various clinics and masterclasses. She said the drive behind her desire to teach is to empower people, particularly women and Spanish speakers,
"I started posting videos in Spanish teaching the saxophone and teaching jazz lessons and music because there was not very much educational content in Spanish. So, I thought, 'What about all the Latinos?'
"Almost all my private students right now are girls or younger girls, and it's really cool because I kind of see myself in them. I'm trying to inspire them and help them."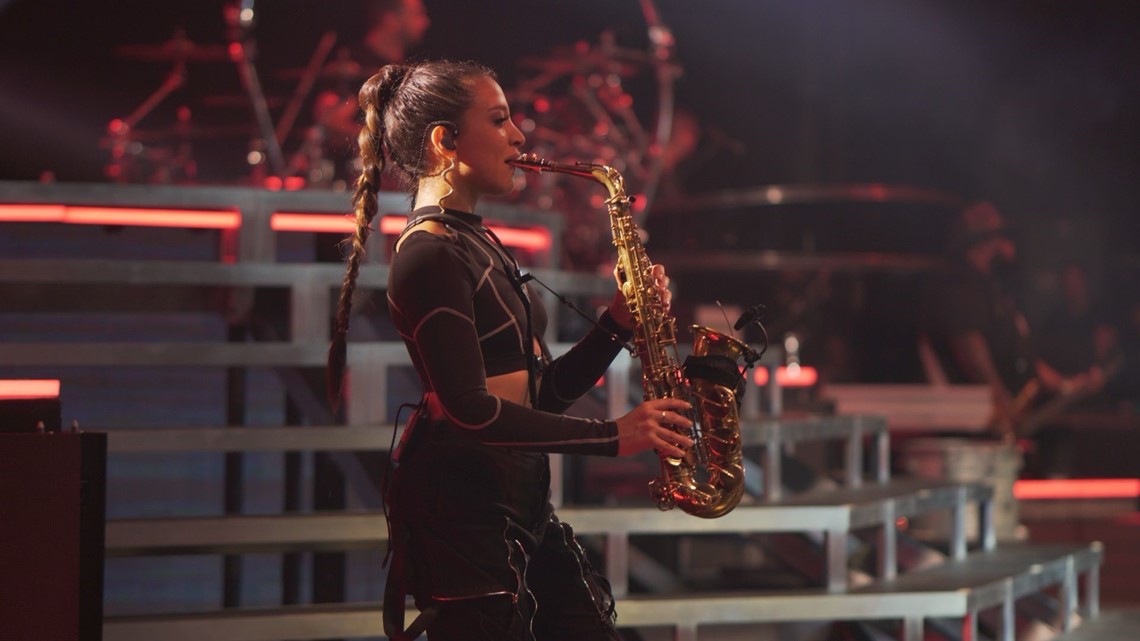 The lessons also include advice on the business side of things, a topic she says can be taboo for young artists coming up through the trade.
"From experience screwing up and getting screwed over by others, I have learned, and now I have a guideline to how I handle my artistry that is tied together with my livelihood. I'm trying to make this more of an open topic that people talk about, so hopefully, less people will get taken advantage of."
But at the same time she feels pulled to help others, she's ready to take her own art to the next level. Sarmiento will lead her band on stage at the popular Twin Cities jazz haunt Crooners Supper Club Thursday night, ready to showcase her three decades of life packaged carefully into her own songs, 10 of them brand new.
"It kind of feels like I'm throwing this very big party for me and my friends," she said. "I ended up calling three background singers and background horns, and my plan to keep it small…didn't work."
And despite playing to tens of thousands of fans nightly over several months with Pitbull, the show at Crooners will be the artist's first time to headline the bill. She'll follow that up with a "mini tour" this summer in the Midwest, including another headlining gig on the first night of the Twin Cities Jazz Festival in June.
About to launch herself back out into the grind of being on the road, Sarmiento offers this guidance, applicable in both entertainment and existence:
"Come with an open mind."
To get your tickets for Sarmiento's Thursday show at Crooners Supper Club, click here.
WATCH MORE ON KARE 11+
Download the free KARE 11+ app for Roku, Fire TV, Apple TV and other smart TV platforms to watch more from KARE 11 anytime! The KARE 11+ app includes live streams of all of KARE 11's newscasts. You'll also find on-demand replays of newscasts; the latest from KARE 11 Investigates, Breaking the News and the Land of 10,000 Stories; exclusive programs like Verify and HeartThreads; and Minnesota sports talk from our partners at Locked On Minnesota.
Watch the latest local news from the Twin Cities and across Minnesota in our YouTube playlist: